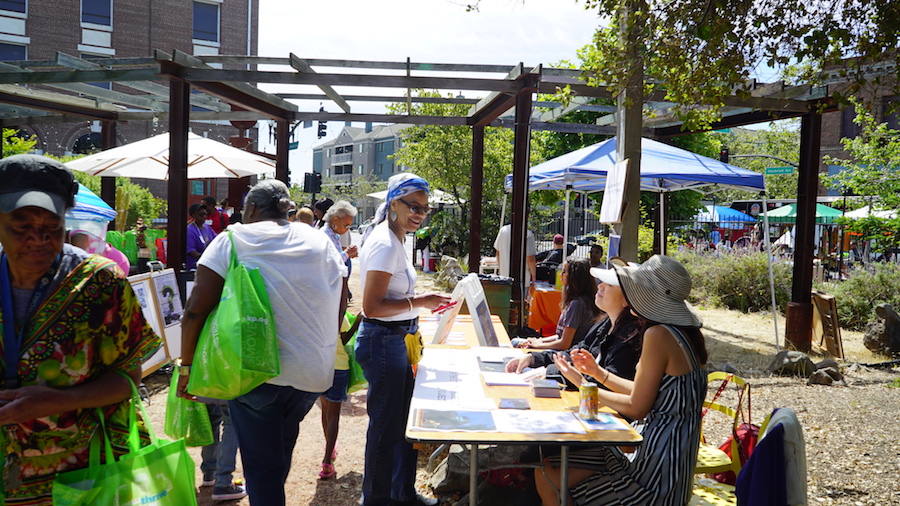 09 Jul

Annual Festival Promotes Healthy Living
Photo Essay, Carlos Lemus
On one recent Saturday morning, people of all ages, ethnic backgrounds and abilities were breathing and moving as one as Nadia Crabtree of Gaia Yoga led a standing demonstration in the heart of downtown Richmond.
Nearly 400 people came out for the 10th annual Healthy Village Festival on June 29 at the intersection of Macdonald Avenue and Harbour Way. The free and family-oriented event offered yoga and Zumba demonstrations, free produce, an opportunity to shop with some local vendors, and more.
Familiar local organizations — such as Happy Lot Farm, Richmond Promise and the East Bay Center for the Performing Arts — held numerous activities for kids: chess, pony rides, a free book fair, a sidewalk chalk zone, and arts and crafts.
One of downtown Richmond's newest eateries, Roux, served up veggie humus wraps and summer salads for lunch. Some attendees hopped on Rich City Rides' bicycle-operated smoothie maker, choosing between banana or berry and then pedaling to power the blender that mixed the ingredients.
As part of the Richmond Main Street Initiative's "Celebrate Downtown" summer event series, the festival brought together a number of partners, sponsors, and stakeholders to highlight health, from information to resources. It was also a chance to reflect on how far Richmond has come in one decade, as well as look at the work ahead.
"Our mission is to bring back this historic downtown commercial corridor with activities and businesses and services that are for and by the community," Alicia Gallo, programs and communications manager with Richmond Main Street Initiative, said. "And we had been hearing from residents and community members that they wanted an increase to access to health and wellness resources."
Emcee Amanda Elliot, executive director of Richmond Main Street, started off the festivities by honoring its first-ever Grand Marshal: Richmond City Council member Demnlus Johnson III.
Wearing a red, white and blue hat, Johnson greeted everyone with a smile, saying he was introducing himself to everybody there, making sure they're happy and healthy and "getting the good information that is out here."
He also reflected on why the festival is personal to long-term residents like himself.
"With the closing of Brookside hospital, they call it 'Doctors' [Medical Center] and the threat of closing Alta Bates, we're going to be experiencing a real hospital desert, here in the city of Richmond," Johnson said. "Coupled with the fact that we only have one grocery store, Foods Co., that doesn't really provide the best fruit options, especially to our residents here in the Iron Triangle."
That's why he said events like the Healthy Village Festival are crucial in making sure residents have access to reputable information and the different resources that can help live better and longer.
Kaiser Permanente had doctors on-site at an "Ask the Doctor" booth, where they checked people's blood pressure and educated them on healthy lifestyles and the importance of cancer screenings. LifeLong Medical also had a mobile dental van onsite, giving out dental hygiene kits and promoting the services they offer.
Kimberly Balmorez was there, something that was unusual for her, as she rarely participated in community events growing up. Balmorez described Healthy Village as "refreshing," as she believes it's important for the community to learn together.
"It can be hard making healthy decisions and finding resources that are accessible to you," she said, "but having a community to support your efforts can make it easier and fun."