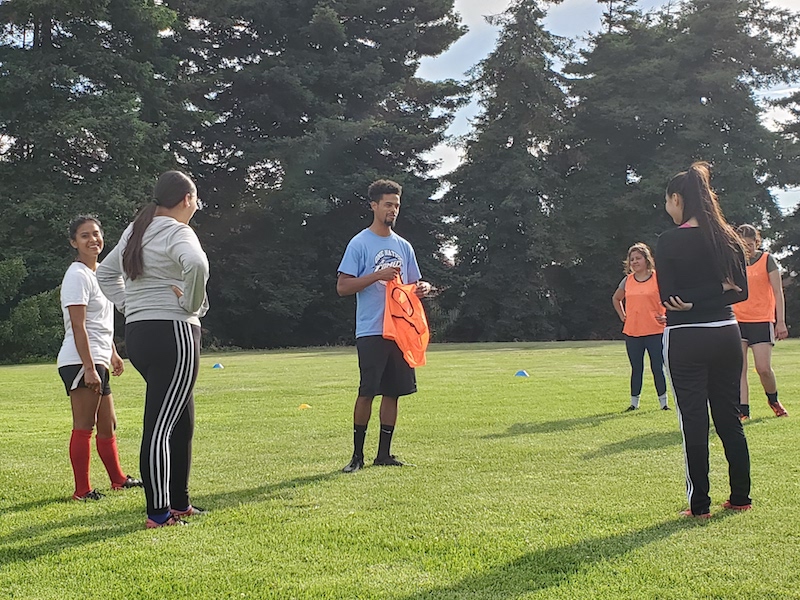 11 Jul

New Coach Breathes Life Into CCC's Women's Soccer
By Joel Umanzor Jr.
Coaching at the collegiate level is often more detailed than many people anticipate, especially for first-timers in a newly revamped program with only a handful of players.
That's where Contra Costa College's new women's soccer coach Ted Steen finds himself after accepting the position in June.
It is an interesting situation for a coach only 29 years old: free reign to begin to build a program from the ground up.
"We were figuring out the plan for the fall season because the school hasn't had a soccer team the past year," Steen said. "I was brought in to build a program and to revive and restore the program to where we want to be."
Originally from Weston, Massachusetts, Steen sees this as another step in his desire to make soccer, a lifelong passion, his career. For the last two years, he was the assistant women's coach at Diablo Valley College in Pleasant Hill, where the team had a combined 14-12-6 record in the Big 8 Conference.
Athletic Director John Wade said that he felt Steen fit for the role because it puts a young coach, who was already involved in women's sports, at the helm of a college team.
"I try to hire people in a realistic fashion," Wade said. "He was already at Diablo Valley College in our district, already coaching women's soccer, involved in club ball, and it just made sense to me that this is someone who can have an opportunity to have success at Contra Costa College."
But Contra Costa College's athletic program has low participation in women's sports, which Wade acknowledges needs to change. That's why the college didn't field a team in the 2018 season.
"For some reason, I don't really know why, but our women's teams, not just women's soccer, they just struggle to attract women student athletes," Wade said. "For the women, I've done more than I've ever done for any program since I've been involved in athletics."
Wade says leadership in the women's soccer program has been hurt by a variety of other factors, such as the Bay Area's high cost of living and coaches are only employed on a part-time basis.
Steen sees this void not for a lack of talent in the area, but rather a need for cultivating interest in women's athletics on and off the field.
Steen sees the current success of the U.S. Women's National Team resonating with more women, especially now that they see what the next step can look like.
"Despite there not being a team (the past year) I feel like there is still interest here," Steen said. "There just wasn't an outlet for players to come out and do what they love."
Steen's short-term plan is to recruit student athletes from his summer session class from 5 to 7 p.m. on Tuesdays and Thursdays at the Contra Costa College soccer field. He says it's one way to gauge players' abilities.
"From the few that have come out so far, I can see that there is going to be a wide range from players that haven't played since middle school to other players that have been invited to play in adult leagues and semi-professional teams," he said.
The summer session will also allow the first-time head coach an opportunity to meet the players and get started on workouts, as his hiring in June cut short a significant part of the soccer offseason.
There isn't a specific number of student athletes the college is looking to fill, but Steen says 22 players is ideal. They currently have four, which Steen hopes to increase to a full roster once students learn about the program closer to the start of the school year.
"As students return back to the campus," he said, "it may be more apparent that this is an opportunity for them and a chance to play at this level."