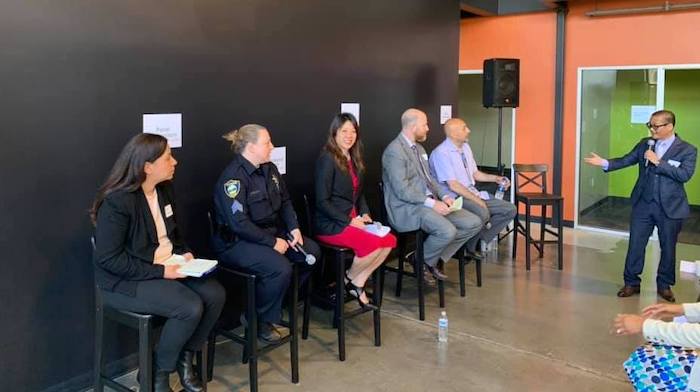 15 Jul

Cannabis Businesses See Federal Legalization as the Key to Growth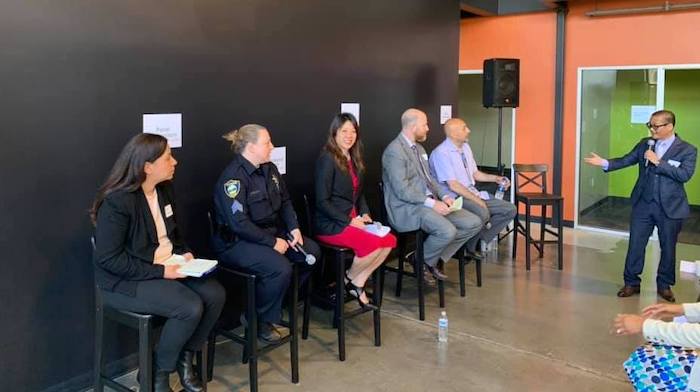 By Ilana Sawyer | Photo via Fiona Ma's office
Operating a legal cannabis business in Richmond, while the federal government still considers it a crime, was a major theme of the 2019 Cannabis Forum June 5 at the Cobiz building.
Over 160 cannabis business owners, customers, policy makers, advocates and enthusiasts attended the event organized and hosted by the Richmond Chamber of Commerce. It featured a panel of six knowledgeable and influential people in the cannabis industry in Richmond and across California.
"The purpose of the forum is to educate people and also to hear the community's reaction to the cannabis industry coming to Richmond," James Lee, president of the Richmond Chamber of Commerce, said. "I believe we're going to see more cannabis businesses coming to the city. It's better to have these conversations now than later."
The first line of business was righting the wrongs of history that have affected cannabis cultivators, distributors and customers in the past.
Keynote speaker and Contra Costa Dist. Atty. Dianne Becton announced a new restorative justice program in the works that would "use technology to clear all of the eligible convictions for marijuana in Contra Costa County… in an hour or so."
This would make Contra Costa County only the second county in the state to collaborate with the national nonprofit Code for America to utilize this technology in this capacity.
Though marijuana has been decriminalized in California, it is still classified as a Schedule I drug by federal authorities, which means that any business that cultivates, manufactures, sells or distributes it is in violation of federal law.
Despite the fact that California has the right as a state to sanction the sale of cannabis for medical and recreational use, federally chartered banks can't serve the businesses dealing in it without running the risk of legal trouble. This means cannabis businesses are not able to access bank accounts, which leaves them to operate on a cash-only basis. That affects not only their day-to-day operations, but also their ability to pay local and state taxes.
"Taxpayers are bringing in sometimes $400,000 a quarter in cash to our agency," California State Treasurer Fiona Ma said.
She said that Californians are, indeed, allowed to pay their taxes in cash, and the recent legislation AB 1741 ensures that cannabis businesses are no longer saddled with the previous 10% penalty.
"People are showing up with backpacks with a lot of cash," said Lina Velasco, Richmond's planning director.
Ma said there's hope in the legislative pipeline. In May, the California Legislature passed Senate Bill 51, which allows private banks and credit unions "to apply for a special cannabis license so that they can deposit cash." This bill still needs approval from the California State Assembly and Gov. Gavin Newsom to become law.
Until that legislation passes, cannabis businesses must also pay their employees in cash. This cash system, she says, means a heap of tax revenue is lost at the local, state and federal level.
"We were hoping to collect a billion dollars [statewide from cannabis businesses] in the last year," Ma said. "We only collected $345 million."
Although it is a difficult time for legal dispensary owners because of the all-cash system, panelists at the recent event said the best way to support the budding industry is still to set up legally permitted cannabis businesses.
Sgt. Nicole Abetkov, supervisor of the Regulatory Unit of the Richmond Police Department, says police have a "very good working relationship" with those holding legal permits. "I never knew or thought I would be able to hang out, hug, and shake hands with someone who, pretty much, is a marijuana dealer," she said.
In contrast, Abetkov stressed that illegal operators will see consequences, including being subject to arrest and seizure.
"It's not fair to the ones that are doing it properly to pay all this money and take all this time when you have other people that are operating the black market and making money and not paying their taxes on it and not paying the fees," she said.
Ma believes that de-scheduling and legalizing cannabis at the federal level is what the industry needs to level the playing field. East Bay Rep. Barbara Lee has introduced a bill to legalize cannabis, which would allow businesses selling it to bank like any other normal business.
"But until we take back the Senate, until we take back the White House, we are not going to be moving significantly forward, so I just want to implore you: 2020 is a very important year," Ma said.
In spite of all the obstacles facing cannabis business owners in Richmond, Velasco said that Richmond has three retailers, eight cultivators, and two manufacturers that are currently operating.
"Every year, it seems to increase, and my guess is 2019 is probably going to be a really big year for us," Velasco said.
Zeead Handoush, owner of 7 Stars Holistic Healing Center — Richmond's first dispensary — says aspiring cannabis business owners should wait until federal law begins to change.
But to anybody that wants to break into this industry, Handoush recommends setting up shop in Richmond, where all of his employees live, where he grew up and where he still calls home today.
"The city of Richmond was so supportive throughout the entire process," he said. "Richmond is the best place to do it."