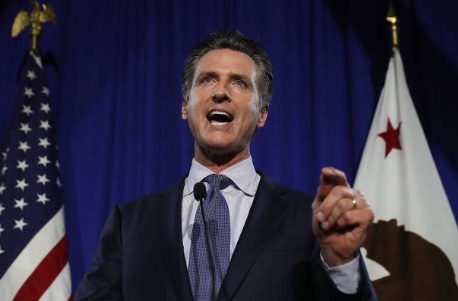 16 Jul

Newsom's Budget Prioritizes Education, Housing, Health — Plus Money For a Rainy Day
Gov. Gavin Newsom signed a $214.8 billion budget that prioritizes education, housing, and expanded health services, he told a conference call with Latino media, even as it sets money aside for a "rainy day."
The California governor also told reporters that he is committed to making sure Latinos and other ethnic minorities are counted during the 2020 Census.
While the Trump administration tries to suppress ethnic communities by inducing fear, California is betting on counting everyone whatever their immigration status, he said.
California's budget includes an additional $87 million for Census outreach, bringing the state's total investment for next year 's Census to $187 million.  "The return on this investment will pay on itself," the governor said.
The decennial Census is mandated by the U.S. Constitution. State and local funds are distributed based on population counts as is political representation.
The governor said he is placing special attention in the housing and homeless crisis, designating $1.75 billion for new housing. And he plans to tackle child care. "We are providing 12,000 child care slots for child care expenses, $440 million for preschool education… and we have expanded paid family leave."
The budget also freezes tuition and increases enrollment slots at University of California and California State University systems for the 2019-20 school year. And it covers two years of free tuition at community college for first-time and full-time students.
"This is a responsible budget that saves for challenging times… we are preparing for a rainy day," Newsom added. The budget will end the fiscal year with an estimated reserve of $19.2 billion, of which $6.5 billion is earmarked for the Rainy Day Fund.
Health care budget
The approved budget includes provisions that will allow low-income, undocumented immigrants up to the age of 25 to apply for Medi-Cal. It also allows for a $1 billion to support increased rates to Medi-Cal providers and expanded family planning services. Although Newsom did not mention the mandate, but the budget includes the return of a state-based penalty for people who do not have health insurance during 2020. He called this a step toward Universal Health Care.
For parents
Gov. Newsom said to address cost-of-living issues facing young families, the budget includes expanded paid family leave from six to eight weeks for each parent of a newborn child, potentially allowing as much as four months of paid family leave. This puts California on the path to provide universal access to preschool for all 4-year olds and full-day kindergarten, including funding for child care workers, expanding state-subsidized facilities and increasing slots.
Other topics not mentioned during the press event, but are part of the 2019-20 budget:
Includes $225.8 million to implement forest health and wildfire prevention efforts
Provides $96.7 million to support the living expenses of student parents with dependent children to increase degree completion
Invests $90 million to recruit and retain qualified educators to teach in high-need fields at priority schools and address California's teacher shortage, and invests $43.8 million to provide training and resources for classroom teachers and paraprofessionals to build capacity around key state priorities
Invests boldly in responding to Alzheimer's disease, including $3 million for research grants with a focus on women and communities of color, and $5 million for Alzheimer's disease local infrastructure