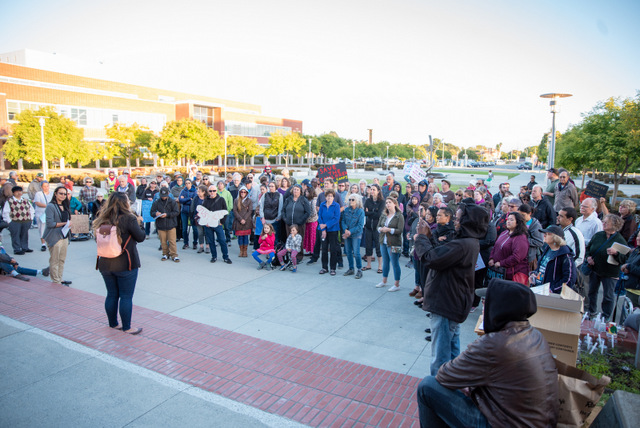 18 Jul

Lights for Liberty Illuminates the 'Root Causes' of Central American Migration
By Joel Umanzor Jr. | Photos by David Meza
The Lights for Liberty vigil was a series of events held across the nation July 12 to protest the Trump Administration's immigration policies, specifically the conditions in immigrant detention facilities.
One of those events took place at the Richmond Civic Center with dozens of families participating in speech, song and the lighting of candles calling to end to the detainment of migrants along the US and Mexico border.
The Richmond vigil was organized by former Richmond councilmember Ada Recinos, The Latina Center and the Richmond Progressive Alliance, alongside a handful of other community influencers and organizations.
RPA recording secretary Michelle Chan opened up the event as the sun set by stating the purpose of the vigil and the need for unity in the community at times like these.
"This vigil tonight is coming just at the right time," Chan said.
"A time where we need to be vigilant and to stand together with those in our community that are most vulnerable."
That echoes the mission of Lights for Liberty. The movement, according to its website, is a coalition of people dedicated to human rights who would take to "the streets and … their own front yards, to protest the inhumane conditions faced by migrants."
Recinos, the daughter of Central American immigrants, spoke about the root causes for the "mass migration" of Latinos fleeing their countries for better lives up north.
"Many of reasons why this is happening, and one of the biggest ones, is U.S. intervention in Central America, which has been ongoing for decades.
"Not only U.S. intervention," she continued, "but starting wars, massacres, the mass killings of children, the rape of women and the exploitation of their land."
Recinos broke down her story, one that is relatable to many families of Central American immigrants.
"As a Central American, I am here today because my parents had to flee a U.S. funded war," she said.
That is "the only reason why I am here, and I am certain there are many immigrants who want to be in their home countries making a home, but for a lot of them, that is just not a reality."
Recinos pointed out that a number of different variables are pushing Central Americans to risk their lives across multiple borders.
She added that the environmental challenges including a drought affecting Honduras, Guatemala, Nicaragua and El Salvador have pushed many in those countries to their metropolitan areas. That, in turn, results in the exploitation of an increased labor force by international corporations as well as the continued corruption of the governments, which are funded by these corporations.
"Those are the root causes of migration, and tonight I hope all of you will stand together and call for the U.S. to stop intervening in other countries because this will continue to happen till the end of time unless we stand up and say 'No more wars funded by the U.S.,' " Recinos said.
The cycle of monetary and political influence has been ongoing for decades in Latin America, enough for generations to be left with a feeling of déjà vu.
Richmond resident Carlos Kohan, a migrant from Argentina and one of the few Latinos in attendance, said he recalled the U.S. funded political influence that occurred in many South American countries.
"I'm from Latin America, and I still remember the Pinochet coup in Chile and when, in Argentina, 30,000 people disappeared, [including] one of my professors in university and some colleagues," he said.
"What is happening in Latin America and what has been happening for decades is there is a lot of repression and right-wing fascist government supported by the state department, and if they want people to stay in their countries, succeed and grow, they need to stop the support of fascist governments in Latin America."