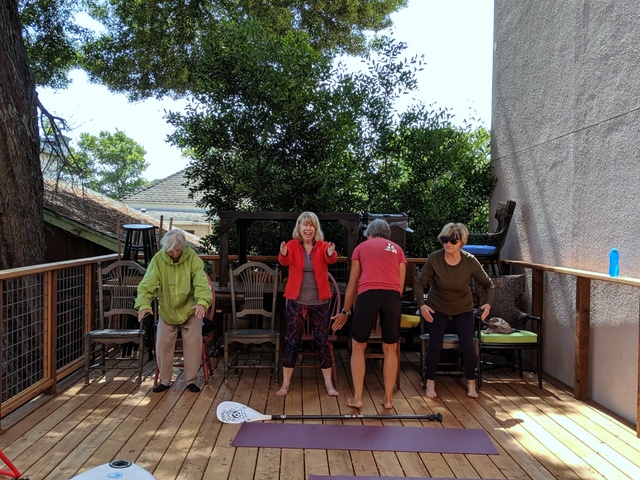 22 Jul

Kaleidoscope Opens Its Backyard to New Possibilities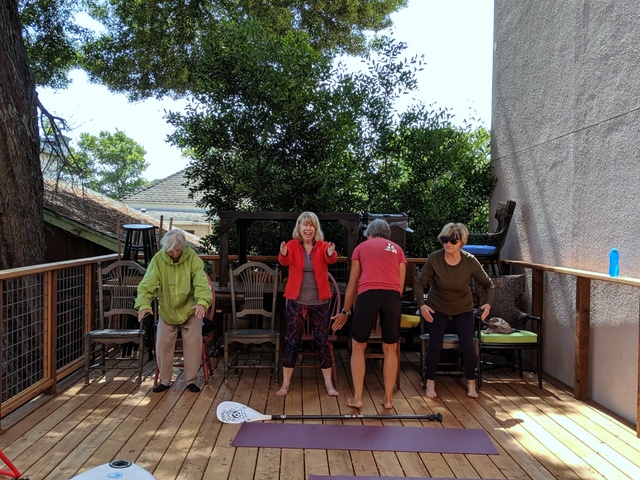 By Ilana Sawyer
During the grand opening for Kaleidoscope Coffee's renovated backyard on July 6, owner Cassie Cushing sat at a picnic table, relishing in the shade from a giant acacia tree and the breeze of that particular late morning.
"This backyard has been a long time coming," she said with a smile on her face, "but we're so happy to have it open now. It's a little slice of tranquility."
The coffee shop on Park Place in Point Richmond hosted a yoga class, a stand-up paddle boarding class, puppy and kitten adoptions from the Milo Foundation, a succulent workshop, heirloom tomato plant sales, and, later into the evening, live music and drinks.
"I wanted a lot of different things," Cushing said. "I tried to think about who's already in town, so this can feel like a communal partnership."
The roughly 1,400-square-foot space is split into two sections: an expansive redwood deck and patio area with upright tables and chairs up top and a garden area below with more places to sit and lounge.
The garden has passionflower plants, lilies, jasmine, a patch where, Cushing says, she hopes pumpkins will grow, come fall. For now, an avocado tree grows, which she started a few years ago with an avocado pit and a glass of water,
Near the middle of the garden is a raised portion of ground that protrudes above the woodchips. Cushing's smile becomes even wider, describing the little hill as a "work-in-progress." She's waiting for prunella vulgaris — also known as self-heal" or "heal-all, to spread — so kids can play on it.
"We'll call it the Imagination Mound," she said, "because it can be whatever you want it to be."
During the day's yoga class, Cushing said she got a little choked up to see people using the yard.
She opened Kaleidoscope three and a half years ago and though she had the idea of using the backyard space from the beginning, the process took some time.
The first few years had the normal challenges of stabilizing a new business. After that, there were multiple design ideas, logistical and legal concerns, permits and, of course, the cost. In April, she began hosting "dig parties" to begin the foundation for the deck.
Opening up the backyard to customers is part of how Cushing sees Kaleidoscope: an open space for people to use as not just a coffee shop, but also as a second home.
Jessica Perkinson goes to Kaleidoscope often and was there for the backyard's grand opening. Even if she was running on only a few hours of sleep, she wanted to show up for Cushing and what she's made of the backyard.
"I love the little whimsical stuff that she's creating," she said.
Cushing readily admits that the grand opening isn't something she can organize on a regular basis, but hopes it showed off the yard's versatility.
"The space is here for anyone to come and sit and have a cup of coffee or a glass of wine," she said, "but it's also here for whatever ideas people have."
Cushing says she's excited to hear ideas about how to use Kaleidoscope's backyard, and the best way to reach her is at kaleidoscope.coffee@gmail.com.