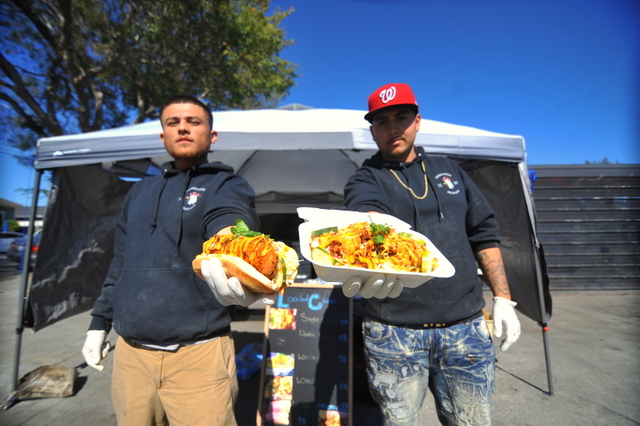 24 Jul

'It Smacks': Loaded Chickn Finds a Following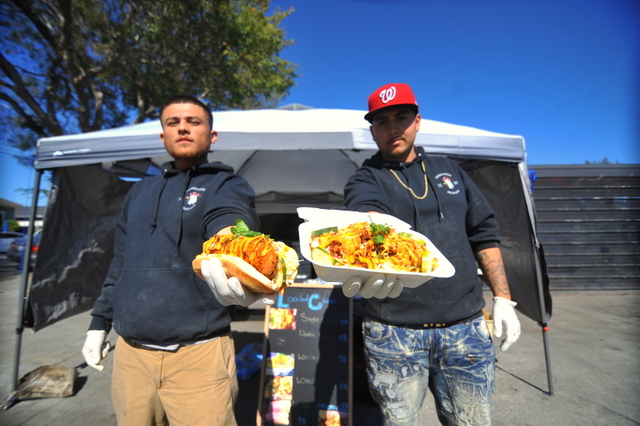 By Denis Perez Bravo
On a busy day, the people behind Loaded Chickn serve up to 60 pounds of poultry to as many as 300 customers. The lines that used to form when they were stationed in the parking lot of The Plug Tattoo & Piercing got so long that neighbors complained to the city.
To avoid any problems, the chicken sandwich shop has temporarily stepped away from The Plug at 12592 San Pablo Ave., shop owner Sal Salman said.
For now, they are operating across Richmond as a pop-up at different locations, like Richmond Tires at 16th Street and Market Avenue, but they plan to return to The Plug seven days a week by the end of fall in a $160,000 custom-built food truck that Salman is paying for.
"We added one more fryer to make it three, and added more burners and an oven," Loaded Chickn co-founder Sergio Gutierrez, 23, said.
With this new equipment, Gutierrez and Luis Martinez, 22, will expand Loaded Chickn's menu to include macaroni and cheese and baked desserts to go with their chicken sandwich and wraps and loaded fries. The signature sandwich is comprised of fried chicken tenders on a French roll with pickles, cheese, cabbage and lettuce slaw, chipotle aioli, a secret sauce, and a seasoning they call, "loaded powder."
Perfecting the recipe took three months of Gutierrez experimenting in the kitchen, but it resonated well with customers once they opened in January. Gutierrez and Martinez soon attracted the eye of Salman, who contacted them to set up in his shop's parking lot for an event in January.
Since then, their Instagram account, @LoadedChickn, has racked up more than 3,200 followers, many whom are customers waiting to hear when and where the sandwiches will be available next.
"People went crazy for our food," Martinez said.
Soon, Loaded Chickn became a regular, setting up and serving food four days a week outside of The Plug until the complaints came rolling in. Still, having to move around now has not deterred their devoted local following.
"I came as soon as they opened," Richmond resident Yordi Camacho recently said.
Camacho saw the July 13 Instagram post announcing Loaded Chickn would be open at Richmond Tires and had the chicken sandwich and fries combo for lunch.
"It smacks," Camacho said.
Because of their popularity, Gutierrez and Martinez had to hire three additional employees, along with some on-call workers.
Salman sees the energy Martinez and Gutierrez put into their business as the same passion his grandfather had when he opened up his first business in Richmond and the same drive his father had when took ownership of a market store, he said.
He says helping Loaded Chickn stand on its own will help their community thrive, just like his family businesses have helped him and his community.
"We just want to give them the chance that was given to us," Salman said. "It is refreshing to see young men doing positive things and wanting to do them the right way."