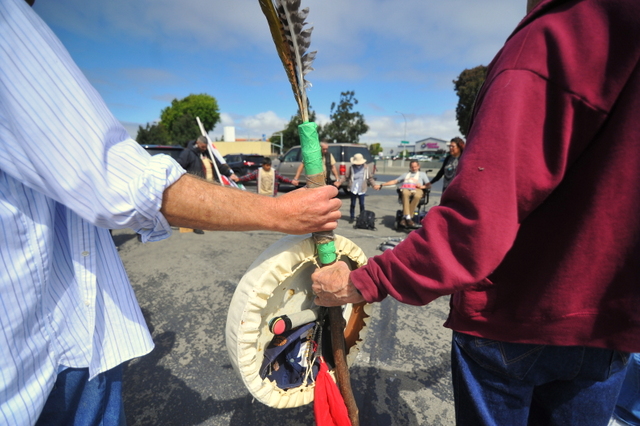 01 Aug

Walk Takes a Few Steps Towards Sobriety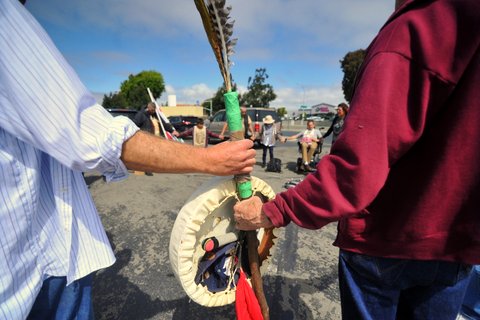 Leer en Español
Photo Essay, Denis Perez-Bravo
Sobriety ultimately comes down to the person practicing it, but that doesn't mean that person has to go it alone. People who want to lessen alcohol dependence in Richmond promoted that idea by walking together recently.
To support people who are struggling with alcoholism, local indigenous communities have for the last five years hosted the Indigenous People's Walk for Sobriety in Richmond. The California chapter of the United Urban Warrior Movement organizes the annual event to raise awareness on alcohol-related issues and to gather support to ban single-serve alcoholic drinks and to end excess sales of alcohol in Richmond.
For the first time, the Walk for Sobriety took two routes to city hall. On July 21, event organizer Mike Kenney and others began at the Grocery Outlet parking lot at the intersection of San Pablo and Macdonald avenues, and community organizer Diego Garcia led different Latinx community groups from the Veteran's Memorial Hall on 23rd Street and Lincoln Avenue.
When everyone arrived at city hall, they together walked to Luke's Methodist Church where public officials including Mayor Tom Butt and Supervisor John Gioia and others from the community spoke about sobriety to a crowd of around 100 people.
"Richmond has more liquor stores than any other city in Contra Costa County," Garcia said.
More than half of the refrigerator space in Richmond liquor stores are lined with single-serve alcoholic beverages, Garcia said, making them cheaper and more accessible to people who are vulnerable to alcoholism.
A high density of liquor stores in Richmond's neighborhoods is linked to community health and safety problems, according to a study from the Pacific Institute. Researchers found that areas with more liquor stores have higher rates of crime and violence, alcohol-related hospitalizations, drunk driving accidents, pedestrian injuries, child accidents, assaults, and injuries from child abuse.
Star Brightman, a 17-year-old who is Pomo, spoke about her family's addiction to alcohol.
"When my aunt got clean, everything was perfect," Brightman said.
Brightman's aunt, Nicole Smith, glued her Pomo family together at their home at the Manchester Rancheria reservation in Mendocino County. But when Smith was murdered in 2017 at the age of 32, Brightman's family broke down. Seeing her family spiral into alcohol abuse led her to drink, Brightman said, but she eventually left the reservation.
"I got help," she said, adding she needed to overcome her need to drink before she ended up hurting herself and the people around her. You need "to want to do better."
Having dealt alcoholism for 28 years, the event organizer Kinney said he feels for the youth because of how easy it is to access alcohol.
"I am tired of seeing 13- to 18-year-olds exposed to alcohol and alcohol abuse," Kinney said.
He says the sobriety walk won't change everyone, but it does show some that there is support available in places riddled with temptation.