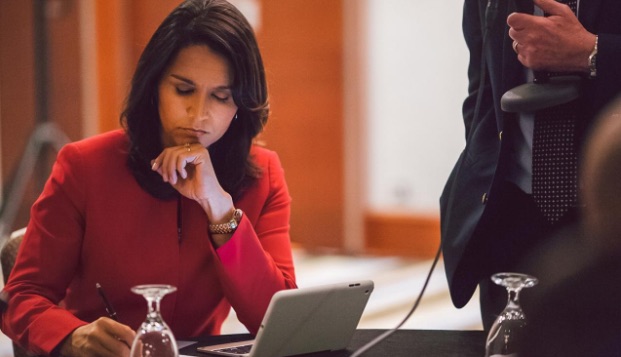 08 Aug

Tulsi Gabbard says U.S. Needs Diplomacy, Not War
By Michael J. Fitzgerald
Democratic presidential hopeful Tulsi Gabbard says the U.S. needs far more sophisticated worldwide diplomatic efforts and a far less aggressive U.S. military stance.
Gabbard's comments came Friday, August 2 during a wide-ranging one-hour teleconference with journalists, part of a series of such events organized by Ethnic Media Services to expand access to candidates for ethnic media reporters.
She is a war veteran who served two tours of duty in the Middle East, currently a Major in the U.S. Army National Guard, and the first female combat veteran ever to run for U.S. president. She was first elected to Congress in 2012 and has served for more than six years on the Foreign Affairs Committee and the Armed Services Committee.
Gabbard said she is concerned about the Trump administration's withdrawal — and likely future withdrawals — from critical arms treaties, such as the intermediate-Range Nuclear Forces Treaty, better known as the INF treaty.
She said President Donald Trump is encouraging the idea that it is possible for the U.S. to use small tactical nuclear weapons in military conflicts but that it would not spark a broad nuclear war among nations.
"He is kicking off a new nuclear arms race," Gabbard told reporters. "We have to maintain these treaties. A nuclear war leads to total annihilation. That's why diplomacy is so important. The only alternative is war."
Gabbard's message that the U.S. is too warlike and needs to not act as if it is the world's policeman was part of the focus of a New York Times article Sunday headlined "Tulsi Gabbard thinks we are doomed."
The 38-year-old graduate of Hawaii Pacific University also spoke at length about representing Hawaii in Congress and what it was like being raised in a multicultural and multi-religious home. Her father is of Samoan and European ancestry. Her mother is German and a practicing Hindu, a religion Gabbard chose to follow when she was a teen.
"The core of our democracy is that we strive together to fight for true equality for all Americans," she said. "Trump is undermining the core values of equality and justice for all. We are strongest when we stand united."
The Congresswoman was also quizzed about the ongoing U.S. trade war with China, which Gabbard labeled as simply "irresponsible." She said the overall direction of the Trump administration towards China is wrong, with the net impact that the imposed tariffs are causing harm to the American people, businesses, farmers and manufacturers.
"And a trade war can easily escalate into a hot war," she warned.