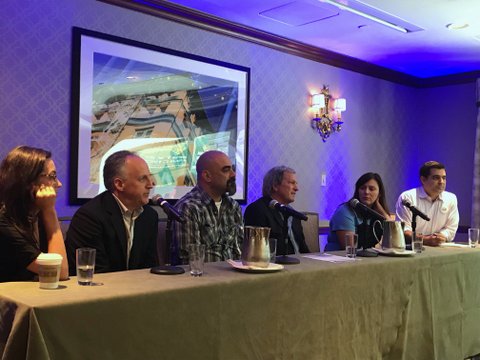 11 Aug

Journalists Lament Big Tech's Footprint on News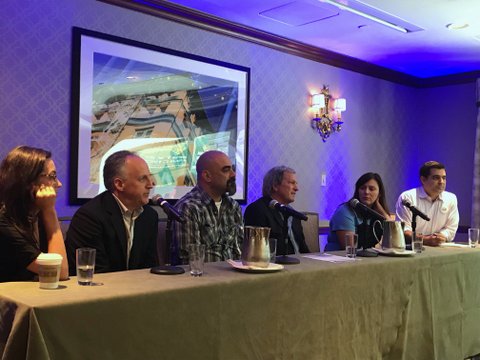 Above: (L to R) Laura Bassett, Neil Chase, John Stanton, Mark DeSaulnier, Audrey Cooper and Ken Gude discussed journalism industry challenges in a July 31 panel in downtown San Francisco.
By Mark Hedin
The tech industry is eating the newspaper industry's lunch and skipping out on the bill, according to current and former news executives, reporters and Congressman Mark DeSaulnier, who spoke on a panel July 31 in downtown San Francisco.
DeSaulnier has introduced or co-sponsored three pieces of legislation intended to improve what's become of a broken business model: journalists are continuing to be laid off by the thousands and newspapers are folding all over the country.
Locally, traditional "watchdog" journalism has taken some hard hits. Earlier this year, the East Bay Express laid off its reporting staff. In 2017, within weeks of winning a Pulitzer Prize, more than 20% of the East Bay Times staff got walking papers, too. Just the week before the panel assembled, the Vallejo Times-Herald reduced its staff for covering a city of 120,000 people to a single reporter.
With fewer reporters comes a growing lack of accountability in the public sector. DeSaulnier spoke of the difference it makes, for instance, in city council meetings when there is no longer a reporter taking notes of politicians' positions on issues, who's supporting them, and how those decisions impact people.
Part of the decline began when Craigslist arrived in the 1990s, eating away at precious advertising revenue. Newspapers never came up with a solution, even as Craigslist Founder Craig Newmark has donated millions to journalism schools.
"Craigslist really blew up a lot of news organizations," said John Stanton, who was Washington, D.C., bureau chief for BuzzFeed until being laid off in January. He co-founded the Save Journalism Project, the host of the event, with fellow panelist Laura Bassett, who also this year lost her job as senior politics reporter for HuffPost.
Even online advertising has flowed away from traditional news websites to tech companies that don't adequately compensate the news organizations supplying the content.
Two companies, Facebook and Google, get 63% of online ad revenue and control 90% of new online advertising, panelists said. 
"Facebook is how more and more people get their news," Stanton said, but "innovation has to have social responsibility."
Chronicle Editor-in-Chief Audrey Cooper said at the current rate typically paid for online advertising, a thousand page views of Chronicle-generated content would earn the newspaper $1.79, less than the newsstand price of a single copy of the daily paper. 
"The model can't be advertising anymore," said Neil Chase, CEO of CalMatters and former executive editor of the Bay Area News Group (BANG).
BANG owns almost every Bay Area daily newspaper except the Chronicle and Examiner. It's a subsidiary of Digital First Media, owned by Alden Global Capital, a New York hedge fund notorious for gutting businesses and ultimately shutting them down, hence the post-Pulitzer layoffs at the East Bay Times and recent layoff in Vallejo.
One of DeSaulnier's measures in Congress, H.R.3126, would simplify how a news organization could operate as a nonprofit and make ad revenue tax-free. He also co-wrote the resolution H.R. 282, which recognizes the importance of local news coverage. And he's co-sponsor of H.R. 2054, which would allow news organizations to jointly negotiate with tech companies without fear of antitrust charges. At press time, those are all making their ways through various congressional committees.
None of the panelists held out much hope that the tech giants distributing most of the nation's news would voluntarily or adequately compensate content creators.
Cooper spoke hopefully of how millennials see news as a commodity worth paying for, whereas the industry has "trained baby boomers that it's their God-given right" to get their news for free. She said 125,000 digital subscriptions could fund her staff of 200. But figures from DeSaulnier's office suggest newspaper web sites reported a 9% decrease in circulation last year and advertising overall dropped 13%.
Because of "an abhorrent lack of corporate responsibility," DeSaulnier said in an interview with Richmond Pulse, that getting your news for free on social media means "you're paying for it with your privacy.
"Social media's really frightening because it can redefine you as a human being," he said.
And it's also redefining the news business.
Taking questions from the audience, the panelists praised options such as public funding and cited the U.K.'s BBC as a good example of government-funded journalism that retains its editorial independence. Meanwhile, in the United States, the government's partial funding of National Public Radio and the Public Broadcasting Service is under constant attack.
Asked by the Examiner's Joe Rodriguez about the possibilities for private investment in news organizations, Stanton held up Amazon CEO Jeff Bezos' ownership of the Washington Post as a positive example.
Rodriguez also gently chided the panel for its lack of diversity. But panelists had said earlier that the industry's struggles have set back long-overdue progress made in recent years toward diversifying journalism's ranks.
In a conversation with Richmond Pulse following the panel discussion, Chase pointed out how some communities have rallied to save their papers, such as the 120-year-old Half Moon Bay Review, purchased last year by a local beer maker and a handful of other San Mateo County residents. And in 2011, Santa Rosa's Press Democrat was purchased, along with the Petaluma Argus-Courier and North Bay Business Journal, by a group of Sonoma County residents intent on local ownership.
But such community generosity has so far proven to be rare.