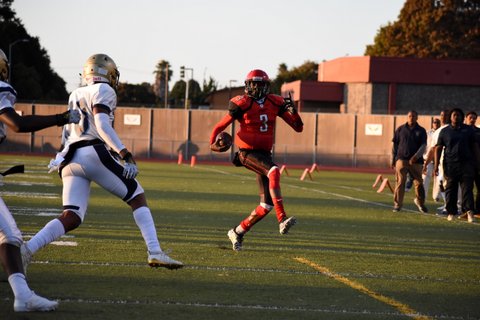 30 Aug

Kennedy Opens Season With Win Over Stellar Prep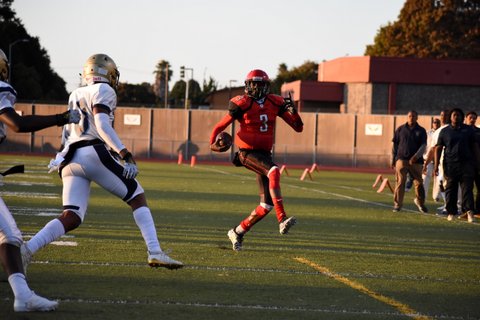 By Denis Perez-Bravo
Kennedy High's varsity football team kicked off the season with a 27-14 victory over Hayward's Stellar Prep on Aug. 23.
Playing on their home field, the Eagles took control of the game in the first quarter and held it until the end of the game, but not without struggling to hold off Stellar's running back Kari Glover.
"Stellar is a good team, they are big and real physical. They matched our physicality early on," Kennedy High coach Greg Marshall said.
Despite the matchup in strength, the mostly junior and senior Kennedy team was able to get "over the hump" of not being as stronger as their opponents.
Kennedy wide receiver Camron Young scored the first touchdown of the game in the first quarter. Daniel Vides' kick brought in the extra point. Young then scored another touchdown in the second quarter, this time off a 14-yard punt return.
During halftime, Marshall urged his players to be more conscious on defense as the game progressed. The physical demand of the game took a toll on players, which included injuries on both sides, including Kennedy linemen Michael Richardson.
"After I pulled a muscle, it went downhill," Richardson said. "I tried to fight through the pain, but I couldn't."
In the second half Glover found the gaps in Kennedy's zone defense and outran the defenders to score both touchdowns for Stellar.
The Kennedy players need to keep hydrated during the week, linebacker coach Charles Wright said, so they stop tapping out in the middle of the team's remaining nine games. Or 15, if they head to state.
"I need y'all to be participants of the discipline part of this game," Wright told his players.
Coach Marshall said the multiple flags and penalties called against Kennedy were not a big surprise.
"It's the first game of the season, so you have those first-game jitters," he said.
Marshall said Stellar was a great test for Kennedy right out of the gate because many of the teams the Eagles will face won't be as physically equal.
This season is Marshall's fifth year. He said that he has coached most of the players he has on the roster since they were freshman.
"Today wasn't our best performance," he said.
And he expects them to work harder and get better.
"We did just enough to win, but just enough will not get us to our ultimate goal, which is to win the NCS title and possibly a state championship," Marshall said.
Richardson says he knows the rest of the season will require more effort.
"I got to get stronger and hit the weight room, as well as get more conditioning," he said.