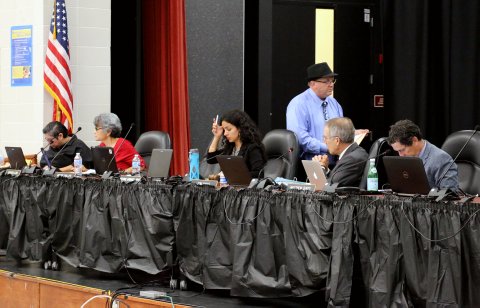 06 Sep

WCCUSD Considers Bond Measure or Parcel Tax for 2020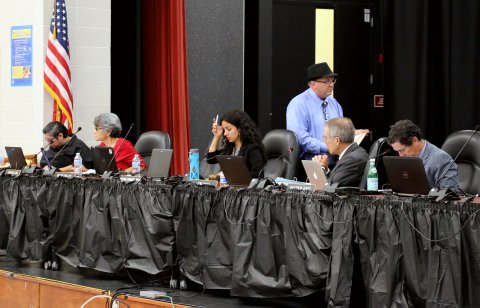 By Edward Booth
The West Contra Costa Unified Board of Education is considering putting a parcel tax or a bond measure — or both — before voters on the 2020 ballot.
Though the board didn't approve any ballot items at the meeting Sept. 4, they showed interest in hiring a polling firm to assess how the measures would land with voters.
A parcel tax requires a two-thirds majority of the vote to pass, but school construction bonds only require a 55% majority. This lower threshold means 84 percent of local school bonds have passed across the state since 2001, according to reporting from EdSource.
Parcel taxes and school bonds differ not only in what their funds can be used for, but also how the money is collected. With a parcel tax, an equal amount of funding is collected from each home, on a per-parcel basis, while bonds incur a debt that must be repaid by taxpayers, with interest, over decades.
Bonds are for brick-and-mortar construction projects, while parcel taxes help fund how a school is run, including programs that support students.
But, according to an investigation published by the East Bay Express last year, school construction bond money has been used to supplement holes in operational budgets with little oversight at both the state and local level.
As the board expressed support of putting some kind of financing method on the 2020 ballot, public commenters expressed a desire for transparency, clear language and protection for taxpayers.
Some referenced a 2016 investigation into the district's bond program, which found it didn't comply with district policies, wasted money and carried with it potential conflicts of interest, among other issues.
Ben Steinberg — who opposed 2014's Measure H, which failed with 46.3% of the vote — said the end result of the investigation had left the community wondering what those in charge of the school construction bond were trying to hide.
"If there are not adequate consumer taxpayer protections, we will defeat the next bond measure, if you decide to go that route," Steinberg told WCCUSD's board, "I really hope we can learn from our past mistakes."
Board member Stephanie Hernández-Jarvis said she supported increased transparency and more funding for district schools, but she'd like to see specific, purpose-driven language that identifies the actual services provided.
"I think what I'm taking away is that we need to have the trust and transparency that our taxpayers and communities deserve and even expect from us," Hernández-Jarvis said.
Marcus Walton, WCCUSD's communications director who gave the presentation, showed the board two timelines for the bond or parcel measures, based around whether it would prefer the vote to land in March or November of next year.
A March vote would truncate the process — giving less time for outreach and decisions — and cost taxpayer between $290,000 to $457,000. A November vote would be much less, around $200,000, at early estimates. Campaigning on an already-packed presidential ballot costs about one to two dollars less per voter, Walton said
Walton also mentioned that bonds have a higher success rate than parcel taxes: Six of seven of them have passed from 1998 through 2014 — the latter being the year Steinberg and other voters rallied against it — while half of parcel tax votes succeeded from 2004 to 2017.
Board president Tom Panas said that he supported adding to funding schools, but he felt the board would be better able to make a decision with more information, including what a prioritized list of projects or services the money would fund and what checks and balances would be in place.
Board member Valerie Cuevas argued for the importance of the funds, and asked the crowd to not underestimate the improvements in transparency that have already been made.
"I don't mean it to be a great surprise when I say I'm fully in support of asking for the funds that we need, and I have no shame about it," Cuevas said. "Over the last decades, we have disinvested in public education in ways that have nothing to do with the young kids and the young minds who are in our schools today."
In Other Board News:
The WCCUSD board also unanimously affirmed their support for SB-328, which would require all state middle schools to start before 8 a.m. and high schools before 8:30 a.m.
Ryan Lau, a representative from AC Transit, urged the board to oppose the bill. He argued the change would throw their entire system out of wack.
The board said they'd look into it.