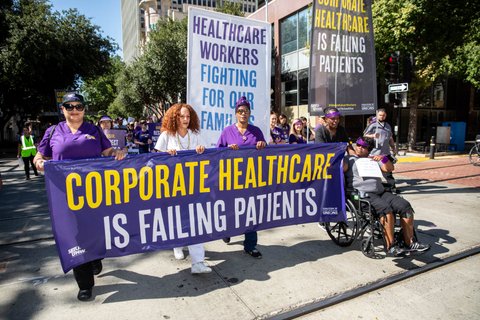 07 Sep

Bay Area Kaiser Workers Prepare to Strike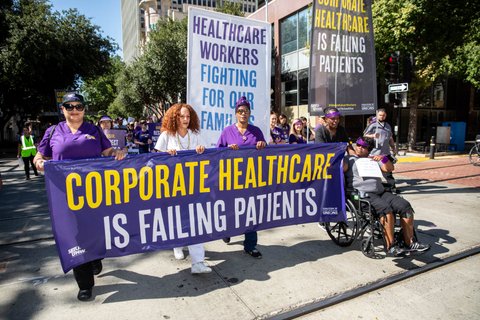 By Denis Perez-Bravo | Photo via SEIU-UHW
The nation's largest strike in over a decade looms after 37,5000 California Kaiser Permanente workers approved a walkout that would start in October.
Service Employees International Union – United Healthcare Workers West (SEIU-UHW) members voted this summer to authorize their bargaining team to call for a strike.
SEIU-UWH is the largest in the Coalition of Kaiser Permanente Unions. SEIU-UHW spokesperson Sean Wherley says the union believes Kaiser has behaved illegally and has unfair labor practices.
"Kaiser needs to get back on track and stop focusing on profits," Wherley said.
Most recently, on Labor Day, thousands of workers protested at different Kaiser locations, including in Oakland, Los Angeles, Sacramento, Denver and Portland.
Kaiser's vice president of communications John Nelson told Richmond Pulse in emailed statement that the strike is being used as a bargaining tactic.
"It is designed to divide employees and mischaracterize Kaiser's position, even though most of the contracts don't expire until October," Nelson said.
Kaiser has been working together with SEIU-UHW toward a mutually beneficial agreement, he said.
"Kaiser has presented a contract proposal that would provide annual pay increases that would keep employees compensated higher than market averages," Nelson said.
Workers have pushed back, saying they worry that staff shortages, unfair contract bargaining, disappearing management and worker partnerships and the outsourcing and the automation of jobs are all signs of Kaiser turning their backs on workers.
One of the workers' main concerns is the profits the company is getting and where it is being directed.
A not-for-profit entity, Kaiser has a $5.2 billion profit in the first half of this year, and has made $11 billion since January 2017, Wherley said.
"The company also sits on $35 billion in reserve," he said.
The CEO is paid $16 million a year and at least 36 executives have an annual salary of more than $1 million, and Kaiser lacks financial transparency, he said.
"Kaiser is exempt from many of the financial reporting requirements of other hospitals and health systems," Wherley said.
Sonya Smith, an X-ray technician in Oakland, said Kaiser is only looking to find ways to become more profitable and is turning its back on their workers. It does this by outsourcing jobs like gardeners and workers at the distribution centers, she said.
"This shows that Kaiser doesn't care about the community those employees are from," Smith said.
Smith has been working in the Kaiser in Oakland for 10 years and she voted to strike to send a message: her and her co-worker's jobs are valuable.
"Frontline workers are taking care of your family members when they come into Kaiser, not the CEO," Smith said.
Even though striking means to forgoing her pay, Smith is preparing for it because Kaiser needs to know that the workers don't agree how money is being spent.
"It is going to be difficult because most of us are two paychecks away from being homeless," Smith said.
Around 4,500 workers in Washington, Oregon voted in support of the national strike. Maryland, Colorado, Virginia will vote in mid-September, according to the coalition.
If workers strike, Wherley said it would affect more than 24,000 Kaiser workers in the Bay Area.