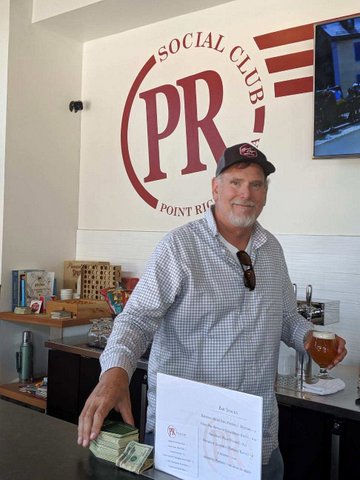 11 Sep

Social Club Hopes to Be a Destination in Point Richmond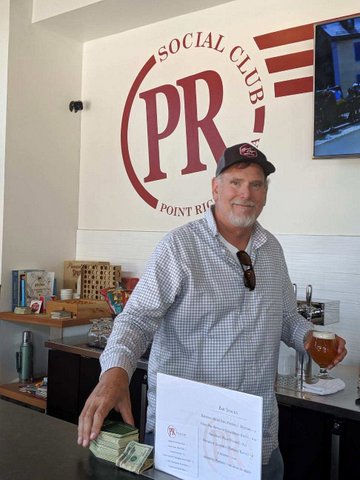 By Ilana Sawyer
Tim Manhart describes the Point Richmond Social Club as a destination, a place to see people and be seen.
Despite the name, it's not a club. It's a coffee shop that's open at 7 a.m., but it also serves alcohol until 8 p.m. or later, depending on when the last customer stays around. Manhart, its owner, says they want to meet a wide variety of needs for the people of Point Richmond.
"I've refined it to 'Point Richmond Social Club featuring Catahoula Coffee'," he said.
Manhart, a Richmond local, has owned and operated Catahoula Coffee Company roasting lab and cafe on San Pablo Avenue in Richmond for 12 years. This past spring, he decided to open the Social Club to bring Catahoula's coffee to Point Richmond. But he wants it to contribute to a nightlife scene more than Catahoula offered — as the cafe has continued to stick to its espresso-based menu and its 5 p.m. closing time.
The Social Club has 16 taps of local artisan beers, many of which are brewed in the East Bay, including a few for just $6 a glass. Manhart rotates the brew selections out regularly to keep things "fresh and new."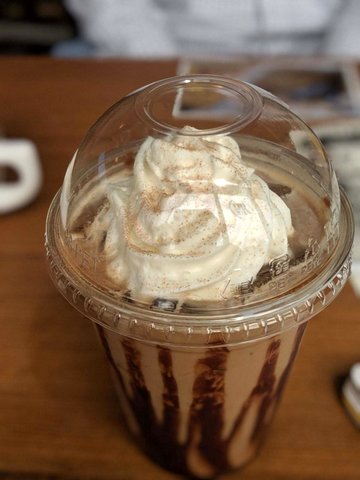 Manhart generously poured The Pulse a taste of a few of his choice brews. The chilled Far West Cider's Guava Cider (Richmond) was effervescent excellence. Fieldwork's Chloe (Berkeley) was sweet yet sublime, and the Hef-D (Alameda) was a cool wheat field in a cup. The Mexi-Mocha and other espresso drinks — both hot and iced — were decadent caffeinated heaven.
But more than anything else, Manhart says that the Social Club is all about community.
"You meet people here, it's unpretentious," he said.
Manhart says he hopes that the Social Club "complements" what's already in Point Richmond. He maintains that the location chose him, and he says that his vision for the Social Club is that it becomes a fixture of the community, a destination.
"You can bring your kids and your dog can hang outside and chill," he said.
The premises do boast an impressive outdoor seating area, but the biggest draw of the Social Club is the patronage, from the local pastor to the funeral home workers who come in for a cup of coffee or a cold one.
Andrea Vasquez, a Social Club employee, notes the friendly everybody-knows-your-name vibe of the establishment. "If they come and have a beer, we sit with them and talk about their lives," she said.
This investment in well-being goes both ways. Vasquez says customers do things like remembering to wish her a happy birthday, while staff regularly check on how their patrons are doing.
"Everybody really cares," she said.
Raphael Douglas, who has lived in Richmond for 62 years and is an Elder and Third Assistant Pastor at McGlothen Temple Church of God in Christ, says the Social Club patrons "are nice and approachable, the kind of people you can talk to about life, spiritual things."
"I come here, have coffee, read my Bible," he said.
Dan John, a Richmond resident and loyal Social Club customer, said there is a "camaraderie" among customers and people behind the counter. John is also enthusiastic about the location of the Social Club in Point Richmond.
"It's looking over at the park where I used to play frisbee all the time," he said.
There is a dog aesthetic and theme in the cafe, and several coffee blends of Catahoula are named after Manhart's or his friends' cherished pooches.
"Why not?" says Manhart. "I love dogs."
Manhart sells merchandise emblazoned with a photo of his old English Bull Terrier, Lola, who is the mascot for the "Lola" blend of coffee: "A bold and complex – some folks say stubborn – yet unexpectedly sweet blend of African and South American beans."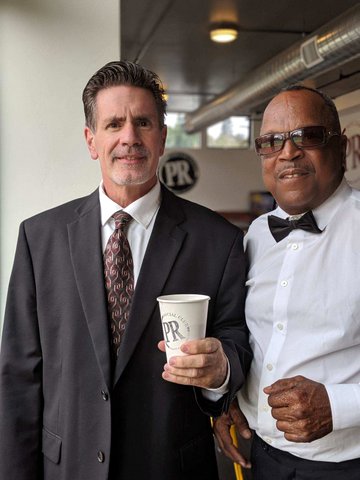 But Donald Rollins, guest services director for Smith and Witter Funeral Home, was interested in a different t-shirt with a particular epitaph: "Death before decaf." He had to leave in the hearse parked outside because he had a service later that afternoon, but he said he plans to return to the Social Club to buy the shirt.
In addition to merchandise, the Social Club is building a new triangle-shaped sun-shade outside and possibly expanding their "small bites" menu — currently brats and pretzels — into more food that "complements" local food offerings.
Manhart also has other things on the horizon for the Social Club, including comedy, trivia, and DJs. "Just kind of get different things going," he said.
The Social Club has already seen some successes on the front of group get-togethers. That includes birthday parties and parent meetings, now that school is back in session.
But they are always open to other events and Manhart and his team encourage even more people to use the Point Richmond Social Club as a destination for community.
"We're game for everything," he said.
Point Richmond Social Club is located at 401 S Garrard Blvd., Richmond and can be reached at (510) 778-8629. It's open Sunday – Wednesday 7AM-to 8PM, and Thursday – Saturday 7AM to 9PM.