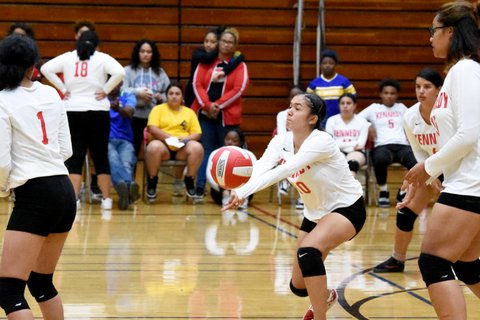 13 Sep

Kennedy Caves to John Swett's Pressure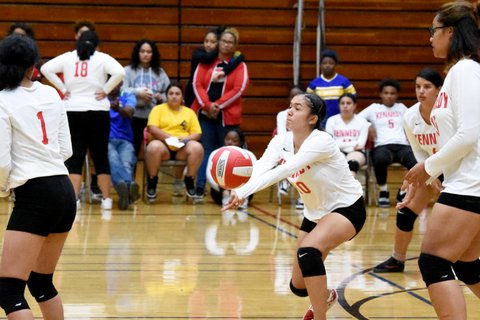 By Denis Perez-Bravo
Under the pressure of John Swett High's offense and the energy of the crowd the Warriors brought with them, Kennedy High's volleyball team lost in straight sets.
Richmond's Kennedy Eagles (0-2) girls' varsity team faced Crockett's John Swett Warriors (1-0) at home during a Tri-County Athletics League conference game Aug. 29.
The Warriors ravaged the Eagles by winning the first set by 13, the second set by 14, and the third by 12.
Kennedy coach Harry Campbell said the Eagles' serves were inconsistent.
"We would win a point and then serve one underneath the net," he said.
Campbell would have liked to see the Eagles start the rally, but giving up points on the serve meant their offense lacked pressure. Instead of attacking with a spike, he said the Kennedy squad would constantly return the ball to the Warriors with a pass or a bump instead of a spike.
This led to the Eagles losing the longer rallies in which they would defend well but were unable to create opportunities to score. And when the Warriors won a rally, they would chant and their fans would follow with even more noise.
Campbell says that overwhelmed the Eagles team and got to their heads. "This is the loudest team we have faced, and John Swett brought a crowd with them," he said.
The second set was the lowest scoring for Kennedy, and frustration began to set in. "Everybody was really nervous, and we gave up," co-captain Alisha Mauga said.
The team picked itself up and was able to take the lead at the beginning of the last set, but quickly lost it as the Warriors buckled down, attacked more and made fewer errors. They pulled further ahead as the Eagles served underneath the net, helping put points up on their opponents' side.
"We played as well as we could, besides the serves," Campbell said. "They are what is killing us."
Kennedy High will next go up against De Anza High in a home conference game Sept. 19. They will face John Swett again in a conference game at home, Sept. 24, and Pinole Valley in a home conference game Sept. 26. All games begin at 7 p.m.