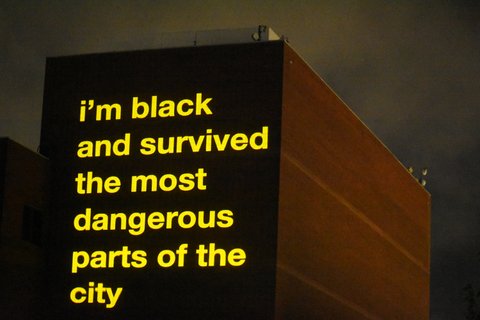 16 Sep

Phrases on City Hall Spark Reflection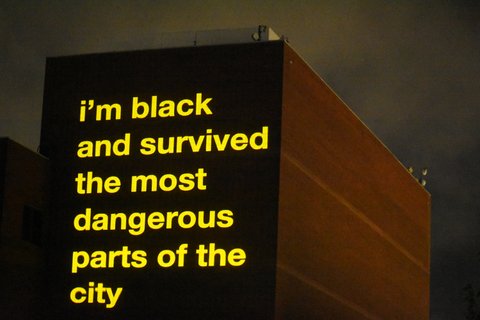 Photo Essay, Denis Perez–Bravo
The people of Richmond's inner thoughts were projected onto Richmond City Hall's 60-foot exterior wall as part of a public art project late last month.
Richmond artist Christy Chan's art projection, "Inside Out," showcased 100 phrases that played on a 75-minute looped video showing from 8 to 11 p.m. on Aug. 21 to 25.
"I am interested in creating platforms for community engagement and then letting word of the project organically spread," Chan said.
The selected text was picked from more than 1,100 phrases that Richmond residents submitted online and through workshops in places like Kaleidoscope Cafe and the RYSE Center. Chan said she read them all and selected those that best described prevalent themes in the community.
Chan said she created the project to give a voice to those people who have something to say about their life but feel they have no platform.
About half of the comments were submitted anonymously and ranged from topics like immigration, forgiveness, homelessness, climate change and criticism of President Donald Trump.
Some phrases read, "I dream of having a roof over our heads," and "Love is why we are here."
A majority of the statements were about immigration, something Chan said is representative of the people that live in Richmond.
"We are immigrants, not delinquents," one of those selected phrases read.
Richmond resident Terry Beverly heard about the project on the radio and drove to city hall after work on the last day it was being displayed. He parked his car and analyzed the phrases.
"Art is the soul of the city and creating art makes us people," he said.
One of the phrases that he connected with was "I worry about mass extinction."
"We all have that thought in our heads," he said.
Beverly stayed to watch more of the installation, as words ticked way. He connected with many of them, as they made him reflect on his own life.