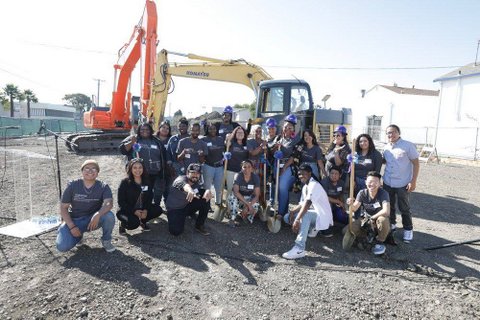 17 Sep

RYSE Breaks Ground on Expansion of Youth Center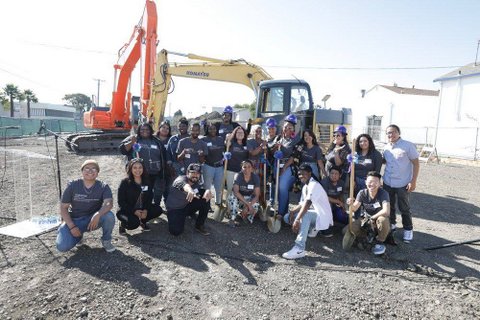 By Joel Umanzor Jr. | Photo by Luis Cubas
More than 10 years after it opened amid skepticism and resistance, the RYSE Youth Center took a major step in its efforts to help local young people build better futures.
In front of an estimated crowd of 200 government officials, funders, community leaders and youth, RYSE broke ground Sept. 6 on a new 37,000-square-foot expanded campus, RYSE Commons, with a celebration of its past and future.
The ceremony showcased many of the youth involved in the center as they performed spoken word, dances and chants.
"I'm here because young people took the risk, the courage and the tenacity to tell us that adults weren't showing up right for them," said Kanwarpa Dhaliwal, the assistant director and co-founder of RYSE.
The RYSE Youth Center opened in 2008 to provide a safe space for youth in the community to influence, design and organize their own social programs. The newest chapter in the organization's history keeps that mission at the forefront.
Through partnerships with Contra Costa County Supervisor John Gioia, various funders throughout the Bay Area — such as the California Endowment and the San Francisco Foundation — and the application of the New Markets Tax Credit program, RYSE has been able to secure the location for a campus on the corner of Bissel Avenue and 41st Street.
The New Markets Tax Credit is a California program established in 2000 to provide a financial incentive to encourage private investors to put money into low-income communities.
"This is an amazing day because this is really about the future of Richmond and the future of young people in our great city," Gioia said. "All this property here, from the building down to the end (of the lot), was owned by Contra Costa County. Today, it is all owned free and clear by RYSE."
Gioia, Dhaliwal and co-founder Kimberly Aceves-Iñiguez emphasized the role of the youth played in the conceptualization and vision of the new campus.
"Young people organized for this," Dhaliwal said. "It's their labor, their burdens, their legacy."
According to Dhaliwal, over 150 local youth participated in the brainstorming and designing of the new RYSE Commons. Some leaders wanted the youth center opened as fast as possible, while others wanted a process where young people were invested in it.
Gioia also remembered the skepticism of critics during those early days of the RYSE vision, but said people knew they needed more.
"We need a place that meets young people where they are at, that accepts them where they are at, and that is friendly to young people of all races, ethnicities, sexual orientations, whatever their place in life," Gioia said. "It's not just the building or just what happens inside. This becomes a gateway to other opportunities, to other services and to great organizations in this city."
The groundbreaking ceremony is a milestone for RYSE, which operated early on when funding for such community projects for youth in the area was virtually nonexistent.
"One of the things that felt really palpable was remembering all of the young people who fought for this when many people in the community said it could never happen," Aceves-Iñiguez said.
For Aceves-Iñiguez, the event sparked reflection of the journey to getting the RYSE Center to where it is now.
"Thinking about how those young people had a really big vision and a commitment to leave a legacy, and that's really what RYSE Commons is," she said. "It's about leaving a legacy to the next generation. It isn't about one of us or some of us because it's about all of us."
That legacy, as Aceves-Iñiguez said, will be able to inspire local youth, such as current San Pablo City Council member and RYSE Board member Abel Pineda, to continue to shape the services that best serve their futures.
Pineda, who participated in RYSE while attending Richmond High School and growing up in San Pablo, is the quintessential example of the difference that the cultivation of youth-inspired social services can make in a person's life.
Pineda said he lost his best friend to gang violence when he was 15 and while he was hurting inside, people would tell him "Oh, don't do anything crazy."
"I was fortunate to have people that are now the leaders of this space… that really reached out to me, to other young people alike that were going through a lot of challenges and difficulties here in this community," he said. "And if it wasn't for their mentorship or support, I can probably tell you that not just would I not be here, there is a likelihood I would not be alive."
Since his time at RYSE, Pineda, 26, graduated from UC Santa Cruz and became the youngest-ever San Pablo City Councilmember when he was appointed in January to fill the seat of Cecilia Valdez after she resigned.
Pineda says that if young people are given a chance to be heard, they can contribute to solving community issues.
"The young people, they know so much," he said. "Just give them the opportunity to share a little bit about themselves, what their life has been, what their experiences have been, and I guarantee you that they can provide you solutions to the problems we are seeing."
The new RYSE Commons campus is tentatively set to open in the spring of 2021.