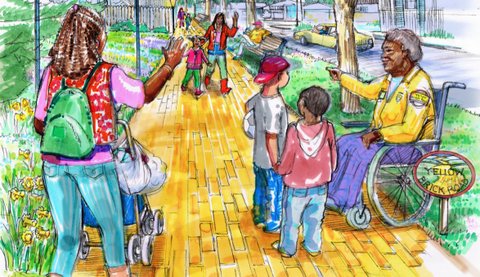 19 Sep

Public Invited To See Final Yellow Brick Road Plans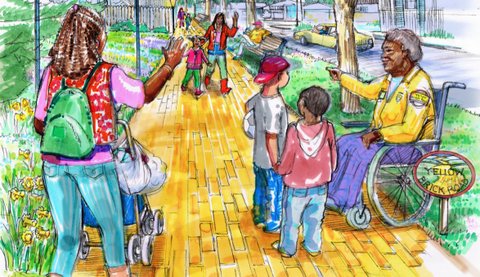 By Michael J. Fitzgerald | Image via Pogo Park
The nearly final plans for the Yellow Brick Road – a safe walking and bike route through the Iron Triangle area of Richmond – are available for the public to take a close look until Saturday.
The public viewing – in the project area – is to be informational and to get more input from community members as the project get closer to construction next year.
The plans can be viewed from 3 p.m. to 7 p.m. at any of three Pogo Park Community Outreach Tents: Elm Playlot, 720 Elm Street, 8th Street and Pennsylvania and 8th Street and Barrett.
Toody Maher, executive director of Pogo Park says the plans available at the outdoor sites will have neighbors and people familiar with the neighborhood available to explain details and collect comments.
"We are reaching out and touching every single house and person along that route to let them have their say," Maher said.
Maps of the route and details about the entire project will be on display. And all comments are welcome, she said.
People who drop by will have a chance to meet the people who envisioned the project, members of Pogo Park's Community Development Team, city staff, engineers and others who all are helping make the Yellow Brick Road a reality.
The final outreach efforts for community input for the Yellow Brick Road project are ongoing with the project going to bid in the spring. Construction is scheduled to begin in 2020 and will likely take a year, Maher said.
The Yellow Brick Road had its beginnings in 2009. At that time Richmond youth envisioned a series of changes to their neighborhood to help solve a panoply of serious problems.
When complete, the Yellow Brick Road will link churches, schools, parks and the community center into a more walkable, safer and greener environment.
The YBR will include physical changes to streets in the area meant to force vehicles to slow down, making it safer for pedestrians.
The improvements will include changes to:
7th Street – Pennsylvania to Ripley
8th Street – Lincoln to Ohio
Pennsylvania – 2nd to Harbour Way
To see more info on the Yellow Brick Road plan click here. You can find Pogo Park on the web at pogopark.org.