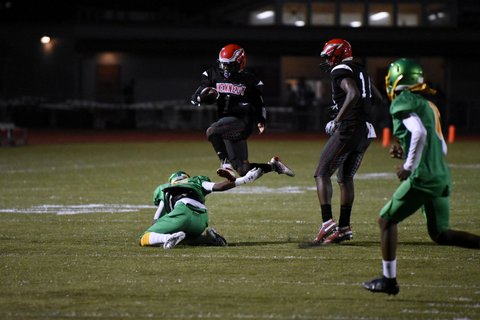 22 Sep

Kennedy Eagles Shut Out Fremont Tigers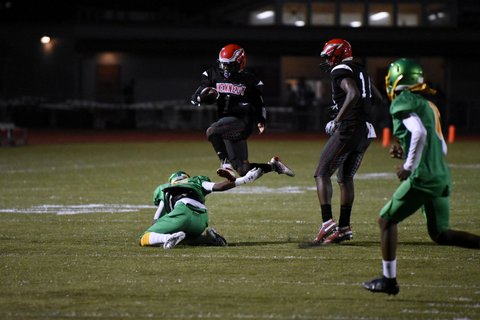 Photo Essay • Denis Perez-Bravo
Demonstrating the extent of their skill and will Friday night, the Kennedy High varsity football team dominated Fremont High 48-0, marking their fifth consecutive double-digit win.
"This is our first shutout," Eagles defensive coach Tashaka Merriweather said. "We have been trying to do that for weeks."
As with their other four games, Kennedy had substantial lead at the half. Against the Fremont Tigers, it was 35 to 0. The Eagles skipped going back to the locker room during halftime and, instead, took a knee in the end zone, facing the scoreboard.
That's when Merriweather gave his defense their new challenge: hold Fremont from scoring.
"If we want to make a playoff run and go deep in the playoffs, we need to be locked in from the first quarter 'til the fourth quarter," Merriweather later told Richmond Pulse.
Eagles defensive end Jermaine Terry II locked on to Fremont's James Williams, who he says at 6-foot, 4-inches tall and 280 pounds is one of the best players he has defended this so far this year.
The rest of the Kennedy defense helped shut Williams down and the Fremont offense out. Terry said the defense had some mental mistakes that allowed Fremont to rush the ball, "but we pinched it."
Kennedy head coach Greg Marshall says he saw his team "dialed in" this week as their defense was able to predict Fremont's offense.
To keep their winning streak going, Eagles defensive lineman Sateki Lavulo says the goal for the rest of the season is to shred away complacency.
"We got to continue to grind in practice and dominate in the game," Lavulo said.
Kennedy's dominating offense started when Camron Young ran for an eight-yard touchdown in the first quarter. He went on to score four more times, including a 43-yard rushing touchdown in the fourth quarter. Young also threw a three-yard pass to Terry for a touchdown.
Young leads the North Coast Section (NCS) Division 6 touchdown count with 21 touchdowns in five games, according to MaxPreps.com. Young also sits atop the scoring leaderboard with 96 points.
But he was taken out of the game after two unsportsmanlike conduct fouls for taunting.
Kennedy's Tamoni Cook is ranked seventh with 26 points, Devon Gilbert right behind him with 24. Elijah Cannon and Kenny Roberts have scored three touchdowns, and Terry and Gonzalo Ambriz have scored two.
Max Preps lists Kennedy as the top team predicted to win the NCS title.
The Eagle's next conference game is at Hercules High on Oct. 4. Their next home game is Oct. 18 against Saint Mary's. Both games kick off at 7 p.m.