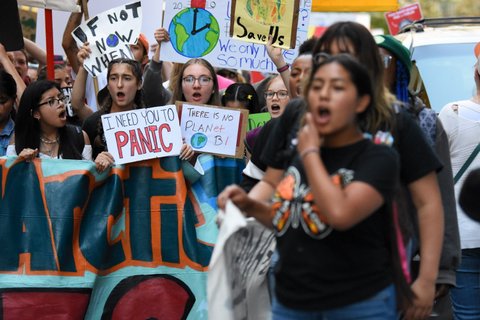 02 Oct

Students Strike for Climate Change Action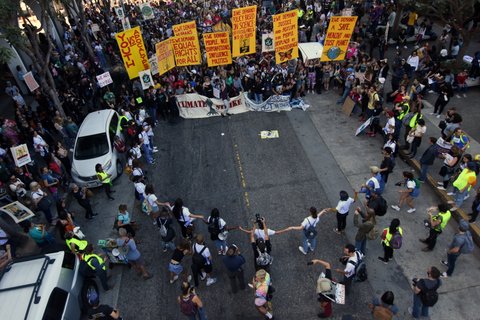 Photo Essay, Denis Perez-Bravo
Young people all around the world participated in a global movement demanding action on climate change.
Around 7.6 million people took to the streets around the world — from small rural villages to big cities like New York, Istanbul and Berlin —  in a mass protest for climate action, according to Global Climate Strike. The Sept. 20 global strike called for elementary to college students to ditch their classes to support the movement.
About 30,000 people, including many Bay Area students who walked out of school, marched from the San Francisco Federal Building to the Embarcadero Plaza, while stopping to chant in different buildings like the U.S. Immigration and Customs Enforcement office and the PG&E building.
The San Francisco climate strike and rally was one of many held throughout the BayArea, just days before the United Nations Climate Summit in New York City. The strike kicked off of a week of actions to demand political action on climate change.
The young people chanted and carried signs, some reading "Big oil took my childhood, took our childhood" and "You will die of old age. I will die of climate change."
Richmond native Isabella Zizi, a climate justice organizer, spoke during the rally at Embarcadero Plaza. She says youth are now taking up leadership roles because adults should have addressed climate change-related issues for the past 30 years.
"This is the most popping climate march I have been in," Zizi said.
Zizi started her speech with a moment of silence for the Ohlone people. "The Ohlone people have taken care of these lands for thousands of years," she said.
Now, she said, it is up to the people that now occupy the land to take care of it and appreciate it like the indigenous people that lived there before them.
"It is so important to uplift real solutions and listen to the indigenous communities," Zizi said. "Love the land, everywhere you walk and everywhere you travel."
The strike brought people together in hopes of putting real solutions before powerful leaders in California, she said.
Andrea Espinoza, an 18-year-old Redwood City resident, spoke at the Embarcadero and said climate change will affect low-income and minority communities that won't be able to fight off big corporation's greedy anti-eco-friendly policies.
"My family is a low-income family from El Salvador, and I know that my family will be affected first-hand," she said. "That is why I need to make a change immediately," she said.
Dulce Arias, also 18 and from Redwood City, said the actions showed the disgruntled attitude young people have toward fossil fuels.
Arias says she is undocumented and therefore can't go to the polls to support legislation that takes care of the environment, but participating in the climate strike was part of her way of voting. She hoped by striking she could reach others and influence them to support laws that clean up the air and uphold anti-pollution policies.
Being a Mexican immigrant with parents that struggle to find jobs to support the household, conversations about climate justice are non-existent, Arias said. For her, that is not an excuse to not say or do anything.
"Many times [adults] exclude us from this conversations that directly affect our future," Arias said, "and that is why I will vote with my voice, and proclaim climate justice is immigrant justice."