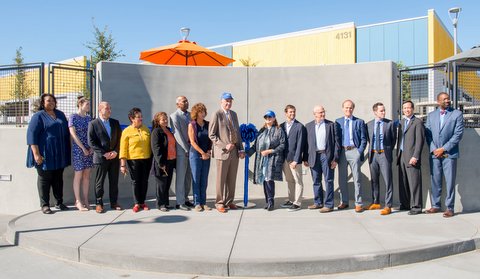 09 Oct

Making Waves Opens Its New Expanded Campus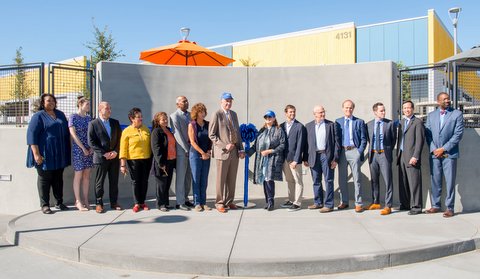 By Michael J. Fitzgerald
The Making Waves Foundation held a ribbon-cutting ceremony Saturday (Oct. 5) to celebrate the recently opened and expanded campus of its public charter school on Lakeside Drive in Richmond.
The celebration highlighted the features of the Making Waves Academy (MWA) campus' additional 14 acres and 250,000-square feet of learning space. A new upper-school campus includes four new and renovated buildings, state-of-the-art science classrooms, maker space, black box theatre, culinary classroom, music rooms, open learning areas, garden, restorative justice center, and parent resource center.
"Our expanded campus features art, music, and maker-space rooms to spark their creativity, restorative justice spaces to cultivate their emotional growth, and athletics facilities to promote physical fitness and community," MWA CEO Alton B. Nelson, Jr. said. "Each classroom has access to technology tools that support an engaging, differentiated, and rigorous approach to learning."
Making Waves was founded in 1989 to address the educational needs of socioeconomically disadvantaged youth with limited access to quality schools in Richmond, school officials said.
The school, which opened in 2007, currently enrolls more than 1,000 students in 5th through 12th grade and expects to grow to 1,500 students in the next five years. In June, MWA's high school graduation rate was 99% with 95% of graduates admitted — and committed — to attending a college or university, according to MWA officials.
"MWA's new state-of-the-art campus supports students in developing 21st century skills, such as communication, collaboration, critical thinking, and creativity," Nelson said. "Our goal is for 100% of our students to be college and career ready."
The design for the expanded campus was a collaboration including MWA teachers, leadership, parents, and students. The academy hopes in its next wave of expansion to build sports facilities for the school and community.
More information about Making Waves Academy is available here: https://www.makingwavesacademy.org.