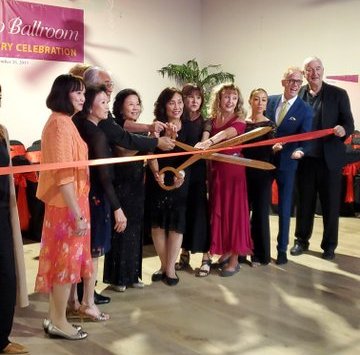 13 Oct

Allegro Brings 25 Years of Dance to Richmond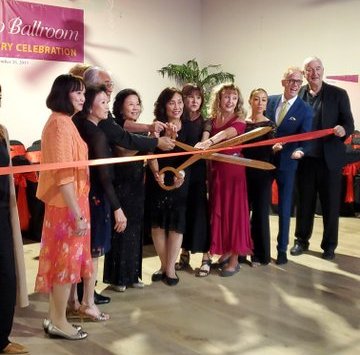 By Joel Umanzor Jr.
An established East Bay nonprofit dance instruction center has brought its moves up north to Contra Costa County.
The Allegro Ballroom and Club Dancing celebrated its 25-year anniversary on Sept. 28 by opening a brand new 12,000-square-foot facility at 12012 San Pablo Ave. in Richmond.
James Lee, president of of the Richmond Chamber of Commerce, attended the ceremonial ribbon cutting, along with about 25 other locals, to open the latest chapter of Allegro's history.
"It's exciting to have a business like this, to help not only bring funds to our city but bring all of the exercise that comes along with it," Lee said.
For the owners, the move has been a long time coming.
Allegro was established in 1994 and spent the next 23 in Emeryville. But Naomi Ellis, marketing director of Allegro, says years of economic pressures as the city redeveloped itself pushed the company to search for viable options elsewhere.
"It was the cost," Ellis said. "Rent is less here than what we were paying. They had doubled the rent there because they were trying to push us out."
Allegro felt the effects of redevelopment, as the Vancouver-based Omni Group planned to take the Christie Avenue site and build a 54-story skyscraper, the tallest residential building in the East Bay. "They are going to redevelop that plot, so everyone was getting out, except for Wells Fargo," Ellis said.
Lydia and Ray Wong, Allegro's general managers, said that economic pressure pushed them to get Allegro to where it is today.
"We've been looking for a new location for the last 15 years, and we finally found this place," Lydia Wong said.
The future of Allegro in its new location, she said, will focus on cultivating interest from local young people who may not know about the ballroom dancing, its competition and health benefits.
"We also want to train the youngsters because ballroom dance is recognized Olympically," she said. "We hope to bring in more activity and good health to Richmond through dance."
Ray Wong says he wants Allegro's new location to dedicate itself to Richmond and the surrounding area.
"We want to have more and more programs for this community and have more new people from this community," he said. "We want everyone to benefit from our existence."
Allegro offered a week of free dance instruction the week leading up to the ribbon-cutting ceremony, which Lydia Wong says she was amazed by the reception in the neighborhood.
"During the opening last week, a lot of the neighbors were so grateful and happy that we are here, so that they could come participate," she said. "We had many in attendance."
The Allegro Ballroom and Club Dancing is open seven days a week with varying hours each day. For more information, visit allegroballroom.com.