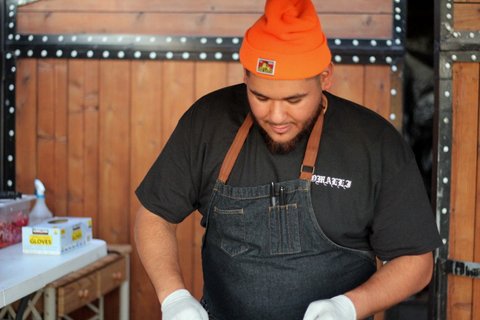 14 Oct

Following Complaint, 'Comalli' Still Burns Hot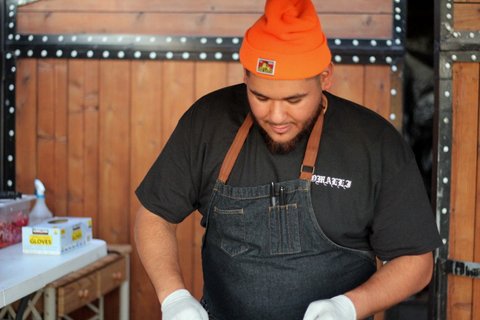 By Joel Umanzor Jr.
On most days, Martin Gonzalez works outside his home at the corner of Amador Street and Solano Avenue in Richmond doing something he never thought he would be – cooking and selling food.
He's been cooking his whole life, but charging for food wasn't something he saw in his future.
Gonzalez's food stand is called "Comalli," its name from the Aztec Nahuatl word for a grill used to make tortillas. Gonzalez makes chicken, carne asada and al pastor available in taco, quesadilla, and an all-cheese "crepe" form. The latter was inspired by a regular customer, a middle school student named Oscar.
"One day, he asked me to make him a cheese patty on the comal," Gonzalez said. Later he thought to start filling it with meat.
In the six months he's been operating, his business has grown, strengthening his love of cooking.
Gonzalez, 25 got his start watching his parents cook. But since they were working, he would often cook for himself when he got home from school.
He fondly remembers learning from his grandmother, too, who sometimes let him help in her kitchen. One favorite memory is spending the night at her house, then cooking huevos y papas in the morning.
But for now, he's not allowed to cook and charge for it.
A neighbor filed a complaint that led to Contra Costa County health department employees arriving at his door asking questions. A week later, he says, he received a letter saying he could be fined if he continued operating his business.
Michele DiMaggio, county environmental health specialist, says inspectors visit if a complaint has been made or an inspector observes something that needs investigating.
"We will work with our local police departments," she said. "But we'll first inform the person that they don't have a food permit, so they cannot sell or give away food," she said.
For now Gonzalez is willing to take the risk of being shut down because it's how he brings in income since a doctor diagnosed him with scoliosis.
"That hit me out of nowhere. It caught me off guard," Gonzalez said.
His condition — the sidewise curvature of his spine — was much more serious that he initially thought. It put a hold on his four-year carpentry apprenticeship. He drew inspiration from his immediate and extended family, who encouraged him to cook.
"I still want to cook. That's my thing. That's my baby," Gonzalez said.
His cousins started the popular Loaded Chicken pop up, which he says encouraged him to start his own business.
As a benefit, Gonzalez has learned much about the neighborhood he's lived in since 1999. His family moved to Richmond from San Francisco's Mission District.
"You meet a lot of people from around the area," he said. "People I didn't even know were around here, so it's dope."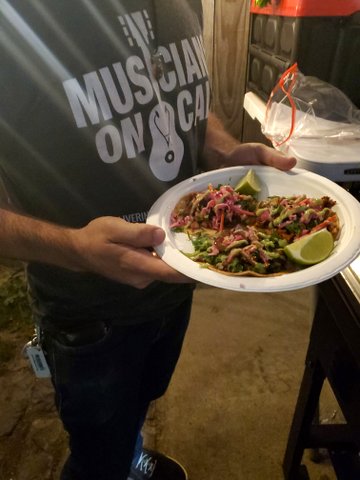 For months, Arlington resident Daniel Erik said he drove past Gonzalez's home where he noticed him making food. He recently stopped by and ordered three tacos — two steak and one chicken — with everything on them, including the mild salsa.
Gonzalez says he's now has regular customers like Erik, who have stopped to see what he has going on behind the grill. "The bestseller is steak, for sure," Gonzalez said.
Adding curtido, a cabbage slaw found in Central American cuisine, Gonzalez adds beets to give it a purple color, something that helps his business stand out.
"I used to always make curtido with mostly jalapenos and onions, and then I kinda started switched it up and thought it would taste good on tacos," Gonzalez said.
Although the curtido is a go-to for Comalli now, Gonzalez says that it wasn't a big hit initially with some fellow Mexicans, including one person telling him to curb his experimentation for fear he would mess up making a classic dish.
Gonzalez says he ignores much of that criticism. "I feel like if I'm not experimenting, you wouldn't be eating here," he said.
He hopes to continue to contribute with his food options. "The underground Richmond food scene is coming up," Gonzalez said.
He points to his cousin's Loaded Chicken, as well as El Garaje and Estillo Chilanga. He believes they are evidence why people should be allowed to sell food out their homes.
But Dimaggio encourages people like Gonzalez to contact her county office so she can explain processes that may bring him in into compliance with the law.
She says there are about thirty commissaries that offer shared kitchen space available throughout the county. Or there is the option of getting a $920-a-year caterer permit.
"The number one reason people get a permit is because they can get inspections," DiMaggio said. "We want to prevent foodborne illness. We want to prevent people from becoming ill."
DiMaggio said in 2016 three county residents died following an event at which some of the food had been prepared in private homes. "That's what we're trying to prevent," she said.
A county inspector once found a full-blown restaurant operating in a garage. "In that particular case, it was the whole neighborhood that was affected, and I'm not sure if people realize that," she said.
For the foreseeable future, Gonzalez plans to continue with keeping Comalli as hot as his passion for crafting Mexican food with his own flair.
"I want to save up for a food truck or a spot, but right now I can't afford a truck or a commercial kitchen," he said. "I'm just kind of stuck until then. For now, I'm saving up."