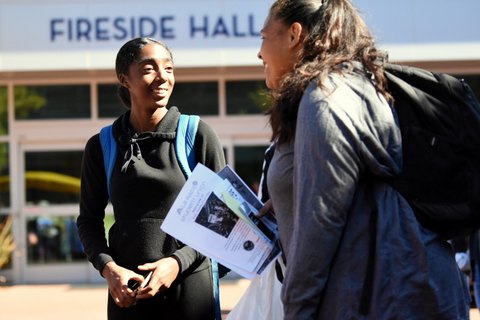 16 Oct

CCC Goalie Finds Home Between the Posts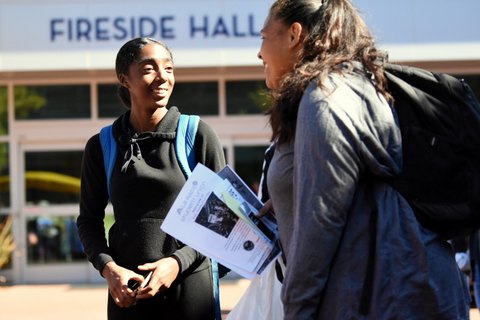 By Denis Perez-Bravo
Sophomore Sicaly Sorrell stumbled into collegiate bliss when she joined the Contra Costa College women's soccer team.
"It has been a healing semester. I can take a breath, enjoy sports and academics," Sorrell said.
Sorrell, a 19-year-old communications major, is the goalie for the 2019 squad, a position she has never played in a sport she only played briefly when she was 8 years old.
Soccer team captain Sindy Mendoza said that Sorrell still needs to work on mastering the skills necessary for the position, but she has "picked it up real quick."
At first Sorrell came off as quiet, but as the team grew closer, Mendoza says she opened up to be a cheery and playful member of the team. Sorrell has been gaining confidence in the pitch and she is showing heart in the game, especially when she has a one-on-one against an opponent, Mendoza said.
In the first two games of the season, Sorrell allowed five goals against Merritt College and six against Mendocino College. But Mendoza encourages Sorrell to not let those numbers get in her head.
"At first it is uncomfortable, but being goalie is a big role," Mendoza said. "The ball has to get through everyone else before it goes to her."
Sorrell sees playing goalie like being a leader in the field, which has pushed her to get better. "I have been watching videos and trying to get a feel for the game," she said.
Sorrell knows she is athletic and has talent, which she says has allowed her to adjust and adapt in any sport she has played.
She played on the women's basketball team last season and played softball in the spring. Now, she suits up and defends CCC's goal.
"I love to stay active," she said.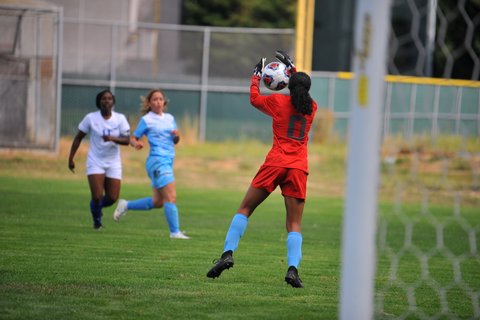 Sorrell has been interested in sports since she was a child. Born in Minneapolis, her family moved to California for better opportunities when she was 7.
That year, she began playing team sports, including soccer. She soon quit as it was "too much running." Instead, she dabbled in being on a cheer squad and a football team, playing positions like running back, wide receiver and even quarterback.
But basketball was the sport Sorrell stuck with the longest, playing for Hercules High her freshman year and Salesian College Prep her sophomore year.
She finished her junior and senior year at CCC's Middle College High, but didn't play in any team sports during those years. "That was the hardest thing," Sorrell said.
Playing sports has given Sorrell a release for the various problems in her life, but when she's not playing well, she says she's not fully herself. That was evident during her first year at CCC.
"It was the hardest semesters because the basketball schedule was so compact and personal issues got to me mentally," Sorrell said.
Problems off the court followed her onto the court. She wasn't playing well and made the school part of college more difficult. She says her GPA dropped to a 3.1.
"What got me through it was that I knew that I had to get through it," Sorrell said.
Good or bad, Sorrell says her sports career at CCC has made her a better person. She is on track to graduate with an associate's degree in spring of 2020 and hopes to continue to a four-year university with a well-established sports program. After graduating from a four-year, she plans to work as a journalist to tell the stories of underrepresented communities.
"In high school, I wasn't aware of politics and now in CCC, it has piqued my interests," Sorrell said. "That makes me want to use whatever platform I have to expose things that are being covered up."
As to whether she will play basketball or soccer when she moves on to a university, she says she is thinking about it. "It is up in the air," she said.
Surprisingly, soccer has quickly become her favorite sport she has played competitively.
"Overall, this whole experience at CCC and its athletic program have taught me a lot of responsibilities about being an adult," she said.