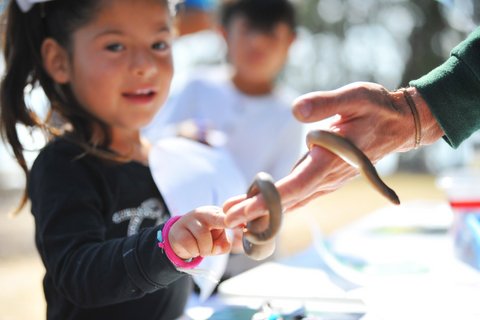 16 Oct

Festival Invites Public to Explore Point Pinole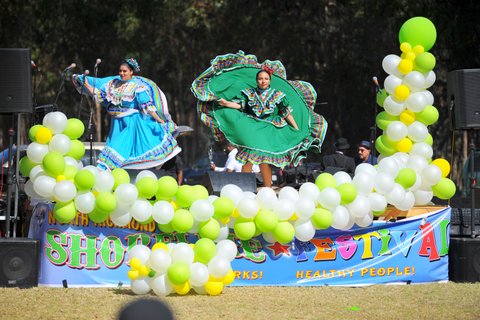 By Denis Perez-Bravo
Ivan Valenzuela had a good Saturday at the park.
The 9-year-old Richmond boy played soccer, and was even able to touch a rubber boa snake. Other days, he's inside playing video games, but hours of doing that makes him tired, which reminds him how much he likes to stay active.
For him, it is important for his body and mind to go outside and play, he said, and the 16th annual North Richmond Shoreline Festival on Oct. 12 made him appreciate the Point Pinole Regional Shoreline park even more.
"I really enjoy the plants, the playground, and the water," Valenzuela said.
Families and community groups convened at Point Pinole to celebrate nature with bird watching, fishing, multicultural performances, music, activities, informational booths and food.
"This is an opportunity to grow and appreciate the environment, wildlife and clean air," said Whitney Dotson, environmental activist and East Bay Regional Park District (EBRPD) Board of Directors member.
Dotson, in a wheelchair, made his way up the hill from the parking lot with his son and stationed himself in front of the stage platform under a huge tree by the volleyball court.
There, he enjoyed performances including a 60's classics band, Mexican regional banda music, a faith group choir, Mexican dance and other groups.
Around him, people sat on haystacks enjoying the same performances, while others walked the concrete path, occasionally stopping at informational booths from community groups like the Watershed Project or Groundwork Richmond.
Children enjoyed activities like an inflatable soccer field, pony rides, face painting and train rides.
"The essence of this event is to create a space for the community," Dotson said.
When Dotson was five years old, his family moved to Parchester Village, a Richmond neighborhood adjacent to Point Pinole. At that time, it was not a park and the land was owned by Atlas Powder Co., and later Bethlehem Steel. But that did not stop him from enjoying the area's natural beauty.
"I was one of those kids that snuck into the park," Dotson said.
Dotson says he and his friends would climb the fence surrounding the land and played under the trees as they enjoyed the wildlife and its sounds.
"We made this land ours, and it was quite a childhood," he said.
Now 74 and on the EBRPD board, Dotson represents all parks in Albany, Berkeley, El Cerrito, El Sobrante, Kensington, Richmond, San Pablo and part of Pinole. His work has focused on ensuring that Point Pinole continues to be developed into a natural area accessible to the Richmond and San Pablo communities.
Climate activist Andres Soto said at the event that having natural areas like Point Pinole in close proximity to lower income neighborhoods is vital to the health of the community. That's why he has worked on many projects promoting environmental justice in the Bay Area.
"Rich people are able to travel far to go to natural areas, but working class people don't have that luxury," Soto said.
As being in nature has been shown to improve mental health, an area like Point Pinole must be appreciated, used and fought for, he said.
Soto says if people don't have a love for the park, they will not stand up for it when companies like Chevron, who is southwest of the San Pablo Strait, pollute the air that blows toward Point Pinole.
"That is why it is critical for this event to expose this park to our communities," he said.
This year's Shoreline Festival was coordinated by community activist Diego Garcia after Lana Martarella contacted him to take her place.
"We need to promote enjoying outdoors and not rely on electricity and television for entertainment," Garcia said.
He hopes to grow the event by adding another stage and getting more people to come out, as he feels more people need to experience performances and festivals in an outdoor setting.
"We don't need to do this once a year," Garcia said. "We need this every month."