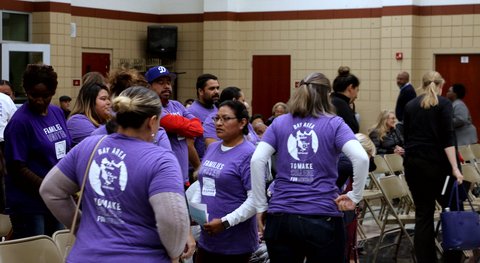 17 Oct

Officials, Teachers, Alumni Push for Aspire Charter Renewal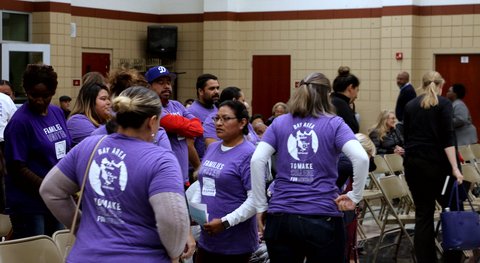 By Edward Booth
The West Contra Costa Unified School Board heard a charter renewal presentation Wednesday from Aspire Richmond California College Preparatory Academy, or Cal Prep, which has operated in the Hilltop region since 2005.
A charter school, after initial approval, must have their petition reapproved by their local school district every five years.
The crowd at the meeting was filled with Cal Prep supporters — parents, students and teachers — many wearing light purple shirts which read "Families United" on the front, above a swirly Aspire Public Schools logo. The back of the shirt read, "To Make College For Certain" below a map with white stars representing the 11 Aspire schools in the Bay Area.
Charter schools have been controversial in the district and across the state for a variety of reasons, perhaps most notably because they take Average Daily Attendance funding from school districts.
A report from Oakland-based research group In The Public Interest released in May says the district loses $27.9 million, or roughly $1,000 per student, each year to charter schools. The California Charter Schools Association, however, called the report "pure propaganda," and board president Tom Panas said it didn't paint a complete picture of the situation, according to Edsource.
Nicole Williams Browning, superintendent of Aspire Bay Area, and Tatiana Lim, principal of Cal Prep, led the renewal presentation. They said Cal Prep currently serves 549 students in grades 6-12, which the school expects to grow to 592 by the 2023-24 school year.
The school says 74% of its students are Latino, 13% are African American, 19% are English Language Learners, and 13% are in special education.
The school's performance in English Language Arts is generally higher compared to other district middle and high schools, while their math scores are roughly comparable, according to the presentation.
The presentation also highlighted Stephanie Alejandre, a Richmond native, 2011 Cal Prep alum and current teacher there, along with her former student Angel Leon, a first-generation high school graduate.
Alejandre, who was the first in her family to graduate from college, said she came to Cal Prep in 11th grade with no aspirations to attend college. This changed, she said, because of support from the Cal Prep teachers. She returned to teach at the school in 2016 after earning her master's degree.
Lim said Aspire alumni teaching at their schools isn't uncommon, as 16% of Aspire teachers are its former students.
Leon, who took five years to graduate, talked about how the school had become a community to him, one that "feels like family." He said the school pushed him to finish his high school education, and to take on a leadership role by starting a club for Yu-Gi-Oh!, a Japanese manga and anime series and trading card game.
"From the day I stepped foot in Cal Prep, a week late wearing jeans and a hoodie, to the last day I attended wearing a cap and gown and holding my diploma with a big smile — it took me a lot to reach this," Leon said.
About 15 public commenters spoke positively about the school. There was no dissent, either from the public or board members.
Richmond resident Patricia Baker said she was a parent of seven children, two currently in Cal Prep and two graduates of the school. She praised the Cal Prep community and said the teachers still checked on her children to see how they're doing.
Frank Worrell, a UC Berkeley professor and faculty director of Cal Prep — which has a partnership with UC Berkeley — said the school was part of a "new wave" of university-created public schools focused on social justice and equity that is intended to serve underrepresented populations and to provide evidence that educational theories can be transferred into educational practice.
Carlene Ervin, who graduated in 2014 and is now in Aspire's teacher residency program, said she chose to return to Cal Prep because she believed in the pedagogical vision of the school. She said she wanted to teach ethnic studies because studies have shown that academic performances for people of color improve when they see themselves in the curriculum.
Board member Mister Phillips praised Ervin's focus on ethnic studies, calling it "very important."
"I do look forward to the day when we have a full-blown ethnic studies program in this school district," he said.
The board will vote on approve the petition at an upcoming meeting, though an exact date has not yet been set.