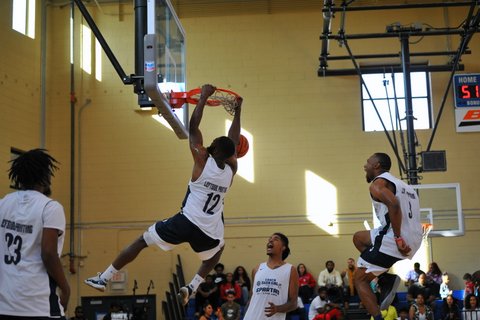 22 Oct

Local Celebrities Ball Out For Women and Kids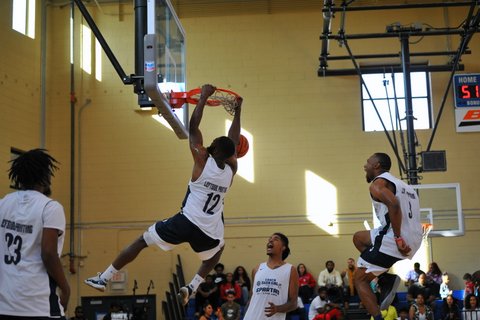 By Denis Perez-Bravo
It was a local star-studded event as Bay Area artists and community members relished in music, food and some quality slam dunks at the HBK Celebrity Basketball Game.
Held at the Richmond Police Activities League (RPAL) gym on Oct. 12, the game brought back some Pinole Valley High School graduates to raise money for the Women's Cancer Research Foundation and to help pay for travel and other expenses for RPAL's youth basketball program.
The game was organized by music producer IamSu! And Pinole Valley varsity coach Darin King.
In his 15 years of coaching, King says he's seen his former players move on and become artists, professional athletes, celebrities, and role models. He says it's always joyful to see them to uplift and give back to the community, which can often be divided by violence.
"We are all together and everything is about love," King said.
But the game was played in honor of Fontino Hardy Jr. and for Terrel Roberts.
Hardy, 29, was a Tennessee State University graduate who was shot and killed in a parking lot at the Monterey Pines Apartments in 2015.
Roberts, 38, was an El Cerrito High School football star and a former NFL defensive back who was shot at his grandmother's Richmond home last month. Roberts played for the Cincinnati Bengals in 2003 after graduating from Oregon State.
"A lot of us didn't make it," Pinole Valley alumna Elisha Patterson said.
As high school friends have died young, Patterson says she is often pained when revisiting memories of seeing and interacting with them at PVHS. So, seeing former Pinole Valley athletes playing in the celebrity game means the world to her because she can relive those exciting high school moments watching the basketball team play.
And it inspires hope for Patterson to know that the game echoes that there is "a lot going on in Richmond."
The event featured a RPAL youth basketball team's game, followed by a 3-point shootout between local high school athletes. Salesians College Preparatory senior basketball player Jaden Lazo won that contest.
For the celebrity match, team 6 Speed — coached by IamSu! — faced rapper Kool John's ShmopLife team that included artists like Show Banga, Tree Thomas and T. Carrier, among others. After four close quarters and back-to-back scoring, team 6 Speed took the win.
During half time, artists, community members and high school athletes competed in a dunk contest, which Los Medanos College basketball player Keenaami Maggard won.
After the game, RPAL basketball coach Ashley Sims was awarded the Peace Award for her work with Richmond youth.
"It is rewarding to grow peace and be acknowledged for it," Sims said.
Her work at RPAL is volunteer-based, but she says it's necessary because sports allow her to teach lessons students might not get in a classroom. And it helps keep kids out of trouble.
"Basketball is therapy," Sims said. "This event shows that there are coaches looking out for the players, just like how a coach looked out for me."