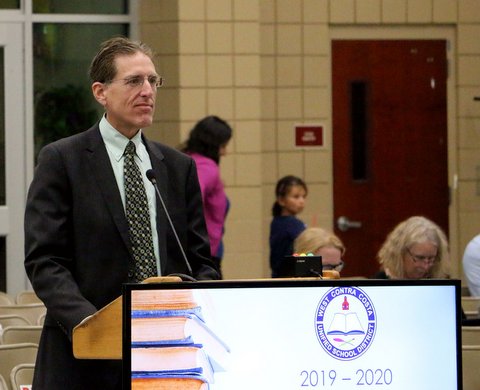 29 Oct

WCCUSD Weighs Options as $48M Deficit Looms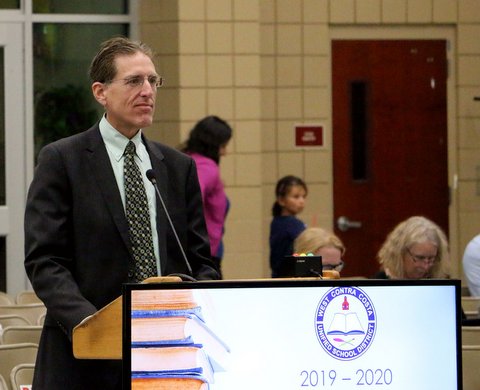 By Edward Booth
The West Contra Costa Unified school board has some hard decisions in its future, but, right now, members say they're not getting enough time to make them.
The board was given a budget update Oct. 23, the second in an informational series intended to guide the district response to a roughly $48 million deficit.
Tony Wold, associate superintendent for business services for the district, went over non-salary aspects of the budget, a follow-up to a Sept. 18 reveal and preliminary explanation of the deficit. His presentation centered around two cut targets: nearly $40 million this year and $8 million next year.
Wold said the difficulty of expected cuts may come from making sure student wellbeing isn't thrown off balance. He said after the state passed Proposition 13 — which limited property tax growth, a major source of public funding — cash-strapped school districts have to make up the difference by financing their own social service programs.
"The need to support the whole child has become an obligation to school districts," Wold said. "If you don't have the basic needs taken care of, it's very difficult to get to our actual goal of a self-actualized student that is able to be a positive contributor."
Wold split the non-salary expenditures into fixed and discretionary costs. Fixed cost items include utilities, legal expenditures, software licenses, and classroom furniture. Discretionary cost items, which can potentially be cut from the budget, include professional development, assessments, supplemental academic software, and classroom libraries.
Wold said that, in total, the district is expected to spend roughly $80 million on non-salary expenses this year, which can be divided into about $34 million in unrestricted resources and about $46 million in restricted resources. Restricted resources are designated for various purposes and cannot be used for other expenses.
One way of solving the deficit this year, Wold said, would be to reach into funds set aside for retiree benefits. Contra Costa County knew this was a possibility, he said, when they adopted the district budget in June.
Wold said the district needs to focus on its priorities in terms of programming: its roadmap 2.0, elementary school English language arts program, dual language immersion, support for African American students, positive school climate and Stege Elementary School — a low-performing district school that the district is attempting to turn around.
"We can do anything we want," Wold said. "We won't be able to do everything we want or possibly need."
Some board members expressed frustration with how the presentation had been uploaded late to the meeting agenda. The agenda is supposed to be posted five days before each meeting, but the item was uploaded a day before the meeting.
Board member Valarie Cuevas said she didn't want to be rushed into making decisions on such a short notice.
Board member Stephanie Hernandez-Jarvis said she'd only had time to read it that day, after she was done with work.
"This is an essential presentation," she said. "For me to ask questions, I need to have time to study this."
Wold said he and his staff would do everything they could to provide the information in a timely manner, and that the board would never be asked to make decisions without ample time.
Board member Mister Phillips questioned what the district would do in the case of a recession, which he said appeared to be coming. Wold replied the board may consider voting in additional cuts over the next two years to build a protective reserve.
Board member Consuelo Lara mentioned that 72% of students in the district receive free and reduced lunch, which meant their families made less than $46,000 a year. She said they had to deal with the challenges of poverty — housing, food, healthcare — and the district couldn't ignore that.
"We have to let them know that we care about their needs," Lara said, adding the district may not financially be able to afford some services, but it "can't afford not to" deliver those services to students.
Phillips said the board should take its time making decisions, no matter the situation.
"What cannot happen is we rush through this process to cover ourselves politically and we get this wrong," he said, "because we have to get this right the first time."
The next interim budget presentations are scheduled for Dec. 11 and March 11. The board is expected to adopt the 2020-21 budget in June.