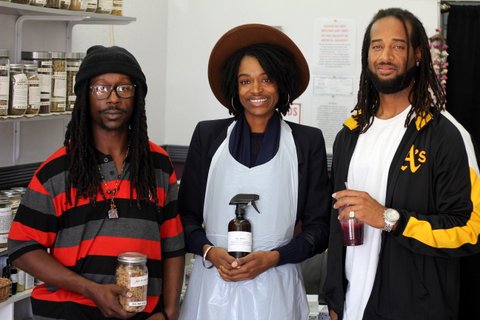 01 Nov

Black-Owned 'Natrully Herbs' Aims for a Healthier Richmond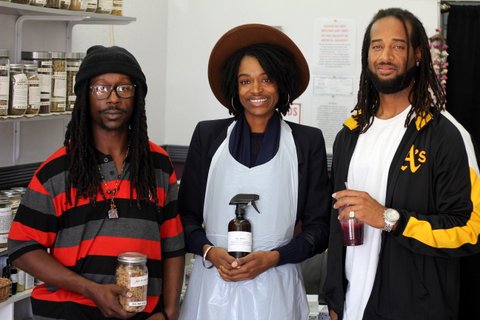 RP Staff Report
A new black-owned herb store has come to Richmond.
Natrully Herbs and More opened its doors at 4113 Macdonald Ave. six months ago with a mission of bringing alternative methods of health, wellness, and awareness to the community.
The business — owned and operated by two East Bay families — sells products like shea butter, body butter, hair oil, black soap and herbs in bulk, like a 102-mineral herbal tea blend, which the owners say is close to the 104 minerals that make up the human body.
Co-owner Freniesha Huey says at least 90% of all the products sold in the store are from black-owned companies.
"Most often, we go into health stores and the people don't look like us," she said.
Being from Richmond, Freniesha and her husband Ronald knew there was nothing like Natrully Herbs in town, so they wanted to create a space where people could feel comfortable learning about alternative methods of self-healing.
"Some of our customers come and they sit here for hours, just reading up and taking pictures of certain herbs before they even buy anything," Freniesha Huey said.
So far, Huey says, the community's response and support has been greater than they expected.
"We were thinking that we were going to convince our people to understand why something like this would be important for them to learn about," she said. "But, so many people already know. They are just an inch away from taking that extra step to journey of wellness."
Huey's own path to herbal medicine began when she gave birth in her home almost four years ago. As part of her postpartum treatments, her midwife brought in medicinal herbs that she didn't know about at the time. "I just observed to see what was going on," she said.
In doing so, she learned about the history behind the practice and wondered why she'd never seen or heard about medicinal herbs and plants. So, she did her research and learned about alternatives to manufactured and prescription drugs that have been used for thousands of years.
Soon, as part of a class offered by Ohlone College in Berkeley, Freniesha and Ronald took part in an herb walk in East Oakland.
"We literally were just in the neighborhood," she said. "When he saw basically how half the herbs that we just step on every day or disregard were basically potent medicines, he was like, 'Wow, you really think you know your city until you learn something like this.'"
From then on, their mission became sharing the information with others.
Natrully Herbs came together when the Hueys joined forces with some good friends — longtime massage therapist Janika McDaniel and her husband Eddie Perez — who were on their own health and healing journey. Along with being a massage therapist for 17 years, McDaniel, who believes self-care is the key to longevity and quality of life, makes her own bath salts, body butters, massage oils, body scrubs, body oils and more.
"It was just a way of figuring out something we could all do together that we were already into it," Perez said. "All of us already went to health stores. We were all into this heath hype, so it was the natural thing to jump on."
No pun intended.
Freniesha Huey said when the team put their shared knowledge together, they knew they had something they could bring to their community, to open people's eyes to an alternative way of looking at health.
And it's not just adults who are learning. Local kids have been taking advantage of the new free Saturday afternoon herbal classes, where they get to touch, smell, taste, and learn about different herbs. Kids watch informational videos and younger kids get to do a coloring sheet and other activities with the goal of helping them learn about nature and using herbs at an early age.
"If there's a herb that's in the community that we can go and check out, we'll take the kids out and share some of our knowledge with them," Huey said.
Natrully Herbs plans to hold classes for adults in the future, which will include medicine-making and how to incorporate herbs in cooking.
IF YOU GO: Natrully Herbs and More is located at 4113 Macdonald Ave., Richmond. The store is open from 10 a.m. to 8 p.m. Tuesday, Wednesday and Friday; 10 a.m. to 6 p.m. Thursday and Sunday; and 10 a.m. to 10 p.m. Saturday. Their Instagram handle is @natrullyherbs