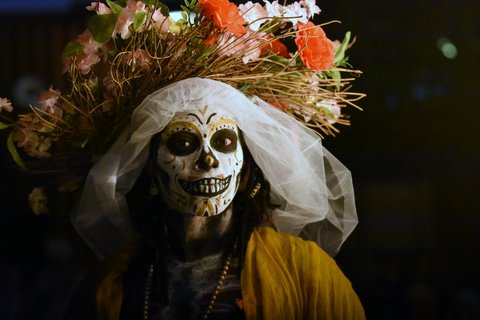 08 Nov

'Culture Cures' at Day of the Dead Festival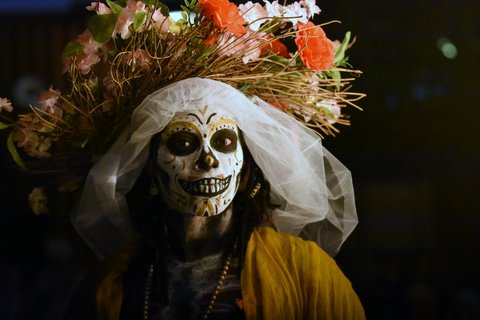 Leer en Español
By Denis Perez-Bravo
Richmond's Latina Center used its Day of the Dead celebration Oct. 25 to promote mental health through cultural awareness.
The second annual Dia De Los Muertos Festival, co-hosted by the National Alliance on Mental Illness (NAMI), filled the Latina Center lot on Barrett Avenue with traditional altars, food, music, lights, dancing, and community members dressed in cultural attires.
"We have to connect festivities with mental health awareness," Alejandra Escobedo, Latina Center program coordinator, said. "Culture cures."
The Latinx community in Richmond is a working-class community that has members that most likely came to the U.S. to "work, work, work," Escobedo said. Leaving behind their country and assimilating to the U.S. has shredded their understanding of their identity and roots.
"The Europeans and Spanish erased our history, but the importance of our indigenous roots is a prize we should all take," Escobedo said. "It is our responsibility to teach our youth about their culture."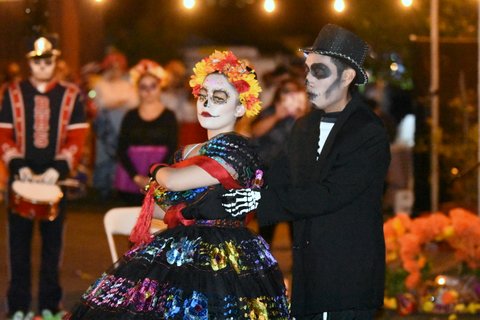 The Day of the Dead celebration, she says, is a cultural tradition that holds indigenous history and roots that can unify the community and uplift Richmond's wellbeing and mental health. Not being unified as a people who previously shared cultures deteriorates the way people live, Escobedo says.
One in every six U.S. youth aged 6 to 17 experience mental health disorders yearly, according to NAMI, with suicide becoming the second leading cause of death among 10- to 34-year-olds.
Escobedo says a masculine culture can deter emotional outreach, so mental health issues like depression in the Latinx community often goes undiagnosed. But she hopes the festival shows people that they are not alone and there's a whole community ready to support them.
Indigenous culture teacher Ernest Olmos traveled from Oaxaca, Mexico to speak about the traditional death altar during the festival and Native American ties to Day of the Dead.
"Judeo-Christian teachings say when we die we go to heaven or hell based on our merit," he said. "The death altar is about the cycle of life."
Family members create an altar from scratch and fill it with food and beverages for their familial spirits and celebrate the reunion of the living with the dead. It also honors nature's cycle while denouncing the fear of death, Olmos said.
"The altar represents life like the sun rising and dying everyday," he said.
Olmos said Native Americans in Oaxaca, like in other cultures in the old Americas, honored the celebration year-round until the Spanish moved it to November to fall in line with their holiday: All Hallows Eve, now known as Halloween.
As the Day of the Dead becomes more popular in the U.S., Olmos expects it will become another day for capitalism to prosper, like Halloween, Olmos said.
The Day of the Dead is supposed to be a healing celebration, which is why Rodeo resident Claudia Acevez attended the event dressed as a "catrina," continuing a tradition that began when she was a little girl in Michoacán, Mexico.
"The music is similar to when my grandparents would speak and tell stories," Acevez said.
Now grown, she feels "nostalgia" attending an event like this in Richmond, which grounds her, knowing where she's come from, who she is, and why she is in the U.S. — so she and her family can grow and prosper.
"I am remembering my family, what they liked and the times that we were happy together," Acevez said.