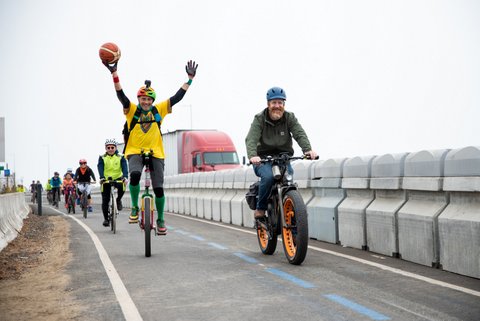 20 Nov

Bridge Lane Opens to Bikers, Walkers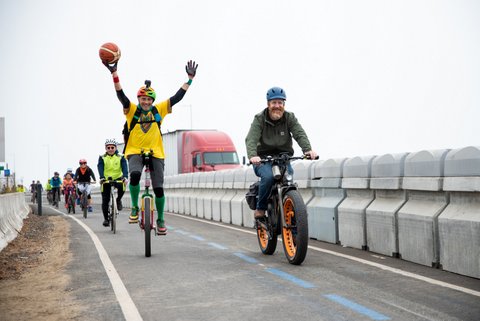 Photo Essay, David Meza
Hundreds of cyclists woke up early on a foggy Saturday morning to celebrate the opening of the new six-mile long bike lane on the Richmond-San Rafael Bridge.
The narrow path with striking views has a movable barrier between automobile traffic and bikers and pedestrians, connecting Marin and Contra Costa counties without the need for a car.
The ribbon-cutting ceremony Nov. 16 on the Richmond side of the bridge was filled with people on road, mountain, tandem, recumbent, electric, cargo and hybrids bikes, as well as some unicycles and pedicabs. Some belonged to bike groups and others worked at local bike shops.
Dave Campbell coordinates the advocacy and policy work of Bike East Bay, a nonprofit with the goal to get more — and more diverse — people on bikes. He said that giving bikes access to the Richmond-San Rafael bridge was something his group and the Marin Bike Coalition have been working on for 22 years.
Campbell said it was a long slog, but the Metropolitan Transportation Commission re-committed to making it happen in 2013. "They went through a process to add a car lane to the bridge and now we're getting a bike lane," he said.
Another great thing about the new bike lane, Campbell said, it that it adds several miles to the Bay Trail, a bike and pedestrian path that runs through all nine of the Bay Area counties. The Richmond-San Rafael bridge is the sixth of eight bridges to be available to cyclists.
"I think it's a wonderful statement of our values here in California that our shorelines and our bay's are public," Campbell said.
Troy Murphy, a Richmond resident who stays active through cycling, said he's looking forward to riding all the way to the Marin headlands from Richmond. He acknowledges the fog on the bridge can make things a bit dangerous, but he still plans to make the ride across the bride often.
Murphy only expected around 30 people at the path's opening. "This turnout alone says everything," he said.
Jeff Jerge of the Peddler Bike Shop in El Sobrante loved seeing all the cyclists at the opening and said it's a trend he hopes continues.
"A lot of people from the Richmond side work on the San Rafael side, and we're hoping that over time those people start commuting across the bridge by bike," he said. "I think an e-bike is the perfect bike for a commuter in this application. I bet there will be days that you'll beat the congested traffic with your electric bike."