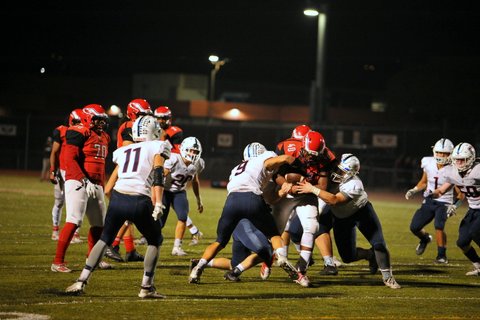 26 Nov

Kennedy Advances to Historic NCS Championship Game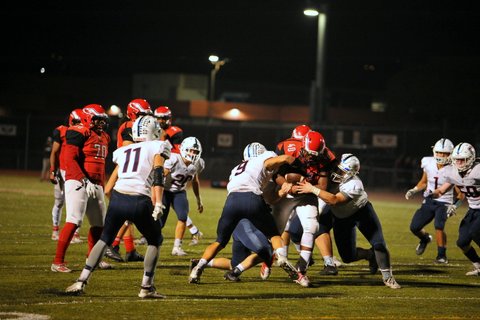 By Denis Perez-Bravo
Kennedy High's record-breaking season has delivered the school's first North Coast Section championship football game appearance in 31 years.
Kennedy's Eagles defeated Napa's Justin Siena Braves 42-21 during the semi-final match on Kennedy's home field on Nov. 22.
"It feels great knowing that we made history," Kennedy running back Trey Baker said.
Kennedy jumped out to an early lead on quarterback Bobby Williams' 1-yard run and kicker Luis Ochoa's extra point, but it wouldn't last long.
Justin Siena's lead began in the second quarter when wide receiver Miles Williams scored a touchdown off a 45-yard pass. Moments later, Kennedy's Camron Young was tackled inside his team's end zone. A safety was called, giving Justin Siena a 9-7 lead.
Justin Siena's defensive pressure in the second quarter forced Kennedy to punt from around their 5-yard line.
Nolan Dunkle, a Justin Siena lineman, forced his way through and blocked the kick. Dunkle jumped on the ball in the end zone to give his team a 15-7 lead at the half.
Kennedy head coach Greg Marshall said their first half was marked with disorganization and bickering within the team.
"For us, it was uncharted territory," he said, adding the NCS semi-finals was the highest level of competition the team has faced.
At halftime, Marshall challenged Kennedy to step up their game fast or go home.
"Every round, they got to take it to another level," he said.
In the third quarter, however, Marshall said Kennedy played some of the best football of their season.
It started with a 17-yard touchdown when Baker rushed left and dove into the corner of the end zone.
After a successful extra point kick and the ensuing kick off return, Kennedy's Young intercepted a Justin Siena pass and took possession of the ball at the 4-yard line. Kennedy scored again when Williams threw a 5-yard touchdown pass to wide receiver Kenny Roberts, putting Kennedy up 22-15.
Justin Siena came close to tying the game after Beer threw a 15-yard touchdown pass to Blake Hoban to bring the score to 22-21. But Kennedy's defense was able to block the extra point kick to keep the lead.
Kennedy finally took over the game when Williams connected with Young on a short pass that Williams ran 60 yards for a touchdown. Baker then scored two more touchdowns, the second one in the last minutes of the game, solidifying Kennedy's victory.
Baker said Kennedy is focused and motivated for the upcoming championship game. He said their main priority is to practice and mentally prepare for the upcoming challenge.
"We are going to come out Saturday night and play Kennedy football," Baker said.
Next up, Kennedy, the No. 1 seed, will face off against No. 2 seed St. Bernard's for the Division 6 NCS title at 7 p.m. Saturday at Benicia High School.