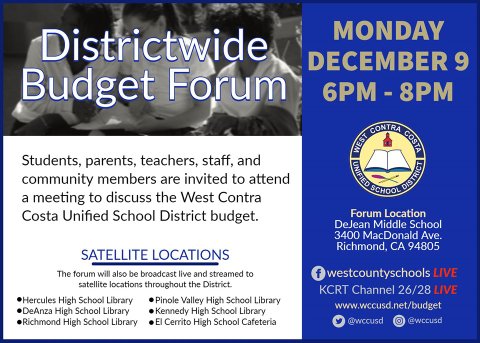 02 Dec

Local Happenings: December 2019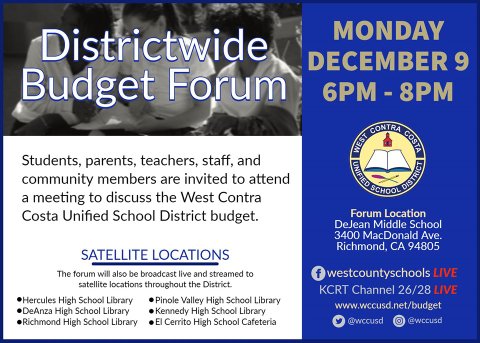 Town Hall on WCCSD Budget Deficit
Monday, Dec. 9
The West Contra Costa Unified School District will hold a town hall meeting from 6 to 8 p.m. Monday, Dec. 9 at Lovonya Dejean Middle School, 400 Macdonald Ave., Richmond.
District Superintendent Matthew Duffy and Associate Superintendent Tony Wold will present an overview of the district's estimated $48 million budget deficit and gather community input about how to address it.
The meeting will also be broadcast on Pinole Cable Channel 26, Hercules Cable Channel 28, KCRT, Channel 28 in Richmond, and streamed on the KCRT website and the District's Facebook page: facebook.com/WestContraCostaSchools
Downtown Richmond Holiday Festival
Wednesday, Dec. 18
A free holiday celebration, including two performances of "A Richmond Nutcracker," will be held Wednesday, Dec. 18 at the East Bay Center for Performing Arts, 339 11th St., Richmond.
The first performance will be held from 5 to 5:45 p.m. and the second from 6:30 to 7:15 p.m. Organizers also invite the community to join the Macdonald Avenue holiday street lighting and the singing of Christmas carols, beginning at 7:30 p.m. Light refreshments will be served.
Annual COA Winter Ball 
Saturday, Dec. 21
The 22nd annual Richmond Commission on Aging Senior Winter Ball will be held from 6:30 p.m. to 10 p.m., Saturday, Dec. 21 at Richmond Memorial Auditorium, 403 Civic Center Plaza.
The Winter Ball includes a dinner followed by dancing and live entertainment provided by Top Shelf Classics.
Tickets are $30 and a table for eight people can be reserved for $240. Tickets are on sale at the Richmond Recreation Complex, 3230 Macdonald Ave., or by calling 510-620-6793.
KPFA Benefit Craft Fair at Craneway
Saturday, Dec. 21 and Sunday, Dec. 22
The 49th annual KPFA holiday benefit craft fair will be held from 10 a.m. to 5 p.m. Saturday, Dec. 21 and Sunday, Dec. 22 at the Craneway Pavilion, 414 Harbour Way South, Richmond.
The event is a benefit for KPFA public radio (94.1 FM) and will include 200 diverse exhibitors ranging from emerging artists to master artisans. Along with arts and crafts, food will be catered by GDC Kitchen: a minority, women and veteran-owned business.
Admission is $12 for adults, $10 for seniors and disabled persons. Youth can attend for free. Tickets are available at the door or at cranewaycraftfair.com.