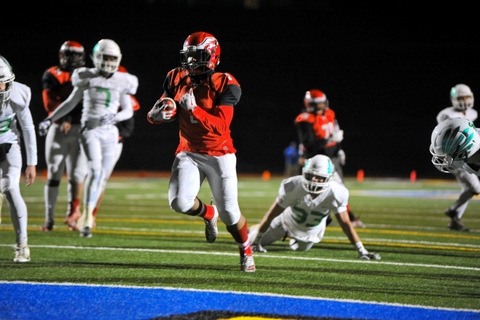 04 Dec

Kennedy's Historic Season Ends Without NCS Title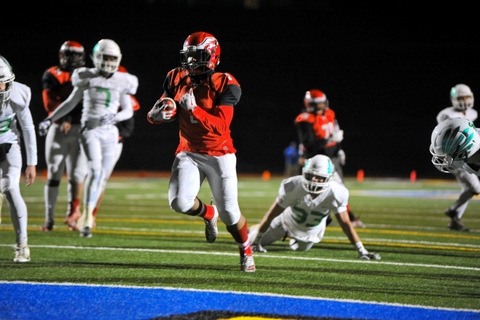 By Denis Perez-Bravo
Kennedy High School's football team completed an outstanding 2019 season that included big plays, exciting runs, defensive prowess, and a run at the Division 6 North Coast Section title.
Kennedy's players, nearly half who are seniors, showcased their skills to finish with a record of 11-2 and 4-1 in league play, making it the school's best in recent years.
Throughout the season, the Kennedy athletes rose above the pack to establish their school as a powerhouse in their division.
Running back Trey Baker was named Tri County Athletic League Rock Division Most Valuable Offensive Player, while wide receiver Camron Young scored 29 touchdowns or 174 points, the most scored in the division.
Four of Kennedy's defensive linemen were in the top ten list for most quarterback sacks. Senior Gonzalo Ambriz (ranked 2nd) recorded 10 sacks, junior Jermaine Terry (3rd) had 9, Jaylen McDaniel (5th) had 6 and junior Sateki Lavulo (8th) had 5 sacks.
And kicker Luis Ochoa's accuracy with 45 out of 53 extra point attempts completed earned him the top spot in the PAT statistics leaderboard.
Kennedy defensive coach Tashaka Merriweather said that throughout the season, the team showed spirit in games when they were down and overcame injuries to make it to the NCS championships.
But it wasn't Kennedy's year to bring home a first place trophy.
"Way to fight all year long," Merriweather said to the team after the game, noting that sometimes giving it your all in life doesn't mean things will always work in your favor.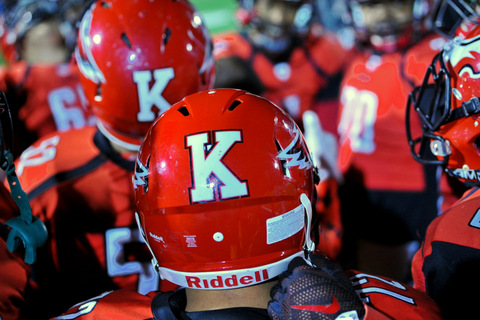 That fight was evident in the NCS championship game against St. Bernard's (Eureka) on Nov. 30 when they were down 21-7 with a minute to go in the first half. That's when Young, a Kennedy senior, scored a touchdown and Ochoa kicked the extra point.
After the kick return with seconds to go in the half, Baker, also a senior at Kennedy, intercepted a pass and ran 65 yards for a touchdown. Ochoa's extra point kick tied the game at 21.
Despite the wind and the rain, Kennedy's back-to-back touchdowns in under a minute revitalized their fans as the team hurried into the locker room to settle down and plan their second half.
"Years ago, the team would have rolled over," Kennedy head coach Greg Marshall said.
Throughout the season, Marshall and his coaching staff warned the team that their mentality on the field would make the difference in bigger games. And in the biggest game of their season, Marshall said, they lacked discipline.
Despite Kennedy's exciting turnaround just before the half, St. Bernard's advanced up the field and ran their way in to score early in the third quarter.
Kennedy tied the game again when Young caught a pass from Kennedy quarterback Bobby Williams for a first down around St. Bernard's 30-yard line. Baker then took a hand-off from Williams and ran into the end zone. Ochoa made the kick.
St. Bernard's lost momentum as Kennedy held them at the 37-yard line, but they fought back and kicked a field goal to get three points ahead of Kennedy with 43 seconds to go in the third quarter.
It was a slim lead, but one St. Bernard's wouldn't relinquish.
Kennedy's game-costing errors marred the last quarter of the game. St. Bernard's recovered their onside kick return as the fourth quarter began. Williams reconciled the mistake when he intercepted a pass in Kennedy's end zone with seven minutes to go in the game. But, three minutes later, Young fumbled the ball around the 40-yard line and St. Bernard's recovered.
Kennedy's defense fought to hold St. Bernard's offense, turning the ball over with a minute to go. But Williams' pass was intercepted and St. Bernard's ran out the clock to win the title, 31-28.
"We should have blocked that field goal," Kennedy offensive lineman Jaylen McDaniel said.
Even though the team made it to the NCS championship game, the loss hurt, McDaniel said, because Kennedy had D1 prospects.
Kennedy has made every NCS playoff since 2014, after a decade of no playoff appearances, according to Maxpreps.com. And from 2016 to 2018, Marshall led the team to consistent NCS quarterfinal appearances.
This year, Kennedy's 11-2 record has been the best in recent history and the closest they've come to an NCS title in 31 years.
With 14 of their players graduating, the 13-junior and 2-sophomore team will be supplemented by the junior varsity team, Marshall said.
"We have a great JV team and a few key guys coming back," he said.
And the expectation for next year is making back to the NCS finals.
"It is extremely difficult getting to this game and even harder winning it, but we have a good shot," Marshall said.
McDaniel, a junior offensive and defensive lineman, now looks to next season and what he will be able to accomplish as a senior with the pain of defeat in the back of his mind.
After the game, McDaniel left his cleats and gloves in a corner of the southern end zone.
"It means I left everything on the field," he said.