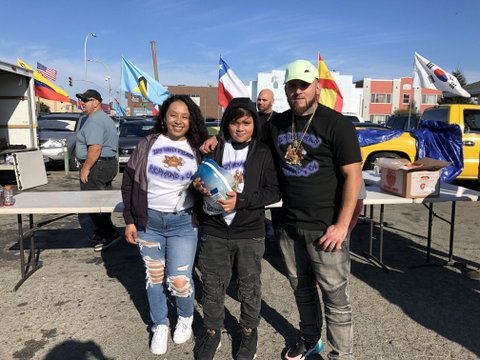 06 Dec

A Boy's Desire to Help Becomes a Community Celebration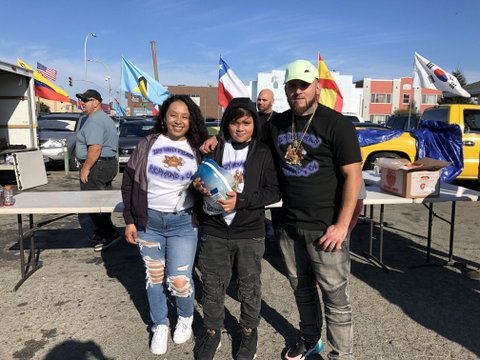 By Maria Bernal
A young boy's good intentions — and many steaming cups of hot chocolate later — manifested into about 300 free turkeys and even more hot plates of food served up in a symbolic event of hope, optimism, and giving thanks.
At just 11 years old, Richmond's Alejandro Valencia raised $500 selling cups of hot chocolate to help 100 families in need.
"It's hard out here in Richmond," he said. "There are not many resources to go around."
But the resources Alejandro was able to help round up culminated in the 2019 Richmond Turkey Giveaway, which handed out hundreds of free birds and meals the Sunday before Thanksgiving.
The Hottest Out Car Club showed up with 20 people, helping turn the popular Phila Burger Station parking lot on 23rd Street into a streamlined grocery store with no registers. Josh Goularte, Alejandro's uncle and president of the car club, said members decided to volunteer because they're trying to motivate other kids to do better.
"All it takes is one," he said.
The owner of Phila Burger hosted the event in his lot and donated food. La Bahia De Jiquilisco gave out pupusas and tamales and Montoya's Taquizas in Antioch also stepped up. Each business each donated food for about 150 hot meals.
In true unified Richmond style, some volunteers set up the tables, while others bagged food, organized the turkeys, and prepped and plated food for those who couldn't wait for the birds to defrost. The piercing cold morning was not an issue for Alejandro's loyal volunteers who arrived long before the line of residents started forming. The chaos of the assembly was energizing enough to compel them to take off their jackets.
Richmond's Loaded Chicken pop-up was one of the volunteers that helped hand out frozen turkeys. "We like to help out, especially when it comes to giving back to our community," owners Luis Martinez and Sergio Gutierrez said.
The line started forming a half an hour early, as volunteers used signs and a megaphone to bring people in. More than a dozen riders of the 74 bus line who stopped at 23rd and Rheem left with a Thanksgiving care package.
Before the morning was over, those in line would leave with smiles on their faces and a turkey in their arms, along with a brown bag of vegetables and a hot plate of food, whether they were lived in Richmond, San Leandro, Pleasant Hill, or Antioch.
Along with a DJ playing tunes, an all-male youth band Herencia de La Bahia performed Mexican corridos. The group created a homey ambiance with their voices and guitars, captivating their audience, regardless of age or race.
Alexandro observed how attendees conversed and shared laughs while children played and rode their bikes. He was surprised when the local firemen made an appearance to hand out stickers. He was not sure how word reached them, but it made him delighted to see them having a joyful time.
Alejandro bounced from team to team, helping in any way he could, assisting the teams with bagging food and handing out turkeys.
The inception of his philanthropic inspiration came from his family's kitchen table where Alejandro, his parents and uncle sat. After a candid conversation about the lack of resources and a food desert in Richmond, Alejandro was inspired to fundraise a turkey drive. He innocently concluded that hot chocolate was the best way to raise that money.
Unsurprisingly, he received support from his family, who helped create flyers and promote the Nov. 24 event. Word spread fast through social media and donations poured in, including from local businesses who were down for the cause.
Watching the people go through the line, Alejandro Valencia Sr. — Alejandro's father— said he appreciated his family's involvement and influence and was proud of the outcome.
"If an 11-year-old can do it, we can all do it," Valencia Sr. said.
In the afternoon, volunteers served up grilled chicken with pasta, a roll, and a drink.
The wintry weather did not stop Alejandro from diligently moving about until the last turkey was given away. Soon, the volunteers dispersed and joined everyone else to enjoy the music, the sizzling chicken coming off the grill, and self-satisfaction of what they'd accomplished.
"This was just our warm-up," Alejandro said. "We are doing this again next year."