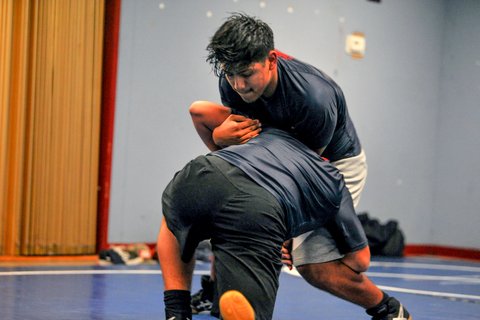 29 Dec

Richmond High Wrestler Aims to Leave His Mark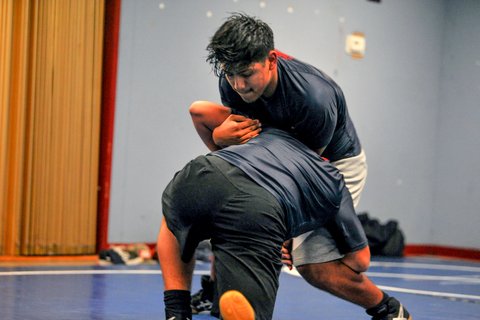 By Denis Pérez-Bravo
It would be a "miracle run" if Richmond High School wrestler Jose Martinez won the state championship after winning his division's North Coast Section tournament.
Martinez knows it is a tall order, but he says he's all in for his senior year, no matter the odds because he wants to develop his wrestling skills and pursue the sport as long as he can. That will involve pushing himself every day in and outside of practice, as well as staying mentally sharp.
"I want to put Richmond wrestling on the map," he said.
Martinez is one of the four students on Richmond High's wrestling team this year along with sophomores Joshua Garcia-Vargas, Saul Morales and William Munoz.
Coach Willy Lamacchia, a Richmond High geometry teacher, started coaching the team last year when the team had eight wrestlers. This year, assistant coach Christopher O'Neill was brought in to "elevate" the program, Lamacchia said.
RHS had a wrestling team in the 2016-17 school year, but it was inactive the following year.
Martinez, who had no prior wrestling experience, joined the team as a freshman in 2016, under a different coach. He said he had a hard time adjusting to the physical demands of the sport that first year but eventually adapted to it.
After the year of inactivity, Martinez, then a junior, came back with a changed mentality. And instead of coming in as a complete novice, he said he knew what was expected of him and was more self-aware of what he needed to improve.
Martinez worked his way up to the first rounds of the NCS 195 weight division tournament last year before he was eliminated from competition.
"It meant a lot to me to be able to represent Richmond," he said.
Now, Martinez's drive to better himself might be seen as an individual endeavor, but he's been more dependent on his team than it seems, Lamacchia said.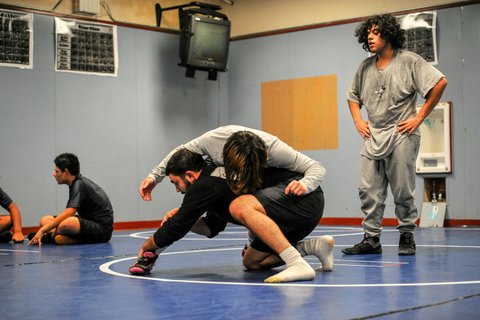 Richmond's four-man team has prevented them from learning at a higher curve because they are only exposed to three other opponents with different fighting techniques, rather than seven or more like other schools, Lamacchia said.
"The team wrestles with each other to gain experience from each other," he said.
The coach says the grueling cardio and strength workouts have not been for everyone. The team started with around 15 people, but most didn't "buy in" to the commitment wrestling requires, he said, leaving the squad with a disadvantage in terms of numbers.
To counter this, O'Neill has worked individually with the members of the team to improve their techniques.
"Their progress is fast," O'Neill said.
The ones who have stuck it out are learning how to wrestle, but have also took in their losses positively and learned from them. O'Neill said this mental toughness has allowed them to be patient and keep practicing, knowing they are on their way to being top contenders in their league.
At the start of his high school career, Munoz knew he wanted to become more active both physically and in his community.
He didn't see himself playing on the soccer team, nor would he try out for the football team. But the then-freshman saw an opportunity in the wrestling team.
Last year, Munoz was able to get a win in a bout against a wrestler from De Anza High School, and now, in his final season for Richmond High, he wants to get better at shooting, an attack motion, so he can win more matches.
"I feel like I need to leave my mark here," Munoz said.