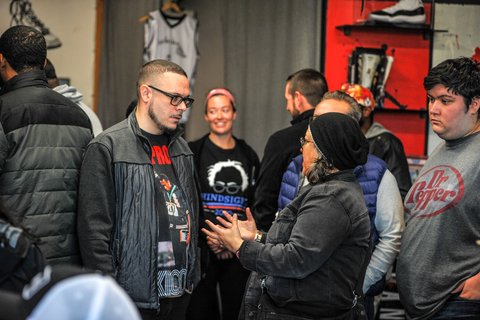 05 Jan

Shaun King Campaigns for Bernie Sanders in Richmond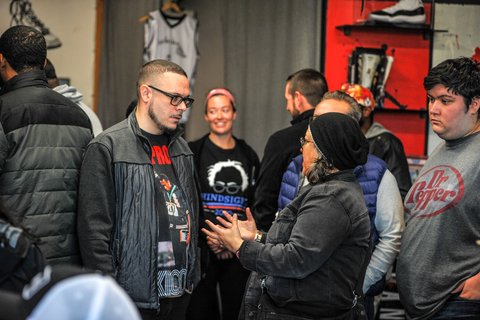 By Denis Perez-Bravo
Residents' concerns about healthcare, environmental justice and education took center stage at a New Year's Eve campaign event in support of Democratic presidential candidate Sen. Bernie Sanders (I-VT).
Civil rights activist Shaun King and Sanders' Bay Area campaign director Joel Bridgeman spoke at Exclusive Shoes in Richmond to urge people to vote for the senator in the upcoming primary.
"California is going to get the chance to choose who the next president is," King told the crowd huddled into the popular, one-room shoe store on McBryde Avenue.
California is the most populous state in the nation, and this year it will be among the first states to hold its primary election.
The state's primary process kicks off Feb. 3 when paper ballots are mailed out. Election Day comes one month later as California joins the 13 other states holding primaries on the voting day known as Super Tuesday.
That, King said, means Californians will have a huge influence early on, which is why local events are important. "We want to spend time in the communities," he said.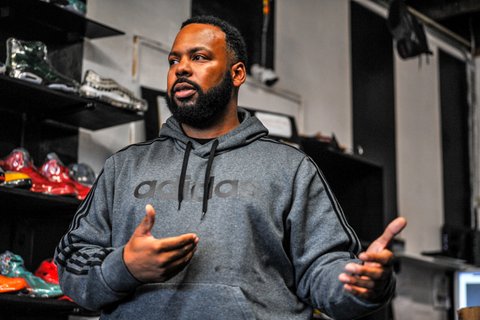 King said while other campaigns will spend big money on ads targeting Californians, Sanders is hiring community leaders like Joel Bridgeman — a Richmond native who worked on both of Barack Obama's presidential campaigns and now serves as Sanders' Bay Area campaign director — to connect the Vermont senator to people in cities like Richmond.
King's words fell on influential ears, like Rich City Rides bike shop founder Najari Smith, Contra Costa College ESL professor Marisol Cantu, Richmond City Council member Demnlus Johnson III, and poets and authors Donté Clark and TJ Sykes.
Bridgeman urged these community leaders to consider Sanders as a viable presidential candidate because he addresses problems other candidates ignore, like the impacts of environmental injustice.
"The communities that are most harmed, like Richmond, should be listened to and have their stories heard," Bridgeman said.
He then asked the crowd of about 35 people to raise their hand if they got "18 money." About 10 people did.
Clark, from North Richmond, then explained it's a term used for payouts to children born after two major fires in the 1980s created health issues in children. It's called "18 money" because people like him received $1,800 on their 18th birthday as part of settlements with Safeway and Chevron.
Bridgeman, who says he also grew up in polluted air, said Sanders is the strongest presidential candidate on environmental justice, not just in speeches, but through his voting record.
Wilson Elementary School first-grade teacher Tiffany Chieudjui said in an interview before the event that she worried about the future of her students and own children, who she brought with her.
She said Sanders' and his campaign provide a step toward a future she wants and her children deserve, which is why she says she will be voting for him.
"He has had the same message since he started," Chieudjui said. "I have faith in him because it is not about him. It's is about our planet."
King also touted Sanders' Medicare-For-All plan, calling it "the best health coverage."
It promises that people will be covered for their whole lives, from their reproductive and maternity years to when long-term and senior care are needed. That includes covering any mental health or substance abuse issues along the way.
The event included listening to an audio recording of the poem "Feet Live Their Own Lives" by Langston Hughes. It recalls a conversation Hughes had with a man named Simple as they sit at a bar and talk about their lives. Simple tells Hughes that if he wants to know about his life, all he had to do was look at Simple's feet, where they have walked, and why.
In a discussion afterward, Kerby Lynch, a 25-year-old UC Berkeley doctoral student student, paralleled her experience living in Richmond under the fear of gun violence, death in her family because of it, and seeing education as a way out.
"I'm the first person in my family to go to college, which is sad," Lynch said.
And because of that, as she began attending UC Berkeley, Lynch felt safe on campus until she and a friend were harassed by campus police for jaywalking. That made her realize that higher education does not start after high school, but should begin in a unified community and experienced by all members, young and old.
Sanders has been campaigning on policies like College-For-All, which would provide tuition-free enrollment to public colleges, universities, historically black colleges, minority-serving institutions, and trade-schools while investing $1.3 billion every year in those same institutions.
It also calls to eliminate around $1.6 trillion of student loan debt and expand Pell Grants to cover non-tuition costs.
Although, some like UC Berkeley business major Rebecca Hernandez said she worries that not everyone will want to go to college or will directly benefit from the College-For-All policy.
"Grade schools are not preparing students for life or college," she said.
King agreed, adding the Sanders campaign has the Thurgood Marshall Plan for Public Education. It's designed to combat school segregation and for-profit charter schools, raise the starting salary for teachers to no less than $60,000, provide free lunch for students, enact comprehensive anti-gun laws, and ensure equitable funding for schools.