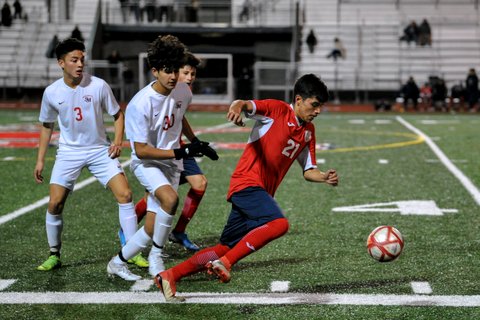 10 Jan

Boys Soccer: Richmond Ties St. Mary's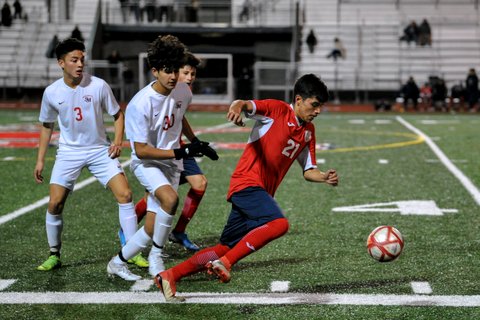 By Denis Perez-Bravo
Richmond High's varsity soccer team was up by one right before the half during a home game Jan. 7, but they struggled to score again as St. Mary's College High tied the game 1-1in the last five minutes.
Richmond head coach Rene Siles said the tie should make Richmond want to improve how they manage their games, but they failed to synchronize and their one goal lead wasn't enough.
Richmond midfielder Octavio Munoz said his team's style is ground passes and small touches, but they felt they had to change it up against St. Mary's. "We felt pressured to do long balls," he said.
It helped Richmond's midfield and defense move the gameplay up the field quickly, but, offensively, they struggled to create spaces for shots outside the box, connect on crosses, or pass their way into a clear shot in the box.
But it did allow Munoz to notice that St. Mary's left back Alejandro Tejeda-Gonzalez, who was guarding him, lacked a consistent good touch.
When Richmond midfielder Hector Mejia blasted a long pass Munoz's way Tejeda-Gonzalez got in front of him as the ball bounced and kicked a weak pass into the St. Mary's goal box that didn't connect with their goalkeeper, EJ McGrew. "I was expecting his bad touch," Munoz said.
That's when Munoz quickly outpaced Tejeda-Gonzalez and tapped the ball to the right side, as McGrew came in to score.
The full Richmond stadium stands sparked with cheer and applause.
On the field, the goal gave the Richmond squad a boost of morale that translated into multiple shots on target in the last three minutes, something they weren't doing in the first 43 minutes.
But in the second half, the long balls failed to produce another goal, and the Richmond offense still found it difficult to find an unmarked man on crosses and in long balls, while McGrew was able to block the few shots from long range.
Instead, St. Mary's forward Wyatt Meyer stamped the second half as he flexed his skills and juggled through the Richmond midfield and defense.
"He was the most dangerous because he would attract the defenders," Richmond defender Yeison Sontay said.
Double-teaming Meyers left gaps in the defense, and Sontay said not stripping the ball from him in time would have led to goals for St. Mary's.
But, ultimately, Richmond left Meyer unmarked in the goal box during a free kick when St. Mary's right wing JJ Santos kicked the ball and hit the upper bar. The ball ricocheted downward and bounced three times in the middle of a cluster of players.
"We went to the ball, and forgot about marking our opponents," Sontay said.
Meyer, who had been shooting all night without success, finally had a direct shot and tied the game.
"It took us by surprise," Sontay said.
He said while Richmond's defense was solid and the back line was communicating, the one time that the team stopped talking there was an opportunity for St. Mary's to score.
"We try our best, and it's hard when things don't go our way," Sontay said.
Siles says the team — made up of two freshmen, nine sophomores, three juniors and nine seniors — is relatively young and a lot of them are experiencing their first varsity games. Some are hurt and others are healing from injuries, he said.
That means about half of them have been shuffled into different positions as the coaching staff looks to get the most out of their lineup.
Still, Siles says the team is progressing, but as Tri County Association League (TCAL) playoffs loom, Richmond needs to buckle down and fix their errors. If not, a tie against a conference opponent like St. Mary's can cost them in the long run, he said.