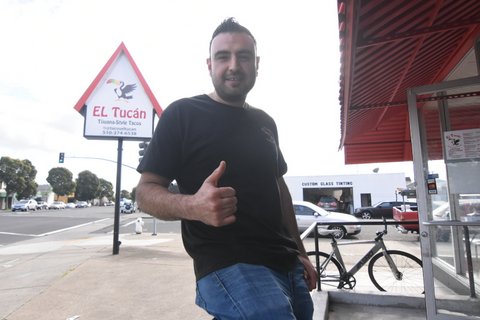 10 Jan

Tacos El Tucán Brings Baja Fire to Richmond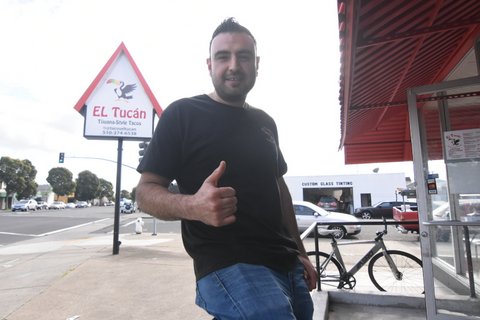 By Joel Umanzor Jr. | Photos by Denis Pérez-Bravo
Richmond's latest popular restaurant brings Tijuana-style tacos to a San Pablo Avenue location long synonymous with hot dogs.
Richmond native Alfredo Padilla saw the Pup Hut's closing as an opportunity to offer a style of taco he felt this part of the Bay Area needed, and one he found during frequent travels closer to the border.
"I felt there was a lack of handmade tortillas with fire-grilled meats, a Tijuana style that is popular in Los Angeles and San Diego," he said.
Eight months of planning and waiting for permits clear allowed Padilla to gut and renovate Pup Hut to realize his vision of bringing different tastes to Richmond's food scene.
He calls it Tacos El Tucán.
After opening Nov. 18, Padilla's brightly painted restaurant continually has a line of customers who want to savor the Baja-inspired menu, which includes the quezataco, which adds a grilled cheese lining to their handmade corn tortillas.
Richmond resident Michelle Gibbons said she saw the cheese-style tacos on Instagram. "I heard this place was centering around that, so I decided to bring my husband and son to try them out," she said.
Padilla said he was shocked by the turnout to Tacos El Tucán and had to increase his staff due to the demand. He's already anticipating expanding store hours in the near future, as a bar is set to open next door in a few months.
"It's been great and it's been a rollercoaster between hiring help so that we can keep up with the workload," he said.
The thing that makes their tacos special, Padilla says, is using a flame grill.
"I've ate tacos and burritos from the burrito trucks all my life, and they are always doing everything on the griddle instead of the fire grill," he said. "That's when I said I want to try this out."
Padilla says Tacos El Tucán takes on that distinct focus and specializes in grilled chicken, asada, al pastor, and chorizo. There is also a vegetarian option that includes zucchini, mushrooms and corn seasoned with a variety of spices.
Padilla said that trying to be healthier with his ingredients shows in the flavor.
"The tortillas we have use gluten-free maza, and for our veggie mix, we use extra virgin olive oil, which is a pretty healthy option," he said. "It's something that we wanted to bring in because of the lack of veggie taco options in this area, because at most places if you ask for veggies you're just going to get beans."
Padilla teamed up with the head taquero of Tacos El Tucán, Daniel Rios, so the menu would be reflective of the Baja California style, where Rios has lived.
One of the inspired dishes includes a colorful curtido, which they offer alongside four homemade salsas at their condiment bar.
"You are used to just the onions and jalapenos with carrots, but we wanted something different," Padilla said of the curtido, "so we put some pineapple and habanero with cucumber and radishes, and that is one of the things that Daniel (Rios) brought over from Baja."
On top of the Baja influences, Tacos El Tucán offers their SoCal inspired "Tucán fries," or steak fries topped with shredded cheese, meat, guacamole, and sour cream.
Although the overall experience has been positive, it has not come without its share of early trials.
"Two weeks after we opened, two guys threw a boulder through the glass and jumped in the restaurant," Padilla said. "They stole a checkbook and an iPad before running back out in 30 seconds."
But Padilla says the community's outpouring of encouragement has him looking forward to the future of Tacos El Tucán.
"Our menu is not too big, but we just want to specialize in making everything we make in a legit way," he said.
Tacos El Tucan is located at 12505 San Pablo Ave in Richmond. Hours: Tuesday through Saturday 12 a.m. – 8 a.m., and Sunday 12 p.m.– 6:00 p.m.