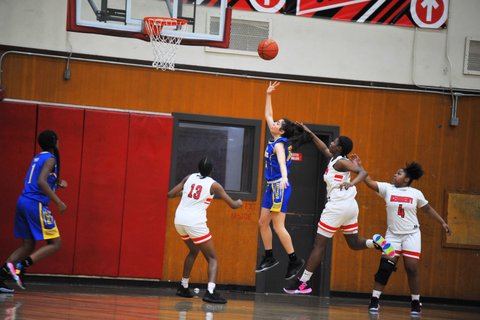 23 Jan

Kennedy Girls Can't Keep Up with Pinole Valley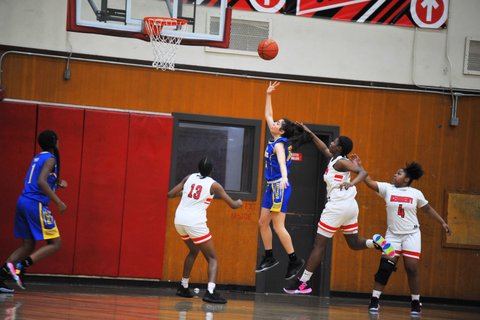 By Denis Perez-Bravo
Pinole Valley High's girls basketball team took the lead in the fourth quarter to win 52-45 against Kennedy High during a head-to-head match Tuesday night at Kennedy's Coach "Dolly" Felix Gym.
"We lost the rebound battle," Kennedy head coach George D. Jackson Jr. said.
Pinole Valley now sits atop the Tri-County Athletic League – Stone conference with an undefeated record of 8-0 with Kennedy in second place at 6-2.
Pinole Valley ended the first half with a 23-18 lead, but Kennedy was able to bring the game to within one point by the end of the third quarter after Kennedy forward Ashanti Stricklen went on a 12-point scoring run.
"At half, our coaches had a talk with us that put us in our game," she said.
However, as the fourth quarter winded down, Pinole Valley went in harder for rebounds and dribbled more aggressively into the paint. In contrast, Jackson said, his team began to slow down.
"They have to learn to keep the same energy throughout the game, especially in games like these where it comes down to the end," he said.
The stands were filled with Pinole Valley supporters who made themselves known, fiercely yelling to their players to "D up" and go up for the basket.
Pinole Valley forward Naja Ji Jaga drew a two-point free throw attempt and made both. Guard Deadriana Prim made both of her two separate one-point free throw attempts as part of her eight points scored in the quarter. Guard Toshia Reynolds contributed a three-pointer and forward Stephania Salazar made a two-point field goal as Pinole Valley widened their lead.
Kennedy was not able to keep up and looked like they had given up before the game was over, Jackson said.
"We were missing free throws and too many buckets," he said.
The Kennedy team was not able to fully adapt to the fast-paced play of Pinole Valley, point guard Micha Turner says, because their squad of only seven people would have been overworked.
"We knew how fast they played and who were their shooters," she said. "We played at their pace, but we had to slow down to not overdo it."
While Kennedy is working to play at a faster pace and pressure defense, Turner says her team must also reinforce their passing game, which is their bread and butter.
"We just got to keep moving forward," she said.
Despite the loss, Jackson says he expects Kennedy win its next four consecutive conference games, and hopefully see Pinole Valley on the court one more time this season.
"There is a high chance that we will run into them again in our league championship game, and get a win at least one time," Jackson said. "We have to bounce back and finish this season."