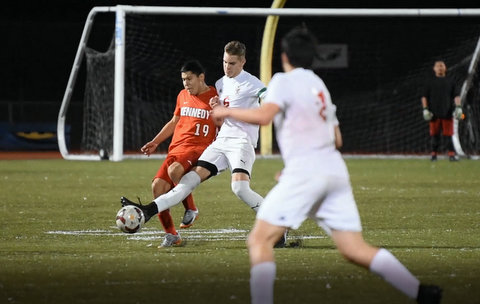 28 Jan

De Anza Gains Upper Hand Against Kennedy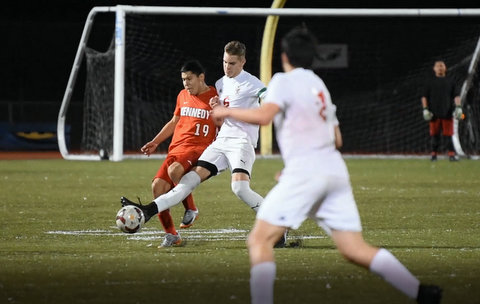 By Denis Perez-Bravo
Going into the second match against De Anza High in a week, Kennedy High's boys' soccer team knew they had something to prove Jan. 22 on their home field.
De Anza and Kennedy's game Jan. 20 at De Anza ended in a tie, 0-0.
This time, De Anza pulled off a 3-2 victory, with the winning goal coming from one of its top scoring forwards, Anthony Vazquez, in the last five minutes of the game.
With the win, De Anza improved to a 5-0-2 conference record in the Tri-County Athletic League and a 10-3-3 overall record. Kennedy dropped down to a conference record of 4-2-1, the same as local rivals D1 Richmond High, with an overall record of 11-7-1.
Though it wasn't a win for Kennedy, their loss to De Anza gave them an opportunity to learn and grow.
Kennedy head coach Harry Campbell told his players after that game that it was a close one, and De Anza is rated higher than other teams Kennedy will face in the North Coast Section.
"They are a D3 team and we are a D4 team," he said, adding the game showed that Kennedy can keep up with D3 teams.
Campbell congratulated the team for coming back from a 2-0 deficit early in the first half, after De Anza scored two back-to-back penalty kicks.
The first penalty was called in the 12th minute of the game when Vazquez kicked it in for De Anza. The second was called in the 20th minute, leading to De Anza forward Jesus Alvarado's goal.
Kennedy did not lay down and was able to score of a set piece around the 30th minute. After a free kick was called just outside of the De Anza goal box, Kennedy midfielder Jarret Silva knocked it in with a strong kick to the right side of De Anza's goalie Alejandro Poblano.
Minutes later, Kennedy midfielder Jeffrey Diaz recovered a loose ball outside of right side the goal box, touched the ball on the ground, and booted it in to the left of Poblano.
"We had to make a goal real soon to hype up the team," Silva said.
The boost in momentum was interrupted by halftime. The second half yielded shots on goal for both sides, but De Anza was the only team to capitalize.
"In the second half, they made the goal first, and they won us," Silva said, adding his team failed to respond in the final minutes of the game.
In the post-game huddle, Campbell urged the team to look at the way the team reacted to De Anza's third goal, which he said looked offside.
"I thought it was offside too, but why argue with the referee? He already made the call," Campbell said to the team.
Instead, he said they should have kept their composure and focused all of their energy on tying the game.
Kennedy faced off against Pinole Valley on Friday, Jan. 24. Kennedy and Pinole tied 1-1.
They face Richmond High on Jan. 29 and St. Mary's on Jan. 31.