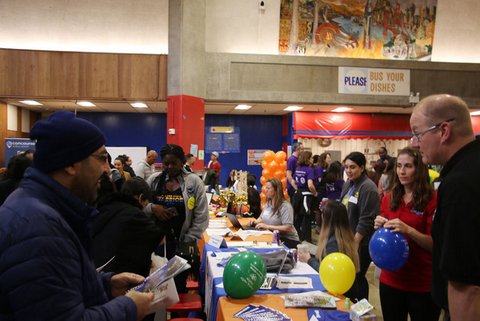 29 Jan

Annual Education Fair Showcases Local Schools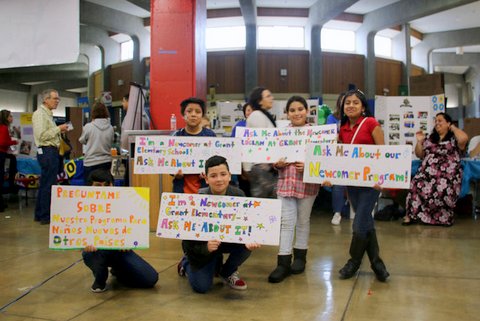 By Edward Booth and Joel Umanzor Jr.
About 75 local schools showcased their offerings to more than a thousand prospective families Jan 25 at the 4th annual West Contra Costa Education Fair.
The three-hour fair at Richmond High School included both traditional public schools and charter schools throughout the district. It was co-sponsored by the West Contra Costa Unified School District and EnrollWCC, a collective of 12 of the 14 district charter schools that provide application-related resources to parents. This was the second year traditional public schools attended the fair, and turnout roughly doubled from last year.
Event coordinator Maddie Orenstein said having both charter and public schools under the same roof is change of pace from the lack of collaboration in the past.
"To have all the district and charter schools in the same room like this is unique," Orenstein said. "We don't get our whole education community together very often."
There were also a wide array of education-related organizations and family programs at the fair, including the East Bay Center for the Performing Arts, Girls Inc., Mocha Moms, Inc., and others.
Felicia Phillips, principal at Kennedy High School, praised the convenience of having so many K-12 schools all at the same event. She said traditional public schools don't usually have the opportunity to advertise their assets to the community.
"As a leader of a traditional public school, I welcome the opportunity," Phillips said. "We don't get it too often."
Phillips said she enjoyed talking to parents and students one on one, telling them Kennedy was a school in transition that's armed with a great staff committed to improvement. Kennedy, she said, had a woodshop and a welding lab, great sports programs, and after-school arts opportunities.
Kenneth Bonner, principal of Lake Elementary in San Pablo, said he was excited about the event because he was able to be present alongside other educators for the benefit of local families as a whole, which ultimately helps foster a better relationship alongside West County charter schools.
"It's because we are here all in one space," Bonner said. "I think they offer what they offer and we offer what we offer, but I'm excited to be invited to the table so I can actually talk to families about the programs and things that we're doing so that they can have an informed choice as to what works best for them."
Contra Costa County Board of Education member Dr. Fatima Alleyne — who represents Richmond, San Pablo, El Cerrito, Kensington, and El Sobrante — attended the fair and said that the knowledge offered at the event gives people the power of choice when evaluating the education of their children.
"I have three school-age children and I value this opportunity to learn about the schools that are available to us in our community and you have a choice," Alleyne said. "I hope those here will take advantage of the information available and choose the best school for their child."
Other school representatives also said they felt positively.
Julie Willis, a teacher at Collins Elementary, said it was neat to see what other schools had to offer, which helped in potentially ginning up new ideas.
Caleb Owens, a teacher at Hercules Middle School, said it was the first time his school had participated in the fair. He said he talked to prospective students about the Career Technical Education programs offered at his school, one of which focuses on producing multimedia and film.
One of the event's organizers, Jesus Perez, said they tried to meet the needs of a diverse, multi-racial community. The organizers were parents as well, he said, so they understood the struggle of finding an appropriate school for their kids.
"Hopefully, next year we'll be even more successful," Perez said.
Christina Harris, another organizer, said she'd had an amazing time as a parent in the district after signing up her son to attend Riverside Elementary, but having a fair when she was new to the district would've been extremely helpful. She said she hoped the fair would help give confidence and a sense of choice to parents and students.
The event also had some fun and games: musical performances, a live DJ, a face painting booth, clowns, and various cultural dance performances, including the Mexican folk dance "zapateado."
There was also a raffle, which encouraged attendees to visit multiple tables and find out about different schools. The prizes, most of which were given out at the end of the event, included Golden State Warriors merchandise, tickets to a Warriors game, and gift cards to Costco and Panera.
WCCUSD board member Tom Panas said the fair was bigger, better, and more personal than it had been last year. He praised the change in location — the fair last year was held in the Richmond Auditorium — and said it seemed livelier.
"As a parent, years ago, there was never anything like this," Panas said.