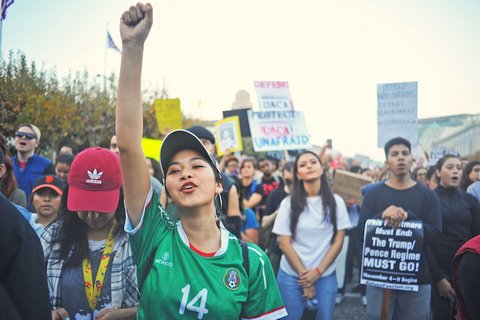 02 Feb

DACA Recipients Await Supreme Court Ruling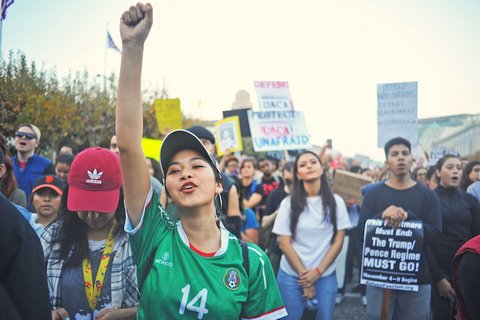 By Maria Bernal
The Supreme Court decision on Deferred Action for Childhood Arrivals is looming.
DACA provides access to a work permit and temporary protection from deportation to qualifying undocumented immigrants who came to the country as children.
The program, which was enacted by President Obama in 2012 via executive order, has undoubtedly transformed the lives of the more than 669,00 active DACA recipients and their families. But that protection could be in jeopardy.
In September 2017, the Trump Administration terminated DACA, arguing it was unconstitutional. This prevented new immigrants from applying to the program, but the Supreme Court is set to rule on whether the administration's termination of DACA was lawful. In the meantime, the program remains in place and current recipients may renew their status. If the court decides DACA is unlawful, new and current applicants would no longer be accepted and could possibly be subject to deportation.
The political turbulence has been an unfortunate strain on the mental health of those awaiting the life-changing decision, including Richmond resident Antonio Martinez. (His name has been changed to protect his identity)
"It brings a lot of stress, worries and can bring you down a lot," said Martinez, 22, who is a DACA recipient and LGBTQ. "I don't think people realize how privileged they are to not have to worry about a Supreme Court case."
Martinez emigrated with his family from Mexico at 8 months old, and he calls the United States, and California specifically, his home. He says he has avoided police officers throughout his life in fear of being deported, as he didn't know how his undocumented status would affect his future, which has come to include currently majoring in international studies at CSU East Bay.
"I am a college student and I went to study for more opportunities, and this takes that away," he said. "It is discouraging to see how you can be in this country for many years and one day they take you out."
Kevin Eduardo Rangel Rosales is another Richmond resident under the same circumstances. He's a 23-year-old DACA student at San Francisco State University.
"DACA helped with how I was going to live my life," he said.
But most recently, Rosales' DACA status had been a strain on his well-being. To combat the stress, he discovered dancing as an outlet to take him wherever he needs to be.
"I have been trying the past couple of weeks to live in the moment," he said, "but also still be mindful. Not letting it overpower me."
During this murky time, Rosales said the DACA community need support from their allies more than ever.
"You may not know if someone you work with or someone you go to school with is affected by this," he said. "But being empathetic and having an open heart and listening when possible is helpful, making sure that their mental well-being is okay."
Alejandra Guillen, legal services director for Immigrants Rising, says immigration professionals are not sure when the Supreme Court will rule on DACA. In the meantime, she recommends DACA recipients "get an immigration screening" and to "be prepared if DACA should come to an end.
"There are still opportunities for immigrants without DACA," Guillen said. "Use the education you worked so hard to get."
Nonprofits such as Immigrants Rising offer free, anonymous online legal intake service, scholarships, an income generator, workers co-op and resources for entrepreneurs. California colleges have AB540 and Undocumented Student Centers that offer support and scholarships.
DACA recipients who are in college can contact their school's student services center to ask what support might be available to them.
There are plenty of community support for students such as Martinez and Rosales who have faced adversity.
Martinez said the undocumented community has prospered before DACA and unquestionably can survive if it were to end. "Undocumented people have thrived without socials," he said optimistically, referring to Social Security numbers.
With the uncertainty and not knowing what's going to happen next, Rosales says, at least he'll have his experiences and education to lean back on.
"That's forever," Rosales said. "That doesn't go anywhere."