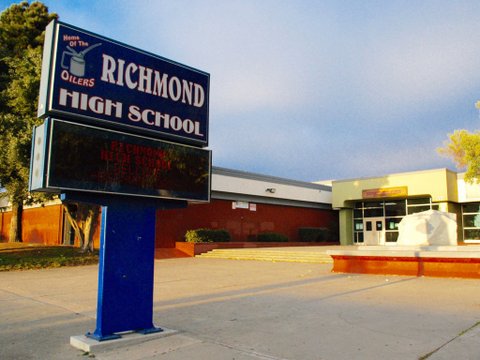 04 Feb

POINT-COUNTERPOINT: What Students Think of Measure R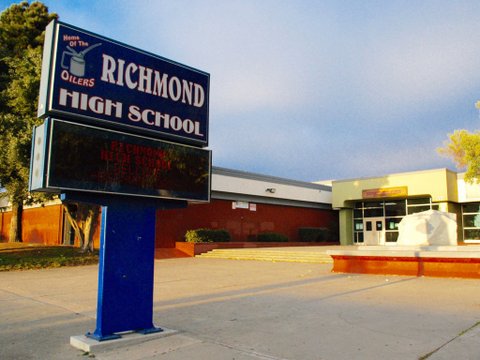 Editors Note: Richmond Pulse asked some current West Contra Costa County students about their views on Measure R, the school district's latest attempt to pass a multi-million-dollar school construction bond. Photo via Richmond Confidential
Vote YES on Measure R
By Monserrat Sanchez, age 17
Measure R is a $575 million school construction bond that will go to help and improve conditions of certain schools within Contra Costa County. Funds will support the construction of new health facilities, possible art facilities, as well as maintain current facilities, such as new air conditioning at multiple sites.
This, of course, means that a tax will be put in place for homeowners in order to pay it off. The ballot measure says that will equate to $60 for every $100,000 of assessed value until 2053.
If all goes as planned, construction will begin within the next five years and completed before 2030.
As a student at Richmond High, I can say change is needed. The school is a historic place that houses memories for many people in our community, and I'd like to believe that will continue for my younger brother and sister, among others.
Livening up the old building with at least a couple of windows will prove to be beneficial for students' minds. Exposure to sunlight releases serotonin, a hormone associated with improved mood. Right now, the only view is a sunny lake behind a painted window in our schools CAPA Academy.
Yes, we painted on windows.
When going to other schools to take the SAT, I saw they all had tall ceilings that made your voice echo and boom, large windows that let you feel the warmth of the sunny day, new TVs, blackboards, and whiteboards.
My school had none of that.
Considering the fact that students are expected to be seated and ready to learn for up to seven hours a day, it is only fair they receive a learning environment that motivates them to be there. There is no way you can keep a teen awake and willing to learn in a tiny, dark room at 8 a.m. Students deserve to have a clean and modern state-of-the-art facility to learn.
If we invest in the construction of a school, there is no doubt that student morale and engagement will improve. Attendance rates are likely to increase when students see that new resources were made available to help them learn. Of course, many factors contribute to why a student may be absent, but if we can fix at least one of the causes, we can start making a change. Enrollment will also become a big factor to consider.
The better the school, the more attractive and diverse it is to become. Everyone wants their child to attend a school where they feel safe and inspired to pursue their educational career.
By helping our schools, we are also helping our community. New families are certain to join our communities and the impact of the reconstruction of schools will spread farther than just the schools. Measure R will help schools in Contra Costa County reach a new level in educational growth and expansion.
As a student who has attended schools in this district my whole life, I support this measure. And if I can't have the windows I want, I'll do my part to make sure my younger siblings will.
Supporting Measure R Supports Future Generations
By Dariana Ortiz, age 16
Many of my peers might say that voting "yes" on Measure R is a waste of money because we are all going to graduate before the construction even begins. However, we need to keep in mind that this decision is going to affect future generations. The bigger picture is that being able to provide future students with a better, safer facility, their education will change our community for the better.
Richmond High is one of the many schools that should be rebuilt.
When I was a sophomore in 2018, we were sent home from school early because there were problems with electricity. We would be in the middle of class and the lights would randomly just go off. There were two or three days where school was cancelled because the electricity wouldn't turn back on.
Once the issues started interfering with our education, the people in our community should want to improve it. I want to imagine a school where future students don't have interruptions in their education due to a facility malfunction.
In addition to the issues with electricity, we have no windows. At a baseline, this is a safety hazard. What if a fire started one day? If the doors were blocked, we would have no way to get to safety.
From a psychological standpoint, we need an environment that inspires us.
Voting yes on Measure R will not only provide upgrades to our classrooms, restrooms, science labs and other facilities, but it will directly support higher student achievement.
Published reports have shown that the architecture of classrooms plays a big role in a student's academic performance.
Richmond High has been making many changes internally, and we need a physical change to match this growth. Our school already suffers from a bad reputation. Why not give us a chance to reinvent ourselves? Again, none of these changes may be possible while I'm in school.
But I'd like to believe in what the future generations of Richmond can bring to this community.
Vote No on Measure R
Ronishlla Maharaj, age 17
Measure R is a bond asking for $575 million from homeowners in the district for general repairs for schools in the West Contra Costa Unified School District (WCCUSD).
This means Richmond High and some other elementary schools will be upgraded, including improved technology and air conditioning. This bond had been put on the ballot because although there had been minor repairs made for the schools, it hasn't been enough for all the schools in the district.
While voters are contemplating how to vote on the measure, I strongly believe they should reject the bond.
WCCUSD has asked for school construction money in 1998, 2000, 2002 and 2005. In 2010, the districts' then superintendent, Bruce Harter, said that $1.3 million would be enough to meet the construction needs, but asked for more again in 2012. But in 2014, voters rejected yet another request.
As a student, I believe that WCCUSD cannot be trusted with our money anymore. If they said a sufficient amount of money should be enough one time, but then keep asking for more, why isn't everything done yet? It could be that they were inefficiently using the money and maybe using it on other debts they probably had.
This time, they are asking for a much larger sum of money. Are we just going to give it to them again and let them do what they want with our money? I don't think so. Voters should vote no on Measure R because of how WCCUSD has handled the money in the past.
Voters should vote against Measure R because there are many neighbors who are struggling already and cannot afford to pay more for schools. As a member of a family who struggles with rent and has lost a house due to the high payments, my family wouldn't want another payment to worry about. When people are already struggling, why should they have to pay for another thing? I'm not alone in this.
In November, the WCCUSD school board voted 4-1 to place the measure on the ballot and board member Mister Phillips, voting against it, said some people are already are struggling to feed their family and heating their home.
Others may argue that voters should vote yes on Measure R because students need a better environment to learn in. The district argues that having a better school can lead to better academic achievement towards the students, as they can learn better in a new or improved school.
While WCCUSD could have better construction, what good is it if the district doesn't have the other resources to teach its children? It's like a family trying to buy an extravagant home when they can't afford to furnish it or pay the electricity bill. People need to vote no on Measure R because there is no point in having new buildings if they can't even teach the students inside them.
Overall, it is important for voters to vote no on Measure R because the district has been giving millions of dollars over the past decade and will most likely again will use the money inefficiently. Moreover, people already struggling financially and don't need to keep paying these bills.
That's why you should vote no on Measure R.