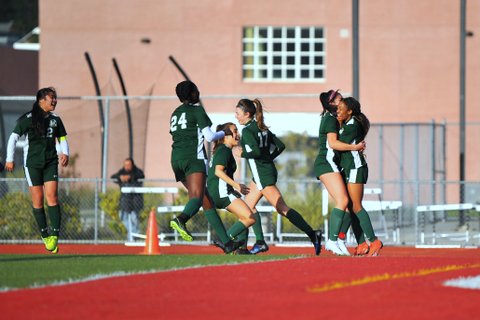 18 Feb

Richmond, El Cerrito Bring Home TCAL Titles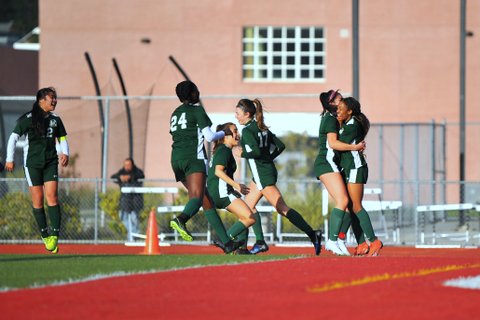 By Denis Perez-Bravo
The Tri-City Athletic League–Rock division champions in soccer played for their crown and earned their respective titles.
El Cerrito High's girls beat St. Mary's 3-0 while the Richmond High boys' team bested St. Mary's 1-0.
El Cerrito
The El Cerrito High girls won their TCAL title, on top of being undefeated in TCAL-Rock division play, winning all 12 of their regular season league games. That made for a total of 14, including playoff games.
The squad only lost two and tied two in their 18-game overall season, a feat that El Cerrito forward Aly Chin says was only possible because of their positivity on the field.
So, it was no surprise that El Cerrito dominated the TCAL finals at De Anza High School against St. Mary's, outscoring them 3-0.
"The mentality from the beginning of the game was always to go all in, have no mercy, and just keep pounding it in," Chin said.
As the girls huddled before the game, they reminded themselves of last year when St. Mary's beat them for the title. Chin said they knew it couldn't happen again.
"It was a rematch from last year when we lost to them in penalty kicks, but this year we took it in regular time" Chin said.
Around the 20th minute, El Cerrito striker Raniyah Burton found an opportunity on the left wing.
"I was one-on-one with the defender, and I felt I could take her with my speed," she said.
Burton outran St. Mary's defender Amy Gaspardone and found herself against goalkeeper Alice Wydick.
Burton kicked it in on Wydick's left side to give El Cerrito a lead they never relinquished.
Later in the first half, El Cerrito midfielder Kaya Jimenez blasted a shot from outside the box that surprised Wydick. Their 2-0 lead would last to halftime.
Chin then scored El Cerrito's third goal towards the end of the second half.
Burton said after going 14-0 this year, her team deserved the title.
"We did what we had to do," she said.
Richmond
Meanwhile, the Richmond High boy's team has grasped the TCAL–Rock division banner for the sixth time in a row, also defeating St. Mary's at De Anza High.
As the final whistle blew with the score at 1-0, Richmond erupted in emotions.
"The team has finally understood that the beauty of playing soccer is sharing," Richmond head coach Rene Siles said.
The squad endured many struggles throughout the season, which Siles said made the victory just as sweet as an even bigger title.
The team was able to stay strong together and hold the lead after striker Regilson Villatoro put Richmond on the board around the 20th minute of the first half.
Villatoro, positioned on the right side of the goal box, received a pass from Alan Lopez, who had dribbled up the field and found an open Villatoro.
Villatoro, one-on-one with St. Mary's goalkeeper EJ McGrew, knocked it in.
But before the goal, Richmond's defense had stepped up to the plate and defiantly kept the score 0-0.
Richmond goalkeeper Angel Romo, a big factor in the win, said he had a lot to prove.
"My grandmother recently passed away," Romo said. "She loved watching me play soccer, so I did it for her."
Romo took charge of his goal and repelled two big opportunities for St. Mary's within the first ten minutes of the game.
As Richmond took the lead, St. Mary's efforts to tie the game were matched by Romo's wish to make his family and his teammates proud. And the rest of his squad shared his mentality.
Throughout the season, Richmond's game had been marred by miscommunication between players and emotions running amok, Richmond midfielder Octavio Munoz said.
The week of Feb. 4, Richmond (11-8-5) was scheduled to play San Ramon Valley, a NCS DI title contender at 18-3-3.
Richmond knew that to go up against San Ramon, they needed to fix their mistakes quick, Munoz said. The match ended in a 1-1 tie.
"Our coaches talked to us during practice and told us what our mistakes were," he said.
Munoz said the heart-to-heart enforced the team's on-field values and got them to start playing together.
And the tie was like a victory for Richmond. They came back to the Bay, destroyed Kennedy 7-1 in the TCAL semifinals, and advanced to win the TCAL title.
"We played as a team and we played as a family," Munoz said.