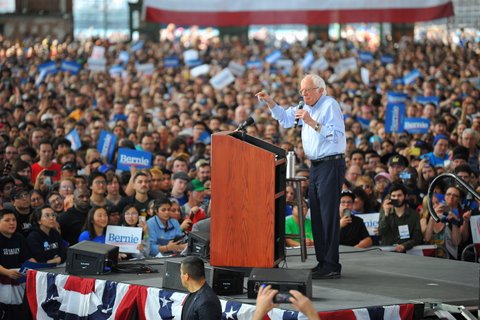 19 Feb

Sanders Campaigns to Capacity Crowd in Richmond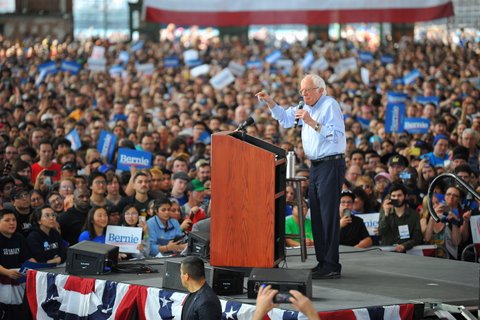 By Maria Bernal | Photos by Denis Perez-Bravo
Thousands of people flocked to Richmond's Craneway Pavilion from all over the Bay Area on Presidents Day to hear Vermont senator and presidential candidate Bernie Sanders speak at a "Get Out the Vote Rally" ahead of California's March 3 primary.
In his 30-minute speech, Sanders touched on familiar themes, including Medicare for all, getting big money out of politics, the housing crisis, environmental policy, immigration and, of course, defeating President Trump.
"We are going to defeat Donald Trump, the most dangerous president in the history of this country," Sanders said.
"Today, we say to Wall Street, and the insurance companies, and the drug companies and the fossil fuel industry… the military industrial complex and their endless wars… the prison industrial complex… today we say to the entire one-percent that we're going to create a government that represents working people not just wealthy campaign contributors," he said to raucous applause and shouts of "Bernie, Bernie" from the crowd gathered in the City of Pride and Purpose.
"The fact that he came to my hometown, I was really amped up to come and see him," Elizabeth Verdin, 22, said.
Verdin said she had noticed that Sanders tweeted out his support for the city's recent ban on the storing and handling of coal and petroleum coke.
"The fact that he knows about us, he tweeted about us, and he came here, it's like, OK, you acknowledge us," she said.
Verdin said, for people like her who grew up in Richmond, when it comes to voting, "We didn't think that was really a thing for us to do.
"A lot of us don't go out to vote," she said. "In the [2016] election, with Trump, we saw the impact of it. I think [Sanders] really wants to shine a light on us and tell us, 'Yes, your votes do matter. So Richmond get up.' "
The pavilion's doors opened at 10 a.m., but a line of people formed past the Ekso Bionics building about a thousand feet away. An hour later, people gathered behind the venue's glass walls with folding chairs.
The crowd had to be cut off around 1 p.m. because the venue, which holds 5,500 people, was overflowing with attendees, from toddlers to senior citizens. Supporters who could not make it before the doors closed cupped their eyes and pressed their faces to the glass in hopes of getting a better view.
Before Sanders took the stage, the venue was oven-like as two bands played and bilingual speakers and a Nurses for Bernie spokesperson gave their support.
Actor and activist Danny Glover introduced Sanders to the impatient crowd, who erupted in cheers as the senator took the stage. Parents propped their children on their shoulders so they could get a better look.
Sanders railed against what he called "a rigged economy and corrupt political system that allows billionaires like Trump to get massive amounts of campaign contributions from his billionaire friends."
Sanders also called out Democratic rival and multibillionaire Mike Bloomberg.
"Now, Mr. Bloomberg, like anybody else, has a right to run for president," Sanders said. "He does not have a right to buy the presidency, especially after being mayor of New York and having a racist stop-and-frisk policy. Especially after opposing, imagine a multibillionaire opposing a raise in the minimum wage."
[Editor's note: Bloomberg in 2015 said he has "never been in favor of raising the minimum wage," but he had apparently changed his mind last year when he called raising the minimum wage the "most straightforward change" to fight poverty. Indeed, Bloomberg's economic plan reportedly would raise the minimum wage to $15/hour.]
Adia Harrison, 35, came to the rally from Oakland, wanting to hear any last minute things Sanders had to say with the primary around the corner.
She's still an undecided voter with healthcare and a living wage being the most important issues to her.
"His track record versus Warren's track record, I'm trying to figure out who's going to stay consistent when they actually get in to office," Harrison said.
Sanders also used his speech to ask No Party Preference voters to register as Democrats so they can vote for him on March 3. He encouraged voters to get their votes in as soon as possible, and his campaign staff was on hand to collect early vote-by-mail ballots.
[Editor's Note: For the March 3 election, No Party Preference Voters in California are allowed to request a presidential primary ballot from the Democratic, Libertarian and American Independent parties.]
"Please do everything you can and get a democratic ballot so that we can win here in California," Sanders told the crowd.
Malcolm Marshall contributed to this report