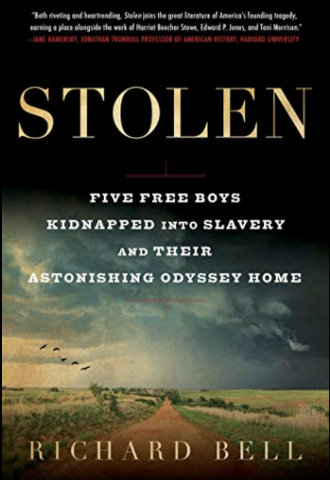 20 Feb

BOOK REVIEW – Stolen: Five Free Boys Kidnapped into Slavery and Their Astonishing Odyssey Home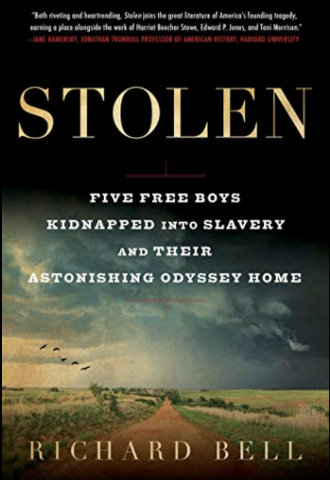 By Michael J. Fitzgerald
Stolen by Richard Bell is as compelling a read as almost any novel you are likely to find.
But Stolen is non-fiction, a true and tragic tale about five free black boys living in free states who were kidnapped and sold into slavery in the early 1800s.
The details of the kidnappings at times show how terrifying it was for the children, the parents, and the community. The book also details the casual cruelty and nonchalance of men and women in these kidnapping rings.
Richard Bell, a University of Maryland American history professor, pieced together the story from letters, news accounts, historical papers, 200-year-old court records, and court testimony. It's an amazing piece of historical detective work.
As he recounts specifics of the ordeals of the five kidnapped boys — and their struggles to return home — Bell also constructs a breathtaking overview of the world of slave traders in the 1800s. By then, most of the U.S. no longer legally allowed importation of slaves kidnapped from Africa. Instead, highly organized gangs of slave traders preyed on free black people in free states in the north, kidnapping them and taking them into southern states to be sold.
Bell dubs the kidnapping rings and their operations the Reverse Underground Railroad, a terror-filled mirror image of the people helping slaves escape bondage in the south through the famous Underground Railroad operated by abolitionists, church congregations and heroines like Harriet Tubman.
The Reverse Underground Railroad was illegal, of course. But often the law in most southern states looked the other way, even in the extremely rare cases where kidnappers were apprehended moving formerly free children and adults to slavery.
"Yet these professional kidnappers left their mark everywhere," Bell writes. "They stole away tens of thousands of free black people in the first six decades of the century, many of them children…"
Some of Stolen has echoes of the book Twelve Years a Slave by Solomon Northrup, a well-educated and prosperous musician from New York kidnapped and sold into slavery in 1841. In the early pages of Stolen, Bell recounts Northrup's tale but says the 2013 Oscar-winning film based on the book distorted the real situation.
Kidnappers, he says, "rarely approached highly literate men like Northrup. They preferred instead to lure away poorly educated children."
Stolen is well-footnoted with pages of supporting documents listed in the notes section at the back of the 300-page book, which offer solid testimony to how much research went into writing this book.
Stolen, published by Simon and Schuster in 2019, is on the new book shelf at the Richmond Public Library, Westside Branch in Point Richmond.