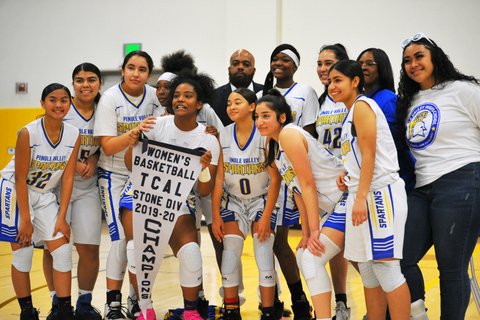 20 Feb

Pinole Valley Girls Clinch TCAL Title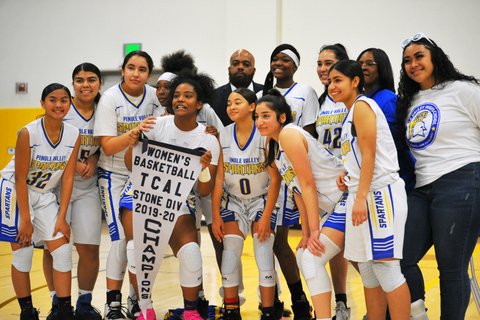 By Denis Perez-Bravo
Pinole Valley High's girls' basketball team won the Tri-City Athletic League-Rock division championship playoffs against Kennedy High, ending their TCAL season with an undefeated league record of 14-0.
"This was an important win because we fought to get here, and it wasn't easy," Pinole Valley point guard Deadriana Prim said.
Throughout the second half of the Feb. 15 game at Pinole Valley, the seven-girl Kennedy squad and Pinole Valley's young team closely duked it out.
Pinole Valley's 13-girl squad is comprised of one senior, Corrine Foster, three juniors, three sophomores, and five freshmen.
"This is history and is something no could ever take away from us," Pinole Valley head coach Brian Gaither said. "The fact that we did it with a core of freshman and sophomores is a great accomplishment."
Despite the very physical game inside the paint, Prim led all scorers among both teams with a 25-point game.
"It was a really hard game," Prim said.
Pinole Valley led at the end of the first quarter 17-6, but Kennedy regained some ground by halftime to bring the score to 24-29.
"It surprised me because we got to such a great start," Gaither said. "But when they started to close the gap, we felt a little bit of pressure."
Kennedy was able to nearly catch up to Pinole Valley halfway in the third quarter with a score of 33-32.
Pinole Valley wasn't able to shake off Kennedy and carried their slim lead into the fourth quarter.
"Wanting this moment to be here and being in a position where it was right in front of us, we were over anxious," Gaither said. "We were too worried about the blow out and didn't take it one play at a time."
But ultimately, Gaither said the team was able to "get comfortable" and reach their goal.
"We wanted to do this perfect and perfect didn't just mean to win the 12-0 record, but to sweep in the playoffs and we went in," he said.
With 10 seconds to go in the fourth quarter with the score tied at 49, Pinole Valley guard Burcin Kuru got open and received a pass from point guard Toshia Reynold from the opposite side of the court. Kennedy's center Angel Jackson rushed to block Kuru, but the Pinole freshman had already thrown up her 3-point shot.
"(Kuru) was the forgotten person, and even when she made shots, they continued to give her opportunities to shoot the ball," Gaither said.
Gaither said it was typically another Pinole freshman, Faith Dumlao, who would go up and make the 3-point shots, "but I felt good when the ball left (Kuru's) hand."
Kuru's big shot  gave them Pinole Valley a 52-49 lead, which prompted their fans to roar in excitement. She finished the game with 20 points, including four 3-pointers.
Kennedy tried to match Kuru's score but couldn't connect. Pinole Valley then drew two separate fouls that levied them a final score of 56-49.