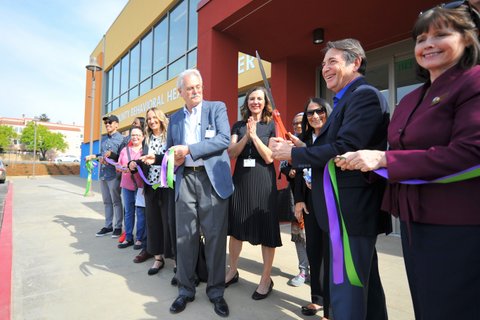 04 Mar

New Center Merges Adult and Youth Behavioral Clinics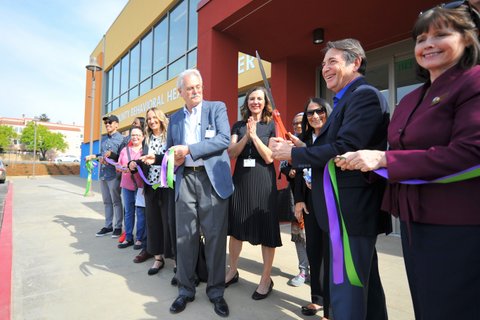 By Denis Perez-Bravo
The new West County Behavioral Center aims to provide mental health and addiction-treatment services for youth and adults in a single location, a marked changed from the two facilities that used to house those offices.
Contra Costa County officials, health services staff and members of the public celebrated the opening of the new $16 million center at 13585 San Pablo Ave. on Feb. 28.
"This building gives hope and is a health hub," Jen Tuipulotu, a program coordinator in the county's Office for Consumer Empowerment, said to the crowd of about 100 people.
Tuipulotu said this building will make services more accessible for community members. She also praised the fact that the new behavioral center will join two separate mental health clinics under one roof: West County Children's Mental Health clinic located on Macdonald Avenue in Richmond and the Contra Costa Adult Mental Health center that is adjacent to the Contra Costa College campus.
The center will feature a team-based approach of psychiatry, peer support, drug and alcohol counseling, and other services.
Right next to the new behavioral center is the already operating West County Health Center. Tuipulotu said this is most beneficial for patients because they can walk across from the behavioral center to the health center to get lab work done.
"Previously, lab work made clients have to travel and go to another location," Tuipulotu said.
There's also a Walgreens nearby to fill prescriptions and a bus stop close to the centers, she added.
Apart from the location, the new facility is expected to improve the experience for clients and staff.
Jan Cobaleda-Kegler, PsyD, program manager for the county health department, said the adult behavioral clinic saw around 2,800 individuals in 2019. The new facility, she said, will ensure they will get better treatment and the staff will have the best equipment and facility to do so.
Multiple speakers pointed towards the older facilities' issues like leaky roofs, rodent infestations, faulty equipment, and cramped spaces.
"We struggled and our staff had to compete for space," Chad Pierce, West County Children's Health Clinic program manager, said. "This building reflects the value of our staff and our community."
At the Macdonald Avenue office in Richmond, there were limited office spaces and only three treatment rooms. In the new facility, the children's department will have six treatment rooms, enough office space for staff, a two-way mirror room, and an art room furnished with a paintable wall for children to draw on.
Both the children and adult departments will have translation devices consisting of phones equipped with a video screen that can call up a person who can translate in real-time.
Robin O'Neill, adult health services program director, said the adult services department has a lactation room for staff members.
The adult services department has also been given adequate cubicle office space for staff, as well as single office spaces for their psychiatrists, four conference rooms equipped with smart TVs, and a break room. It also has a room for tele-psychiatry, which uses teleconferencing to connect specialists with patients.
In the old clinic, O'Neill said that desks were put in hallways and in spacious closest just to create office space.
"The staff deserves this," O'Neill said of the new facility.