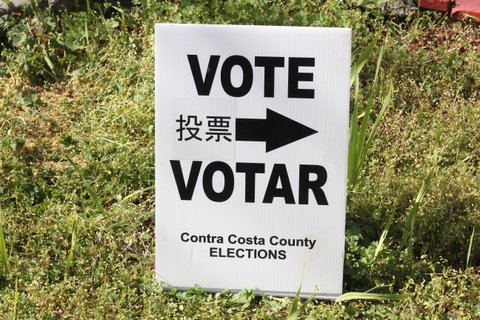 08 Mar

See How Contra Costa County Voted in Presidential, State, Local Races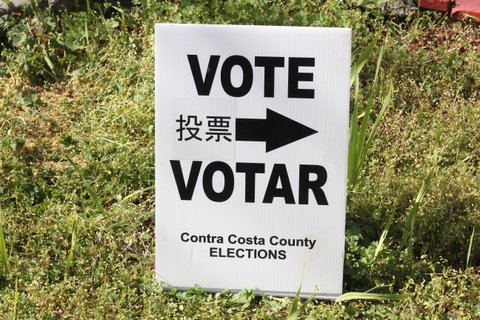 RP Staff Report
Robin McNamara showed up at her local polling place, the Church of Christ on Macdonald Avenue, on Super Tuesday, bringing her grandfather's legacy into the voting booth with her.
"My grandfather had to pay a poll tax in order to vote," she said, referring to a voting fee that some states used from the 1890s to the 1960s to bar some poor citizens, primarily African Americans, from participating in elections. "He worked hard to be able to pay that."
That is one of the reasons McNamara says she always looks forward to voting.
But making decisions in this year's primary seemed a little more challenging than usual, most notably in the Democratic presidential race and two bond measures related to schools.
"It's very tough this year. I feel like there weren't any good choices there," McNamara said, referring to the Democrats running for president. "But you can't be paralyzed because that's too easy. You have to be an adult and put on your big girl pants."
Across Richmond, many residents voted for the candidate they hoped to see as the Democratic challenger to President Trump in November. Voters also came to have their say in a number of state and local races.
McNamara said the bond measures on the ballot also stood out to her.
"As a homeowner, I feel that all of the bonds are constant," she said. "My taxes are miniscule compared to the 20 different bonds that we all pay, and they don't seem to make any difference."
McNamara said of Richmond, "A lot of the programs tend to be on the kneejerk side. It's kind of like the new Berkeley now."
Alex Scott, 24, said he has voted in almost every election since he turned 18, and that, this time, the stakes felt higher.
"The 2020 election has the possibility of being a redoing of the 2016 election," Scott said. "It also feels like there are a number of stopwatches going right now, as far as humanity is concerned."
Immigration, international relations and climate change are some of the big issues he's concerned about, just to name a few.
When it came to his choice for the Democratic nominee, Scott says it wasn't a hard decision for him at all. "It's been Bernie the whole time," he said, meaning, of course, Vermont Sen. Sanders.
But other choices, such as Measure J, a 35-year half-cent sales tax to raise money for transportation improvements in Contra Costa County, were not as clear-cut to him.
"We don't get to hear 10 debates over six months on these," he said.
Expanding public transit as much as possible is important to him, "but how you go about funding that is also very important," Scott said.
Unofficial numbers from the Contra Costa County Elections Office as of Friday indicate that county voters narrowly rejected Measure J 50.40% to 49.60%. (It needed a 2/3 majority vote to pass.)
Of Contra Costa's 657,273 total registered voters, 282,918, or about 43%, cast ballots in this primary.
The vote for the Democratic nominee for president played out as it has across much of the country, with Sanders and former Vice President Joe Biden taking the top spots. Biden finished first with 30.78% of the vote; Sanders followed with 27.72%.
The only other Democrats to receive at least 10% of the vote were former New York Mayor Michael Bloomberg, with 16.23%, and Massachusetts Sen. Elizabeth Warren, with 13.52%. Both have dropped out of the race.
On the Republican side, 48,810 Contra Costa County residents voted for Trump.
In the congressional primary, Rep. Mark Desaulnier, the incumbent in the 11th District, which includes Richmond, won handily, getting 71.38% of the county's votes.
West County residents by a vote of 55.49% to 44.51% approved Measure R, which involves modernization and safety upgrades to West Contra County Unified School District classrooms.
Voters elected Maria Alegira (18.45%), Gabriel Quinto (13.38%), Genoveva Calloway (12.26%), Mister Philips (11.96%) and Cesar Zepeda (10.97%) to District 1 of the Democratic County Central Committee.
Proposition 13 was narrowly voted down by county residents, with 50.74% opposed to it. It fared worse statewide, with 54.6% of Californians voting against it. The only state measure on the ballot, Prop 13 called for a $15-billion school construction bond.
Andrew Melendez, 18, took advantage of his first opportunity to vote. Having learned about politics in his AP government classes at St. Mary's High School in Berkeley, he said it was "pretty cool to be a part of the government process that I've been interested in for the last couple years."
Melendez did not reveal which Democratic presidential candidate he went for but said it wasn't a hard decision.
"I had a choice in my mind," Melendez said. "I just came in to give my support."
But he had more than the presidential contest on his mind.
"Obviously, I was here to pick the Democratic nominees, but there were a lot of interesting measures throughout the ballot too," Melendez said.
The narrowly defeated Measure J, which included money for BART security, was especially important to him.
"I use BART, so I want to see a lot of changes go on with BART," Melendez said. "That was definitely an issue for me when I was voting."
Casting a vote for Sanders was the primary motivating factor for Alison Weir, who said she likes his stances on a number of issues, including Palestine.
Sanders, who is Jewish, told CBS News this month he is "pro-Israel" and "pro-Palestinian" and called for "a foreign policy that not only protects Israel, but deals with the suffering of the Palestinian people as well."
Weir said she wasn't as informed as she would have liked to have been on some of the other races, such as the Democratic Central Committee race, for instance.
"I tried to figure that out," Weir said. "Unfortunately, I'm not as versed on local stuff as I should be. I usually vote for bonds, especially for schools. So I think I voted for all of those."
Samari Benjamin said he takes the democratic process very seriously and has been voting for as long as he has been eligible.
"This democracy is not everywhere, so I'm exercising this right that I have," he said.
When it came to picking a presidential nominee, Benjamin said he wasn't really excited to vote for any of the candidates.
"The way that the primary has unfolded, it hasn't given me much faith in any of these candidates ability to take on the current president," he said. "I'm not very optimistic."
The Democratic nominees for president and vice president will officially be named in July at the Democratic National Convention, being held this time in Milwaukee.